"Simplicity is the glory of expression." ~ Walt Whitman
On the whole, my cakes and bakes are received well. Of course I have my share of criticism , but more often than not , its people reaching for seconds rather than spitting them out!
Except when it comes to this one co worker and friend of mine. Whatever I bake , he never seems to like it! Its either too sticky , too sweet or too something ! He's a sweet kid, but I just HAD to make something that he liked!
Well, he likes lychees and now that they are finally in season , I set about making a cake to please the palate of one of my worst critics! And….SUCCESS ! (or i wouldn't be sharing this now!)
It was a simple cake , a basic sponge , split into three , doused with a fresh lychee soaking syrup , filled with whipped cream and chopped juicy lychees. Liked a pineapple cream cake. But he liked it ( Finally!) – and so did everyone else who tasted it. I made it again for the blog , and wanting to keep the cake egg free , I used an egg free vanilla cake .
A little about the cake – its an oil based , eggless vanilla cake. Can be made in one bowl and no mixer required. I am by no means an expert on egg free baking, but I have been experimenting a little and this recipe has worked well for me. It rises up nice and high , enough to comfortably slice into three layers. It is light and fluffy and has a great texture.
But feel free to use your favourite vanilla cake recipe – a genoise or sponge will work perfect- and also you can use canned lychees instead of fresh. The syrup here moistens the cake and infuses it with the fresh lychee flavour and the billowy whipped cream is the perfect accompaniment. All in all ….a light summery cake !
This cake is as simple and rustic as it gets .. both in appearance and taste! Its moist and absolutely yum , bursting with the freshness of the chopped lychees and the billowiness of the whipped cream . Cream . Sponge. Lychees . Bliss .

Print Recipe
Lychees and cream cake
Yum
Sponge . Cream . Lychees - as simple and delicious as it gets!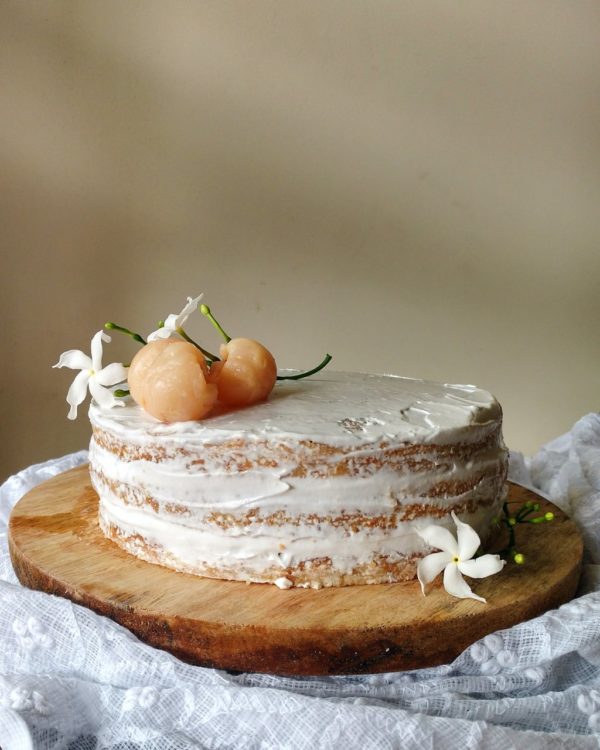 | | |
| --- | --- |
| | |
Preheat your oven to 160 C/ 325 F . Line the bottom and sides of a round 7 or 8 inch pan with parchment paper . Or grease with butter and dust with flour well.

Sift or whisk together the flour, baking powder , soda and salt. Keep aside

Mix the milk and vinegar in a mixing bowl and let stand for five minutes.

Whisk in the sugar, oil and vanilla until it gets a little frothy.

Add the dry ingredient mixture in 2-3 additions whisking gently until you can see no flour. Do not over mix!

Pour batter into prepared pan and bake at 160 C/ 325 F for 45-50 minutes until a toothpick inserted in centre comes out clean or the cake springs back when touched on top.

Cool in pan for 10 minutes , unfold and cool completely.

While the cake cools, prepare your syrup . Heat the pureed or chopped lychees with the water and sugar. Bring to a boil and then simmer for 10 minutes. Strain the syrup and cool completely before using.

Whip the chilled heavy cream with the icing sugar to firm peaks . Chill until needed.

Chop 12-15 lychees roughly .

Slice cooled cake horizontally into three layers . Place one layer on your plate or cake board. Brush with the syrup on top and sides. Spread quarter cup of whipped cream and half the chopped lychees. Repeat with the second layer and top with the third. Spread 1/4 cup of the whipped cream on top and smoothen the sides.

Refrigerate until serving!
Step by step Tutorial:
For the cake:
For the assembly:
Also:
Chill the cake before slicing for ease and fewer crumbs.
The finished cake tastes after a few hours as it absorbs all the juices. Make it the day before for best flavour.
Adjust the sugar in syrup depending on the ripeness of the lychees.
Skip out the icing sugar if you are using non dairy cream which is usually sweetened.