"Progress isn't made by early risers. It's made by lazy men trying to find easier ways to do something." – Robert A. Heinlein
If you haven't heard of the magic bars, which I will be surprised if you haven't, because they really are not all that uncommon, then I will tell you why they are called Magic bars. Because so little effort, just a few randomly spread ingredients miraculously bake up into deliciousness in your oven. It's really magic happen for bakers short on time. Or lazy bakers.
You think laziness lies in the eyes of the beholder? Take my dear husband for example – his colleagues tell me he is one of the most hard working conscientious workaholics there is.But the minute he comes home, he simply refuses to leave the comfort of his recliner, not even to get a glass of water from the kitchen.
I am the same way. Sometimes , when the mood strikes me, I will make a 3 layer cake with soaking, filling and frosting in the middle of the night. And on some days I look for "just dump everything in a bowl ,no sifting, no beating" type of recipes. These magic bars take things one step further… Don't need a bowl either.. Just the pan!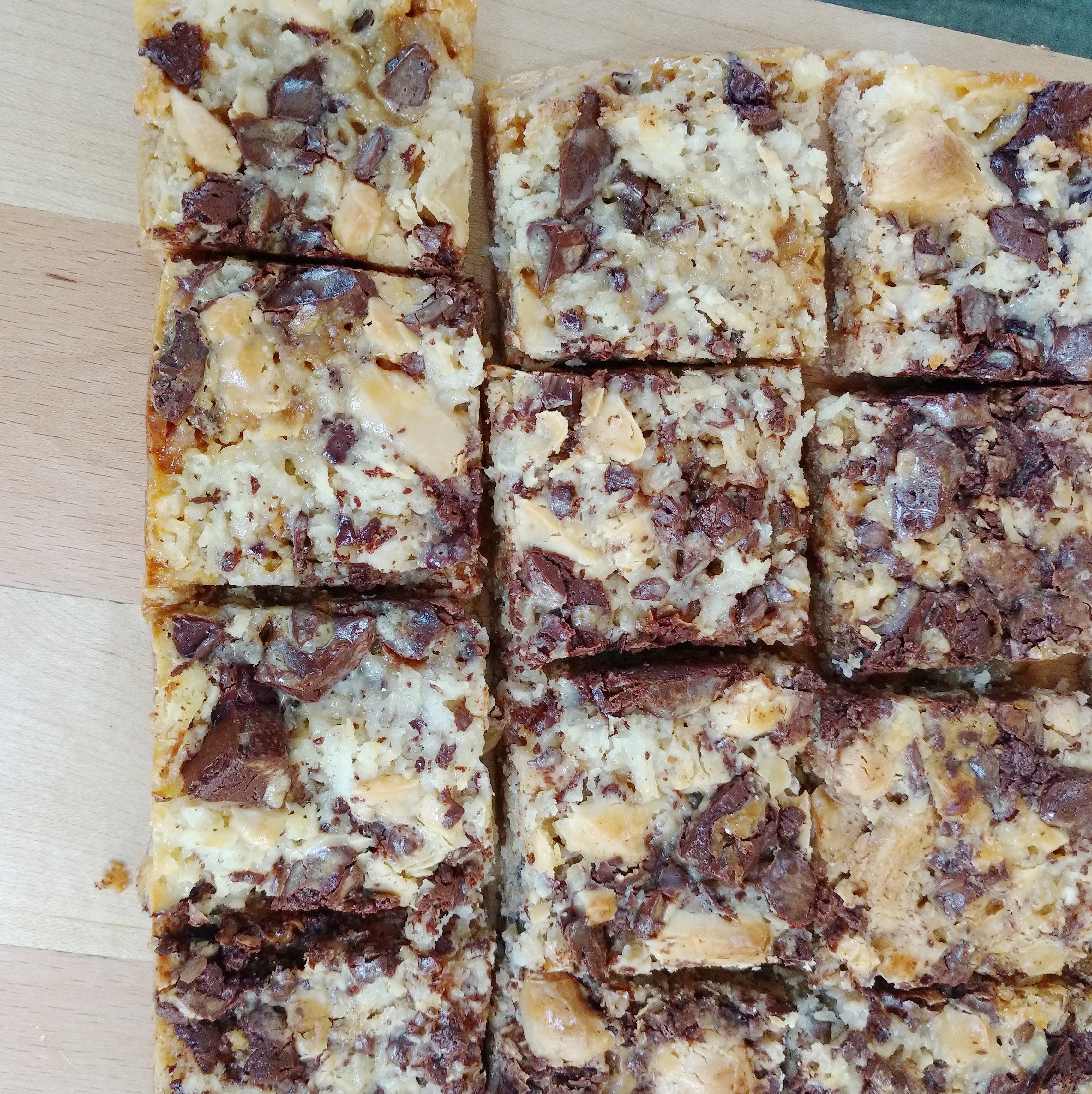 Seriously. Just spread one ingredient on top of the other and you are done. The ingredients can be according to your taste too. There has to be some sort of crushed biscuit mixed with butter because you need to have a base and condensed milk has to be there of course because you need to hold it all together . I used digestive biscuits for the base (you can use graham crackers , oreos etc) , chocolate chunks (you can go with chips), butterscotch chips (you can skip these) , coconut ( you can use shredded , sweetened or dessicated ) and almonds ( again , any nuts toasted or untoasted ) . You could skip anything you dont have or add something you fancy like crushed cornflakes , rice krispies , peanut butter chips .
Then just shove the pan into the oven and wait for the magic to happen!
Magic bars
2018-09-09 06:42:55
Easy magic bars !
Ingredients
56 grams or 1/4 cup unsalted butter , melted
1 cup crushed digestive biscuits
1/2 cup chopped dark chocolate or chocolate chips
1/2 cup butterscotch chips
1/2 cup almonds , chopped
1/2 cup shredded coconut
200 ml or 1 small can (half big can) sweetened condensed milk
Instructions
Preheat the oven to 180 C / 350 F.
Line a 8 x 8 inch square pan with parchment or butter really well.
Melt the butter , and mix well with the crushed biscuits.
Spread on the bottom of the pan evenly. Press down with a glass to smoothen if required.
Spread the butterscotch chips
Spread the almonds
Spread the coconut
Spread the chocolate chips
Pour the condensed milk on top.
Bake for 30-35 minutes until lightly browning on the edges.
Cool completely in pan .
Slice and serve !
Notes
These last for 3 -4 days in an airtight container
You can use a 200 ml or 240 ml cup for measuring in this recipe.
These are super rich so you can cut them into small squares.
You can skip an ingredient or customise them according to your taste !
FLOURS & FROSTINGS http://floursandfrostings.com/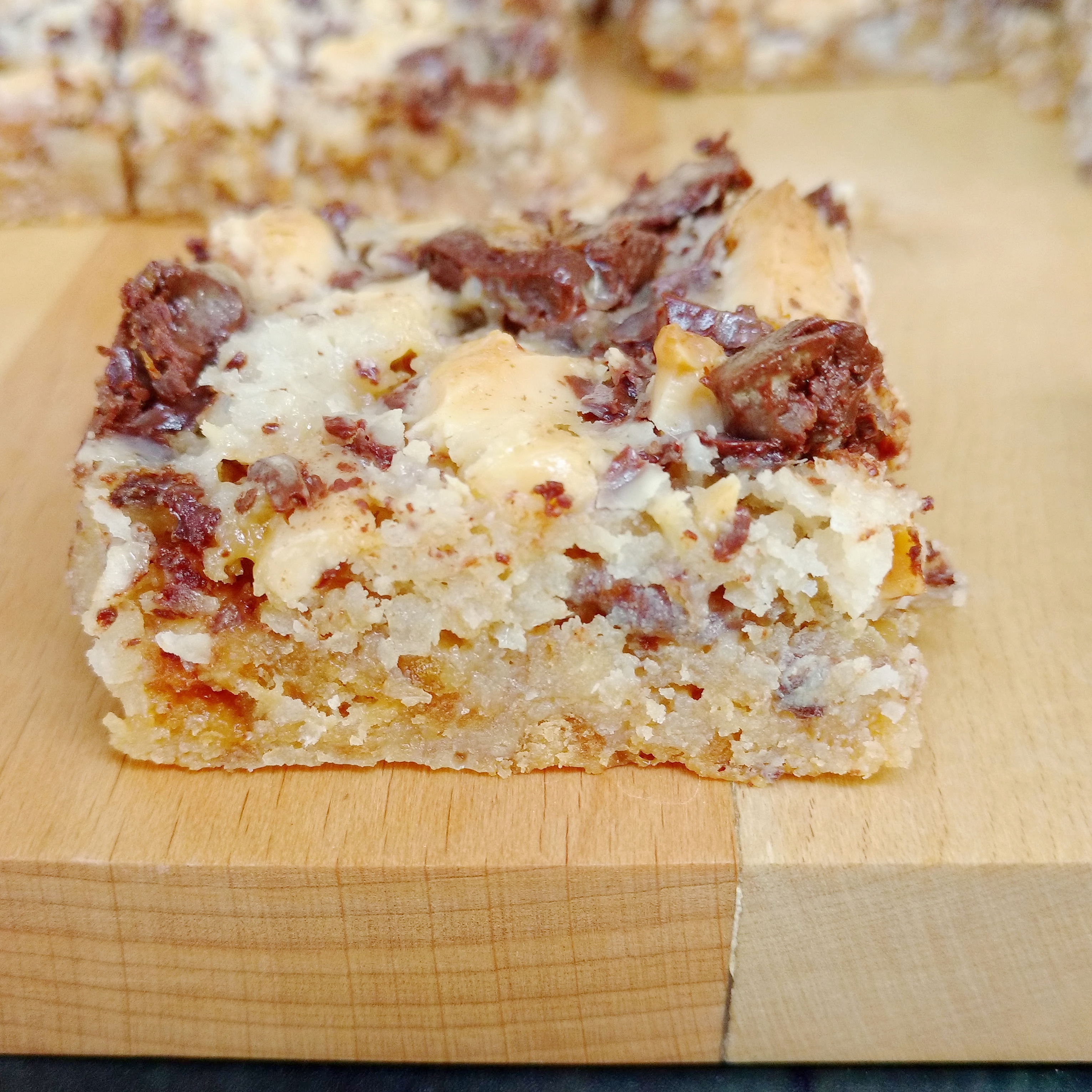 These are rich , deliciously chewy , crunchy , gooey and a whole lot more. With so little effort that too. Why should randomly thrown ingredients form such yum bars? Magical or not , they are pretty unbelievable !
If you aren't sure what you will do with the remaining condensed milk, try my condensed milk cookies (my most popular recipes on Pinterest!) or some easy fudge!