A wonderful gift may not be wrapped as you expect.

Jonathan Lockwood Huie
Matcha is one of the things that I keep reading about and seeing in recipes but never tasted until now. And the only reason I tasted (and used it in a dish!) is because a dear friend (and fab baker) Samantha gifted me a beautiful jar of it.
People keep telling me matcha is one of the things you either love or hate. Well, I am not a tea person at all so I was pretty prepared to be part of the latter group. I mean, the flavour of matcha is described as grassy. Seriously. How is grassy appetizing. Why would you describe something you eat as "grassy" !
So when I tasted matcha, the first thing that came to my mind was actually – grassy! Maybe the word was stuck there ! But it's a good flavour. I have tried green tea in desserts before but matcha isn't like that. It's deeper and earthier!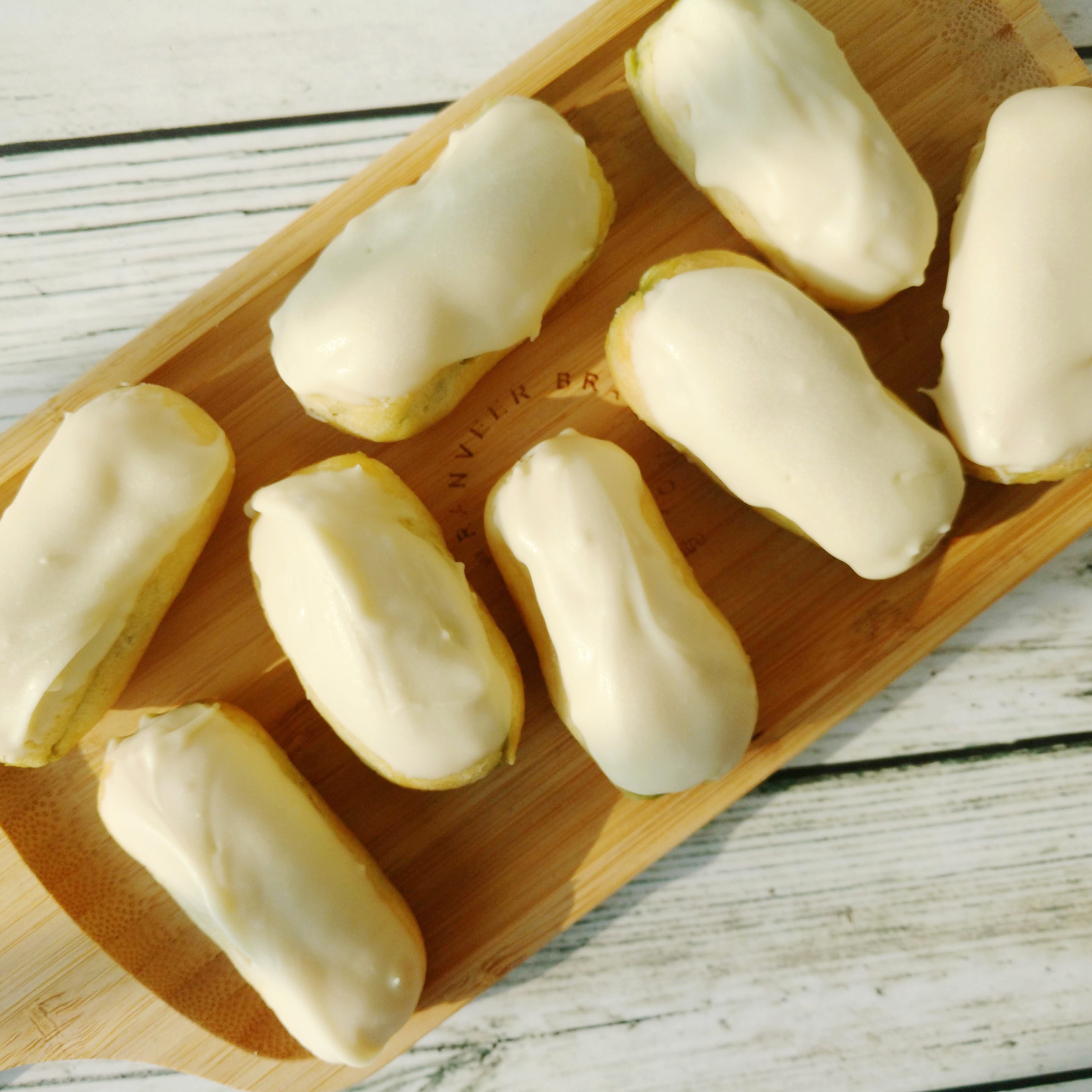 And I figured some pastry cream was the best way to let the matcha flavour shine! So I made a batch of éclairs and filled them a smooth matcha flavoured pastry cream. If you are new to this, you can read up a little more about basic pastry cream and making eclairs. I decided to go for a white chocolate topping as matcha and white chocolate are supposed to go really well together.
Yup, they do! True story!
Matcha and white chocolate éclairs
2019-03-02 05:10:57
Éclairs filled with a Matcha pastry cream and topped with white chocolate
For the matcha pastry cream
4 teaspoons matcha powder
240 ml or 1 cup milk
50 grams or 1/4 cup granulated sugar
2 egg yolks
1 teaspoon vanilla extract
1 tablespoon cornflour/cornstarch
1/4 teaspoon salt
42 grams or 3 tablespoons unsalted butter
For the éclair shells
120 ml or 1/2 cup water
56 grams or 1/4 cup butter
1 tsp granulated sugar
pinch of salt
62 grams or 1/2 cup all purpose flour
2 eggs
For the topping
100 grams white chocolate
To make the matcha pastry cream
Whisk together the matcha, sugar , corn flour and salt in a medium saucepan (thick bottomed).
In another glass or bowl , whisk together the egg yolks and the milk until smooth.
Pour the egg yolk- milk mixture into the matcha-sugar- corn flour mixture in the saucepan while whisking continuously
Add the butter and heat on medium flame. Whisk continuously.
First the butter will melt and the mixture will come to a boil.
Lower the flame and cook for a couple of minutes more while stirring as the custard thickens.It should coat the back of a spoon. When you run a finger on the back of a spoon dipped in the cream, there should be a clear line.
Take off heat and add the vanilla extract.
Pass through a sieve into a clean bowl.
Cover the pastry cream with cling wrap , such that the wrap is touching the surface of the cream . This prevents a film from forming. Chill for atleast two hours .
To make the eclair shells
Preheat your oven to 200 C/ 400 F. Line a baking sheet with parchment or grease well.
In a medium saucepan, heat the water and the butter.
When the butter melts and it boils, stir in the sugar and salt.
Add the flour and continue heating while stirring until a film appears on the bottom of the pan. This will take 2 to 3 minutes .
Let cool for 3 to 5 minutes.
Add the eggs one by one , mixing really well after each.
The dough should be thick and hold a peak.
Fill into a piping bag with a wide round tip or cut 1/4 inch off the tip of the bag.
Pipe lines of around 3 to 4 cms about 4 cms apart.
Bake at 400 F or 200 c for 20 minutes , and then at 180 C or 350 F for 15- 20 minutes until they are golden brown.
Remove from oven, poke a hole into each. Cool on a wire rack.
To make the topping
Chop the white chocolate as finely and uniformly as possible.
In the microwave or using a double boiler, melt until smooth.
To assemble
Fill the pastry cream in a piping bag with a small tip. Poke a hole in one or both ends of the shell. Insert the tip and fill until eclair is heavy or you cant fill anymore. You can also slice the shell in half and pipe the pastry cream.
Dip the tops of the filled eclairs in the melted chocolate , let excess flow off and let dry.
Notes
These are best served the same day but can be refrigerated for a couple of days. Get to room temperature before serving.
The recipe makes 18- 20 eclairs
To keep the outer covering as crisp as possible 1)bake as directed at a high temperature and then at low temperature ,2) pierce a small hole in the shells as soon as they are out of the oven - this releases the trapped steam , 3) store in an airtight container as soon as they cool down after baking. 4) make them the day you want to serve and fill as close to serving as possible.
The pastry cream can be made upto a week in advance and chilled.
My measuring cup is 240 ml.
FLOURS & FROSTINGS http://floursandfrostings.com/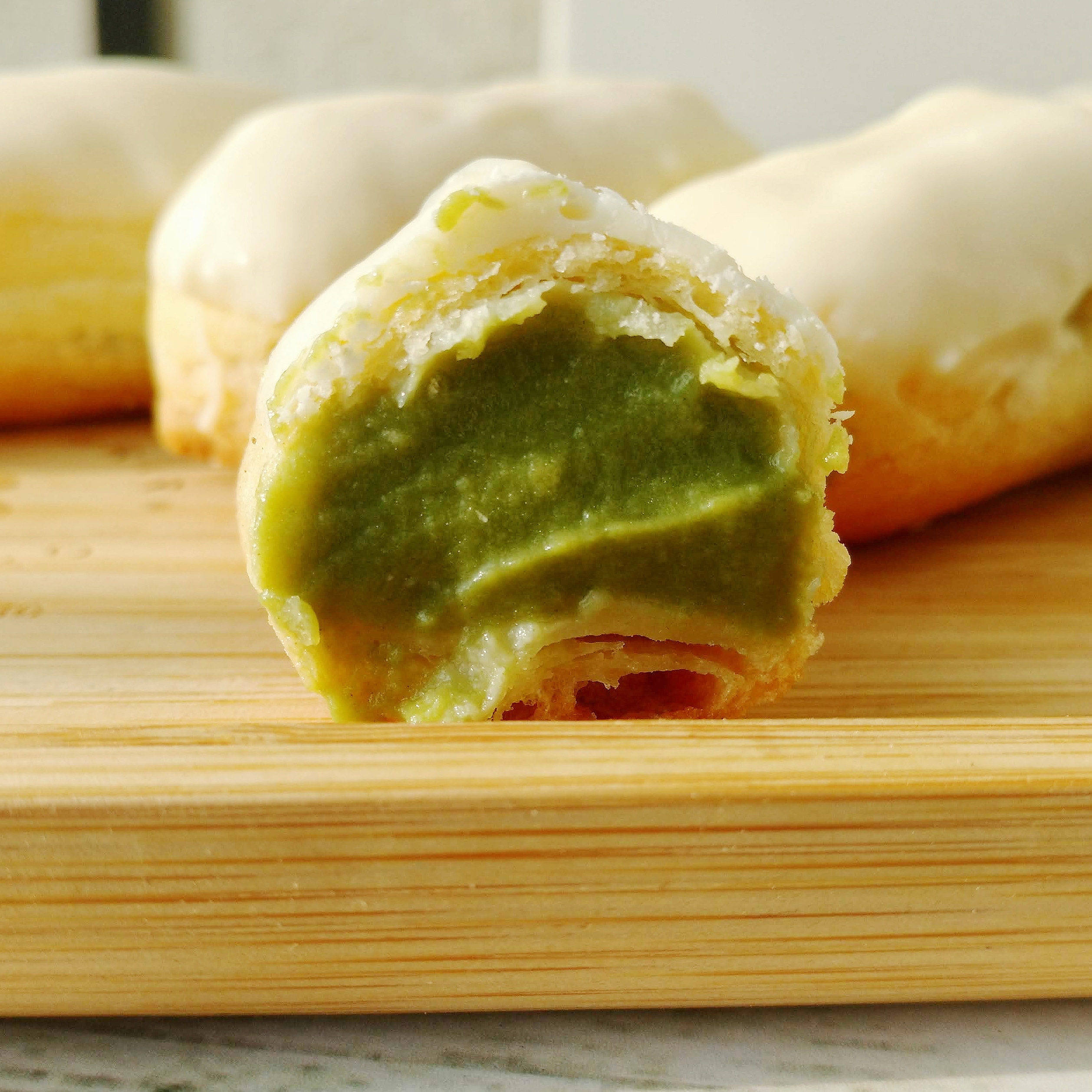 These are great tea time treats. The éclair itself has a slight crunch and the cream is velvety and the chocolate is rich. The taste is pretty good.In all honesty, I am kind of on the fence about matcha. But my husband and friends really enjoyed it. In fact, whoever ate these were tasting matcha for the first time and for the usual finicky eaters that they are, they seemed to like it! Maybe I myself need to warm up to it a bit more.
Thanks Sam for making me tiptoe outside my comfort zone !