"People are like oreos. The good stuff is on the inside"
My oven broke down this week . It probably was its final protest to my overuse and abuse of it ! So after almost crying , ranting , major over- reacting and long phone calls to the Samsung guys , I finally made my peace with the fact that for 3 days , I ll need to somehow survive without the only appliance that I have such a deep bond with.
That is the reason, i made those yummy desert roses and now this No bake oreo cheesecake . I think every other baker-blogger out there has a version of this cheesecake. The version I tried is just barely adapted from the blog Life, Love and Sugar (how awesome is that name for a dessert blog!).
This is one easy recipe. A little bit of mixing and then leave it to set . If you cant find cream cheese or just don't want to buy it, you can use hung curd instead. A friend of mine tried it with hung curd, and it tasted beautiful.You can add more oreos if you want , make the crust thicker and adjust the sugar to suit your tastes .
And I figured out a way to whip up my 25 % (Amul) cream , so yay!
This no-fuss , no bake dessert is a great make ahead dessert and will no doubt impress your guests . Its creamy and slightly tangy. The soft filling with the crunchy oreos interspersed , and the delicious crust together makes one incredible mouthful. Moral of the story ? A spoiled oven can sometimes lead to good things!

Print Recipe
No bake oreo cheesecake
Yum
Gorgeous and creamy no bake cheesecake , chock full of oreos!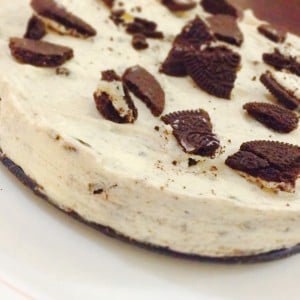 | | |
| --- | --- |
| | |
Crush 8 oreos in a mixer or however you want to crumbs

Press into a 6 inch springiform pan as uniformly as possible.. You can also line the bottom of a round pan with cling wrap so that it rises above the sides (you ll need to pull it out after it sets). Chill in the fridge when you prepare your filling

Whip up your cream to medium to stiff peaks. Refrigerate until you need to use.

Beat together the cream cheese , vanilla and sugar until smooth.

Fold in the whipped cream.

Fold in the oreos . You can powder them to crumbs like for the crust or you can chop or crush them roughly. I just chopped them into biggish chunks .

Spread the filling onto your crust and smooth the top. Chill in the fridge for atleast 6 hours or overnight. Unmould , garnish on top with more chopped or crumbled oreos and enjoy!
Use an equal amount of hung curd instead of the cream cheese.
Adjust the amount of sugar between 1/4 to 1/2 cup depending on your cream cheese / curd and the level of sweetness you want.
I kept the crust very thin here but the crust is so good that next time , i ll double the crust amount .
Refrigerate covered for upto 3 days.