"But magic is like pizza: even when it's bad, it's pretty good."
― Neil Patrick Harris
And my experiments with yeast continue !
So I tried this pizza dough a while back, and made it a few times since. It was a success each time but i refrained from sharing it because each time I used store bought pizza sauce and just some leftover meat or chopped vegetables for the toppings. I told myself that next time I go the whole nine yards – homemade sauce and some interesting topping – and then blog about it.
Ya well. I kind of stopped lying to myself and realised that is probably not going to happen any time soon. So when I tried the dough in pizza roll form this time , I said these are so good, I simply must share them !
So yes – its pizza sauce that came out of a jar and its leftover chicken for the topping . If you are a devout strictly-from-scratch baker , please dont judge me !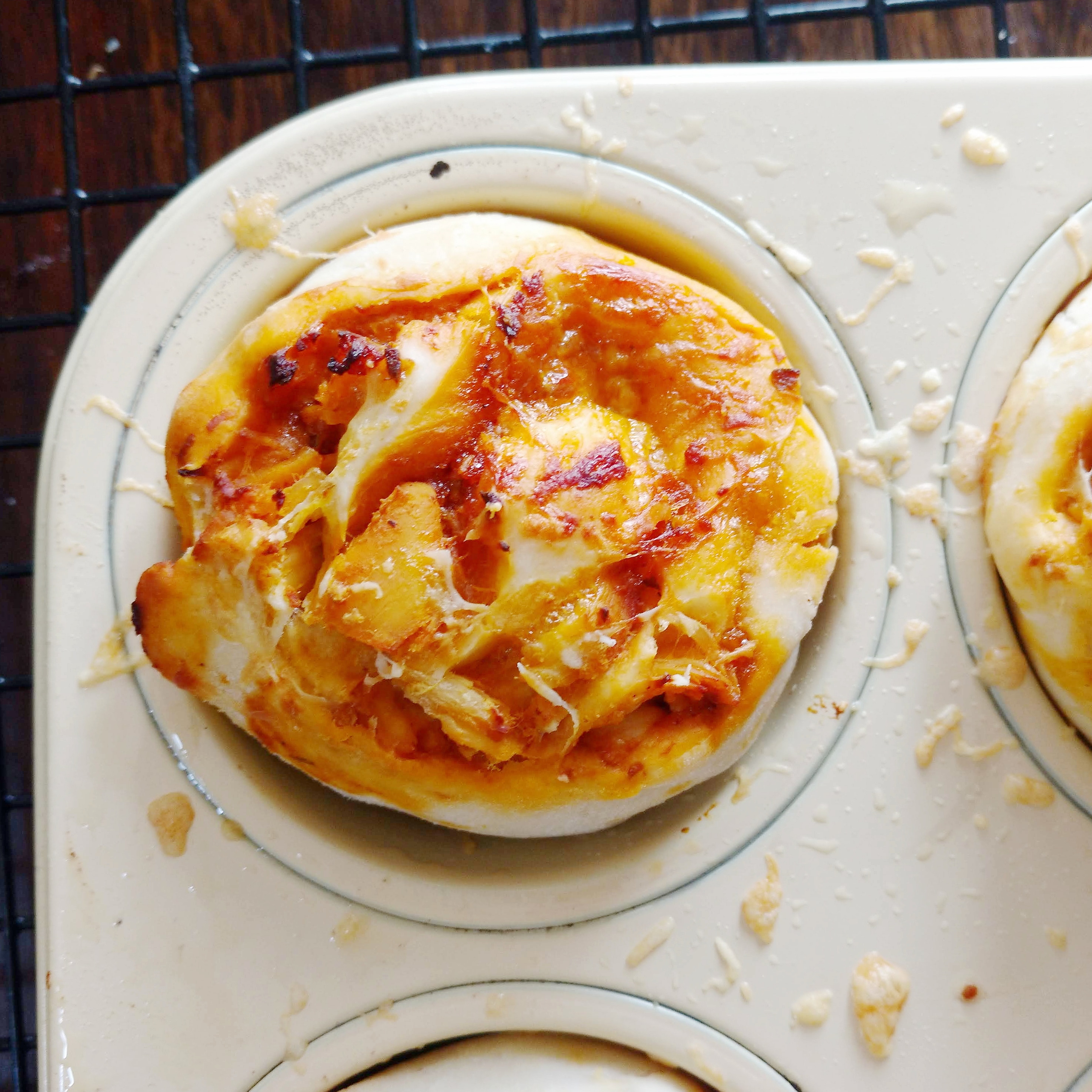 So basically for these pizza rolls (or any pizza!) you need = pizza dough + pizza sauce + toppings +mozzarella cheese.
The dough is based on one from Joy the baker and really simple to put together . Plus it can be made half all purpose flour and half whole wheat flour. I have tried it that way and although its good, I do prefer the version with only all purpose flour . The dough is enough to make 9 pizza muffins or a 10 inch round pizza. I usually make my pizzas freeform ( which is a fancy word for shapeless) because I have had a lifelong battle with perfect circles . But lets talk about That some more another time.
Like i have said , I used storebought pizza sauce . If you do want to try your own sauce , do try this pizza sauce and as for toppings , any cooked meat (left over chicken, pepperoni, sausages , kheema….) , chopped / sliced veggies (capsicum, onions, olives , cooked paneer, corn….. ). Anything and everything can go on pizza. Even fruits like pineapple!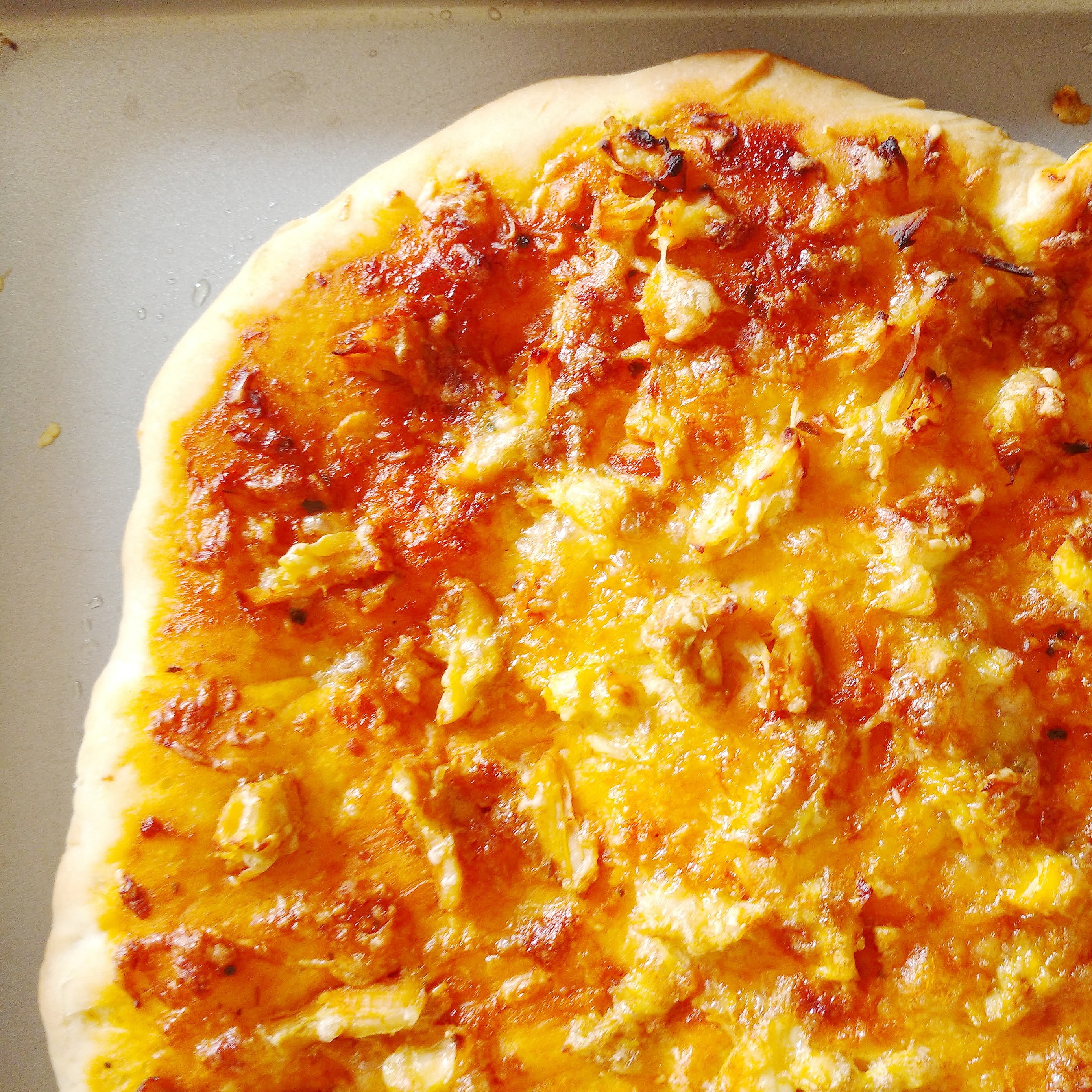 Coming to the pizza rolls, they are like cinnamon rolls in theory but with sauce and savoury filling and cheese ,and baked in a muffin pan . You could absolutely bake the rolls next to each other in a square or round pan and serve them as pull apart pizza rolls ! Maybe I will try that another time .
Because I am pretty sure I will make these again. So easy and so soft. And homemade pizza is good at its customisable best. You can load it as much as you want with whatever you want. If you try these rolls, I am sure you will want to make them again too!
Pizza muffins or pizza rolls
2019-02-16 16:31:20
Easy pizza rolls or pizza muffins with fool proof homemade pizza dough
Ingredients
250 grams or 3 cups all purpose flour or maida (plus extra)
3/4 teaspoon salt
1 teaspoon sugar
2/3 cup water
3 tablespoons oil
2 teaspoons active dry yeast
1/2 - 3/4 cup pizza sauce
1 cup cooked meat or vegetables (topping )
1 cup shredded or grated mozzarella cheese
Instructions
Heat the water r until lukewarm (110 to 120 F). You should be able to put a finger in but not keep it in for longer than couple of minutes.
Mix in the sugar and yeast. Keep aside for 10 to 15 minutes or until the yeast gets activated. It will look all frothy.
In a large bowl, mix together the flour and salt.
Add the activated yeast mixture and the oil and stir until it comes together in a sticky dough. Add more flour if needed.
Knead this dough for about 5 minutes until it is soft and smooth.
Place in a bowl greased with oil. Cover and place in a warm area for 45 minutes or until doubled.
Prepare your sauce and toppings if needed and grate your cheese as the dough rests.
Towards the end of the resting time, preheat your oven to 200 c or 400 F. Oil a muffin tin well.
Once doubled , punch the dough to knock out the air.
On a well floured surface , roll out into a rectangle about 1/2 inch thick of about 12 inches x 9 inches .
Spread the sauce on top and then sprinkle the toppings evenly. Then sprinkle the grated cheese evenly.
Starting from one long side, roll the dough carefully and tightly to the opposite end. The joint should be on the bottom.
Using a sharp knife , slice this into 9 equal pieces .
Place each piece in a cavity of the muffin tray with cut side up.
Grate some more cheese on top .
Bake for 15 to 18 minutes . The dough on top will be golden brown.
Rest in pan for 5 minutes.
Serve warm !
Notes
This recipe makes 9 to 10 muffins or one large 10 inch pizza.
The amounts for sauce , toppings and cheese are approximate. You can alter according to your tastes.
If you want to make a pizza , roll the dough out to a 1/2 inch thick circle . Rest of the prep remains same . Bake for 20 minutes or so, until edge is golden brown and cheese is melting.
While making the dough, add up to 1/4 cup more flour if the dough appears too wet .
To cook chicken for toppings, just season chicken shredded or chopped into small pieces with salt and pepper. Saute quickly in a pan.
My measuring cup is 240 ml.
FLOURS & FROSTINGS http://floursandfrostings.com/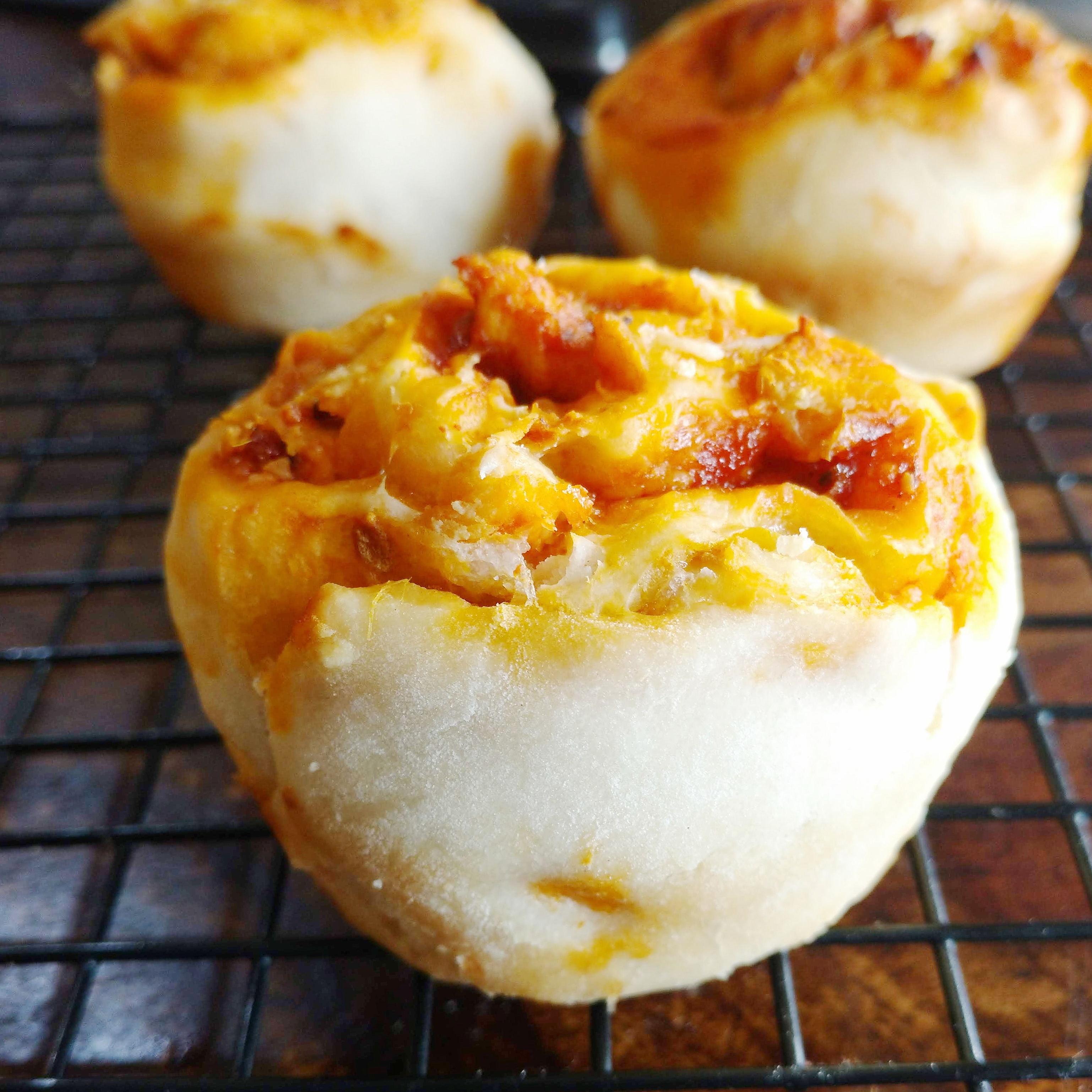 I absolutely enjoyed these rolls. Yes plural. Definitely had more than one of these. Not specifying how many. These are so pillowy, saucy, cheesy, gooey. How could I stop at one!