"The best of memories are made in the unlikeliest of places and the oddest of times."
For some reason, tutti frutti is so innately "Indian" to me , perhaps like gully cricket or filter coffee. I was pretty surprised that "tutti fruity" actually is from Italian and means all fruits. In any case, just the word tutti frutti brings back images of vanilla ice-cream swirled with colourful bits , crumbly biscuits in the jars in the small neighbour hood bakery , overly-sweet filled buns and slices of locally made sweet bread !
A pack of candied fruit caught my eye while I was aisle hopping in the super market and I just had to buy it . I have far too many of these "have to buy " and "have to have" moments ! In this case though , all s good as I put the fruit to really good use in these cookies .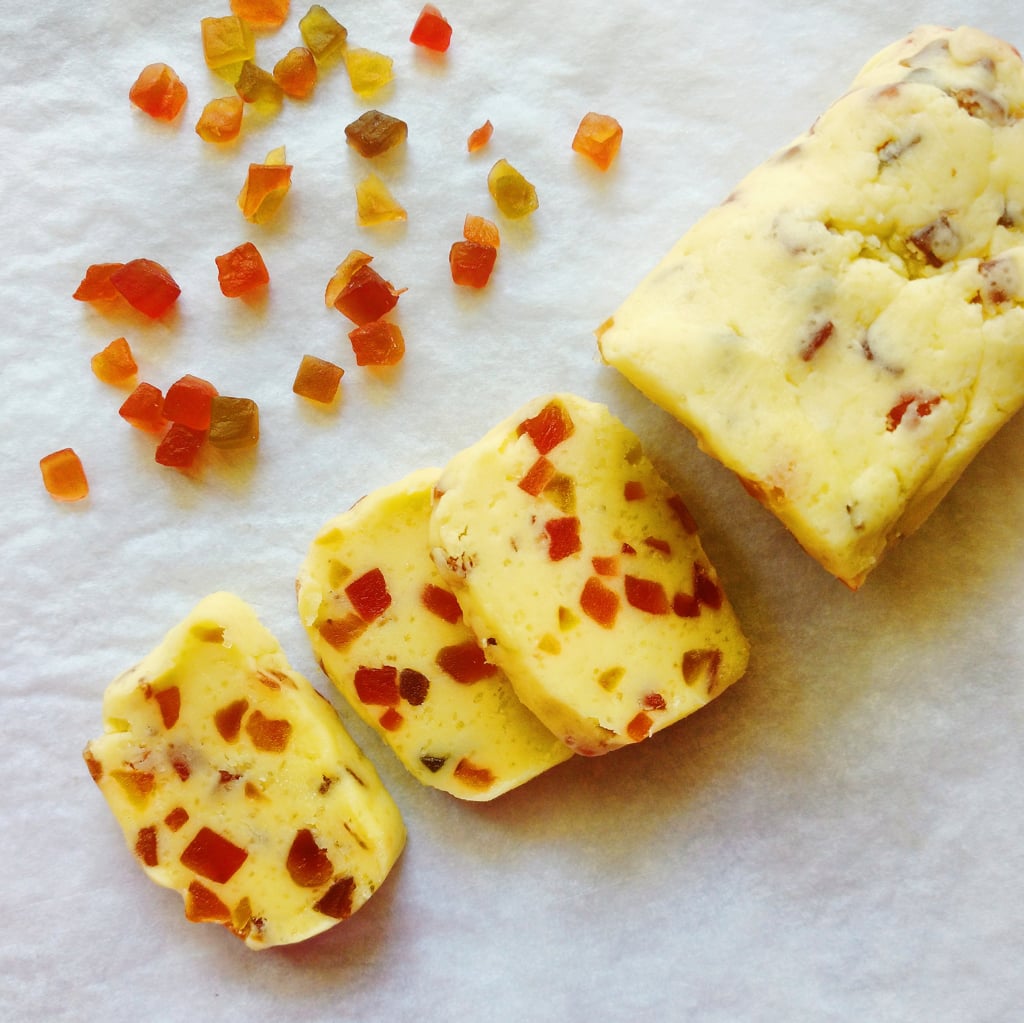 Tutti frutti cookies or candied fruit cookies are almost synonymous with Karachi cookies in India but a little bit of recipe research told me that karachi cookies are usually made with custard powder , chopped cashews , pineapple or rose essence and a dash of cardamom. Mine is not a true Karachi cookie in the sense that I used a simple eggfree vanilla icebox cookie dough and stirred in the fruit. I did add the pineapple essence as I had some and it seemed like a good idea. It was ☺. Buttery , simple and sweet…
I love the convenience of a slice and bake cookie. Add to that , those flecks of bright colour against the pale cookies – I am sold. These cookies are crisp, light and buttery . And tuttily fruity !!!
PS. The pack remains unfinished so expect more tutti frutti recipes soon !

Print Recipe
Tutti Frutti cookies or candied fruit cookies
Yum
Light , crisp and buttery icebox cookies with candied fruit bits!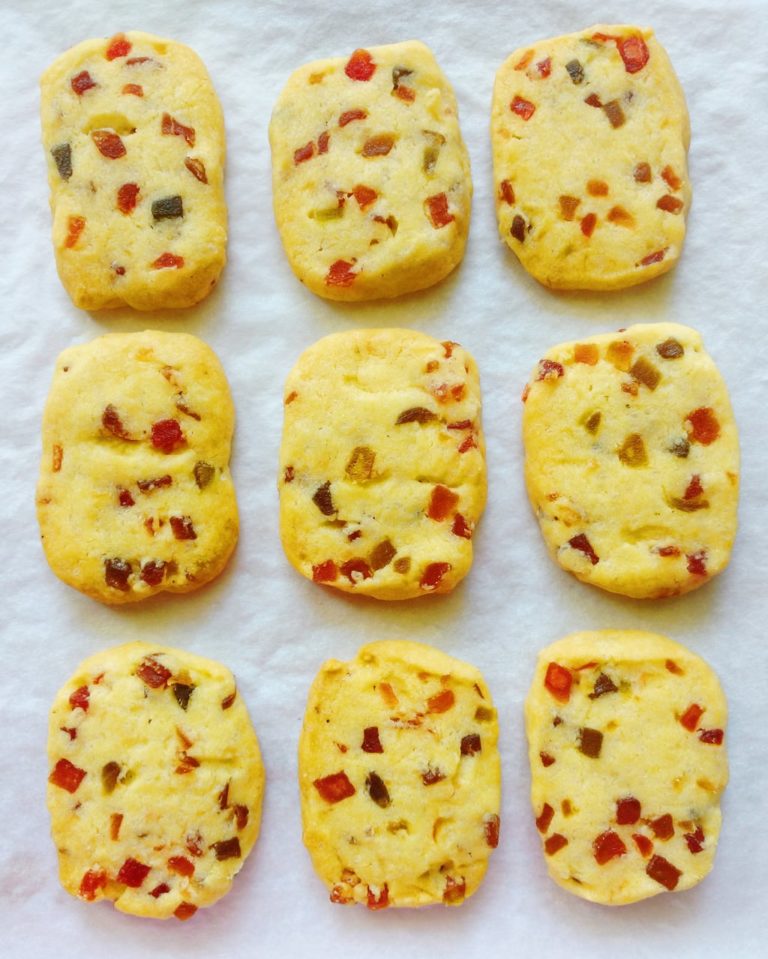 | | |
| --- | --- |
| | |
Beat the butter and sugar using a whisk or electric mixer until light and fluffy .

Beat in the curd/milk and extract.

Add the flour and baking powder . Beat until a smooth dough forms

Stir in or fold in the tutti frutti.

Shape the dough into a round , rectangular or square log. Wrap in plastic wrap or parchment paper. Chill for atleast an hour.

Preheat your oven to 180 C / 350 F . Line a cookie sheet with parchment.

Slice the logs into discs of about 1/4 cm each. Adjust the shape of needed.Place on the prepared sheet about 2 inches apart.

Bake at 180 C/ 350 F for 12 to 15 minutes or edges are golden brown.
Step by step tutorial :
Also :
Store in an airtight container for 4-5 days.
The unbaked cookie log can be refrigerated for up to 2 days and frozen up to 2 months.
Feel free to substitute the fruit partially or completely with chopped nuts .
These cookies are not too sweet, you can add upto 2 tablespoons more sugar if you want them sweeter.