"To me, the smell of fresh-made coffee is one of the greatest inventions."- Hugh Jackman.
It's no secret that I am a big coffee drinker. I am trying to cut down caffeine intake though (why cant things I love ever be good for me!!!). Good news is – I am drinking a lot less of it. Not so good news – I am still baking with it! Wait.. thats still good news I guess. I love me some coffee in my desserts!
I am not an expert in eggfree baking. Infact , I literally struggle with getting eggless cakes as good as my eggy cakes. Cupcakes , I have more success with . I love these eggfree vanilla , chocolate and red velvet cupcakes. These are some of most followed recipes and the ones I get rave feedbacks on! These coffee cupcakes are totally in the same league (I hope so!). They are so good , you would never guess they had no eggs !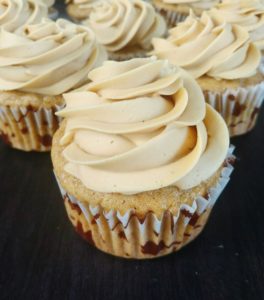 The cupcake sponge is really light and fluffy . The buttercream is just that.. utterly buttery and creamy. It is the coffee version of my "new " buttercream. Together , it's one delicious mouthful and a good caffeine kick ! I have used filter coffee decoction for the flavoring in both (which a sweet friend from Coorg brought down for me!) but this works well with instant coffee powder as well.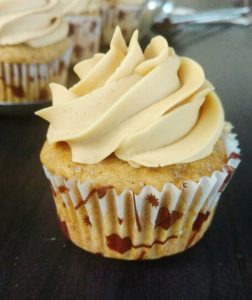 Eggless coffee cupcakes
2017-01-05 17:29:50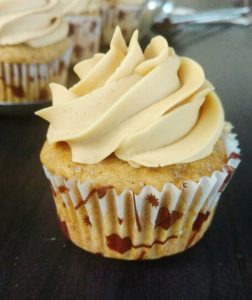 Moist egg-free coffee-flavoured cupcakes with coffee buttercream !
For the coffee cupcakes
56 grams or 1/4 cup unsalted butter , at room temperature
150 grams or 3/4 cup granulated sugar
190 grams or 1 1/2 cups all purpose flour
1 1/4 tsp baking powder
1/2 teaspoon salt
60 ml or 1/4 cup coffee (or filter coffee decoction), at room temperature
120 ml or 1/2 cup milk , at room temperature
1 tsp vanilla extract
For the coffee buttercream
221 grams or 1 cup unsalted or salted butter , at room temperature
112 grams or 1/2 cup castor sugar
60 ml or 1/4 cup coffee (or filter coffee decoction)
For the cupcakes
Preheat your oven to 180 C / 350 F . Line your cupcake pan with liners or grease the cavities well.
Whisk together the flour, salt and baking powder. Keep aside.
Prepare your coffee by dissolving 2 teaspoons instant coffee powder in 1/4 cup water or by preparing 1/4 cup filter coffee decoction. Mix the coffee/decoction with the milk and vanilla. Keep aside.
Using an electric mixer or whisk , beat the sugar and butter for 5 minutes.
Add and beat in one-third of the flour - followed by half of the coffee-milk mixture - followed by another one third of flour - the remaining half of coffee and milk mixture -lastly the remaining third of the flour. Beat after each addition until incorporated. Don't overheat after the last addition of flour.
Divide the batter into 12 cupcake liners / cupcake pan cavities , filling each about 2/3rds full.
Bake for 18-20 minutes until a toothpick inserted in the centre comes out clean and dry.
Cool and frost !
For the buttercream
Using an electric mixer , beat the butter until light and smooth. This will take few minutes.
Add half of the sugar (1/4 cup) and half the coffee (2 tablespoons) . Beat for 5-6 minutes.
Add the remaining half of the sugar and coffee and beat well until you get desired consistency.
Notes
The cupcakes can be stored for 3 days at room temperature.
The buttercream can be refrigerated for upto a week. Bring to room temperature and beat again for desired consistency.
For stronger coffee flavour , add more instant coffee powder or make a stronger decoction.
If you don't have castor or super fine sugar , pulse your regular sugar in the blender or processor once. You could also use granulated sugar but will need to beat the buttercream more until you cant feel any grains.
All ovens work different , if your cupcakes have cracked domes, try baking at 160 C for a few minutes longer!
FLOURS & FROSTINGS http://floursandfrostings.com/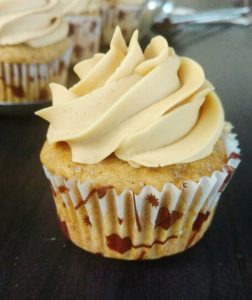 These cupcakes are delicate and soft and you will love every bit of the coffee that you taste. The buttercream is in perfect contrast rich and luxurious . I have to warn you – this is a "butter"cream in the truest sense. It is really buttery! So , if you want to skip it (hey, its still early enough in January that resolutions are still in place!) , go ahead. The cupcakes are delicious enough to handle it by themselves!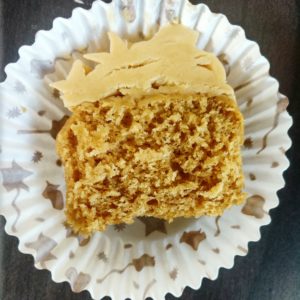 Affiliate links : Just so you know, I have baked these cupcakes in my trusty Morphy Richards 52 Litre Oven
.
Happy baking !