"Act as if what you do makes a difference. It does." – William James.
After that post on homemade lady fingers, it was a no brainer that Tiramisu was on the cards. But I was in the mood of doing things a little differently. And what better way to jazz up the good ol' Tiramisu with some season's fresh mangoes! So here's my Mango Tiramisu or Mango-misu!!!
I thought I had hit gold with this idea but there are loads of Mango misu s already on the net so apparently it isn't exactly a novel idea! How sad is that – all the good ideas are always taken! Well, it might not be unique , but it is downright delicious!
The mangomisu is made with ladyfingers soaked in a mango syrup and layered with a mango-mascarpone cheese filling. The traditional Tiramisu filling is one made with egg yolk and mascarpone. My version is made with mango puree, mascarpone cheese and heavy cream . So, with egg free Savoiardis , you can make and relish this Mango-misu without cracking a single egg!
After pureeing the flesh of one mango for the filling , I took the pit , boiled it with some water and sugar (the way they make mango concentrate). This reduced concoction gave me a great , none too sweet soaking syrup!
You can line your lady fingers in any square or rectangular dish , build and serve the dessert in it. Thats the easiest way to do it. U could also line a pan with cling wrap leaving some overlap , build and chill the mango-misu in it . To serve, upturn the pan , remove pan and cling wrap , decorate and serve. I lined the fingers 3 by 2 and built it freestanding . I finished it off by lining with some leftover lady fingers and topping with thin strips of mango.
I was super glad with the way this turned out . I served it at a dinner party and it got absolutely rave reviews!! The soaked softened cookies blend perfectly with the light and creamy mango filling for one glorious mouthful!
Truth be told- I love Tiramisu in its original form as I and coffee have a deep and committed relationship. It always "picks me up" ! But this mango spin on it can give any traditional Tiramisu a run for its money. Its all the luxuriousness and creaminess of the classic , with the freshness of summery mangoes !
Print Recipe
Mangomisu (Mango Tiramisu)
Yum
Home made ladyfingers soaked with fresh mango syrup, filled with a delicious mango mascarpone cream filling and topped with fresh mango. Total Mango overload!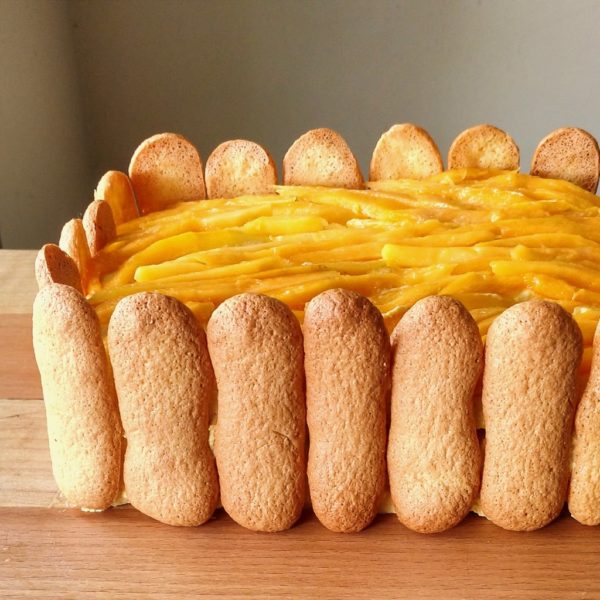 | | |
| --- | --- |
| | |
Make your Savoiardi if making your own (you can use this recipe)

Prepare the syrup by boiling the pit with the water and sugar , and then simmering it until it reduces to about one cup. Strain into a wide bowl and cool to room temperature.

For the filling : whip one cup of the chilled cream to stiff peaks. Keep aside. Whisk together the mango puree, icing sugar and mascarpone cheese until smooth. Fold this mixture into the heavy cream . Keep chilled until required.

For the assembly : dip the lady fingers one by one in the syrup, tap out excess and line in your serving dish or plate. Spread a layer of the filling (about 1/2 cup). Lay down another layer of soaked lady fingers , topped by the filling. Continue with as many layers of lady fingers as you want. Spread the remaining filling on top.

Chill for 4-6 hours. Serve cool.

Optional decoration : Line with remaining lady fingers and top with sliced mangoes.
Step by step Tutorial:
For the syrup:
For the filling:
For the assembly:
Also:
This is best the day after it is made and tastes best cool.
It lasts for 3-4 days when refrigerated.
You can use store bought or home made Tiramisu (you'll need a double recipe).
Adjust the granulated sugar in the syrup and icing sugar in the filling depending on the sweetness of your mango.