"In Boston they ask, how much does he know? In New York, how much is he worth? In Philadelphia, who were his parents?" – Mark Twain.
Yup, its called a pie but its really cake !
Wikipedia tells me it is because this cake came into being a long time back when cakes and pies were made in similar pans !
Boston cream pie is two layers of yellow or vanilla cake , filled with custard or pastry cream and topped with a shiny glaze. I have made it before and found it really heavy and sweet. Good, but heavy and sweet.
This time around, I played it with a little bit. I made a Boston cream pie layer cake (this dessert is going to have an identity crisis for sure !)I chose a sponge that is really light – which is my hot milk sponge cake . I layered the cake and soaked it generously with some simple syrup. I used vanilla pastry cream for the filling but lightened it by folding in a little whipped cream.And i topped it with some dark chocolate ganache – perfect against all that sweetness !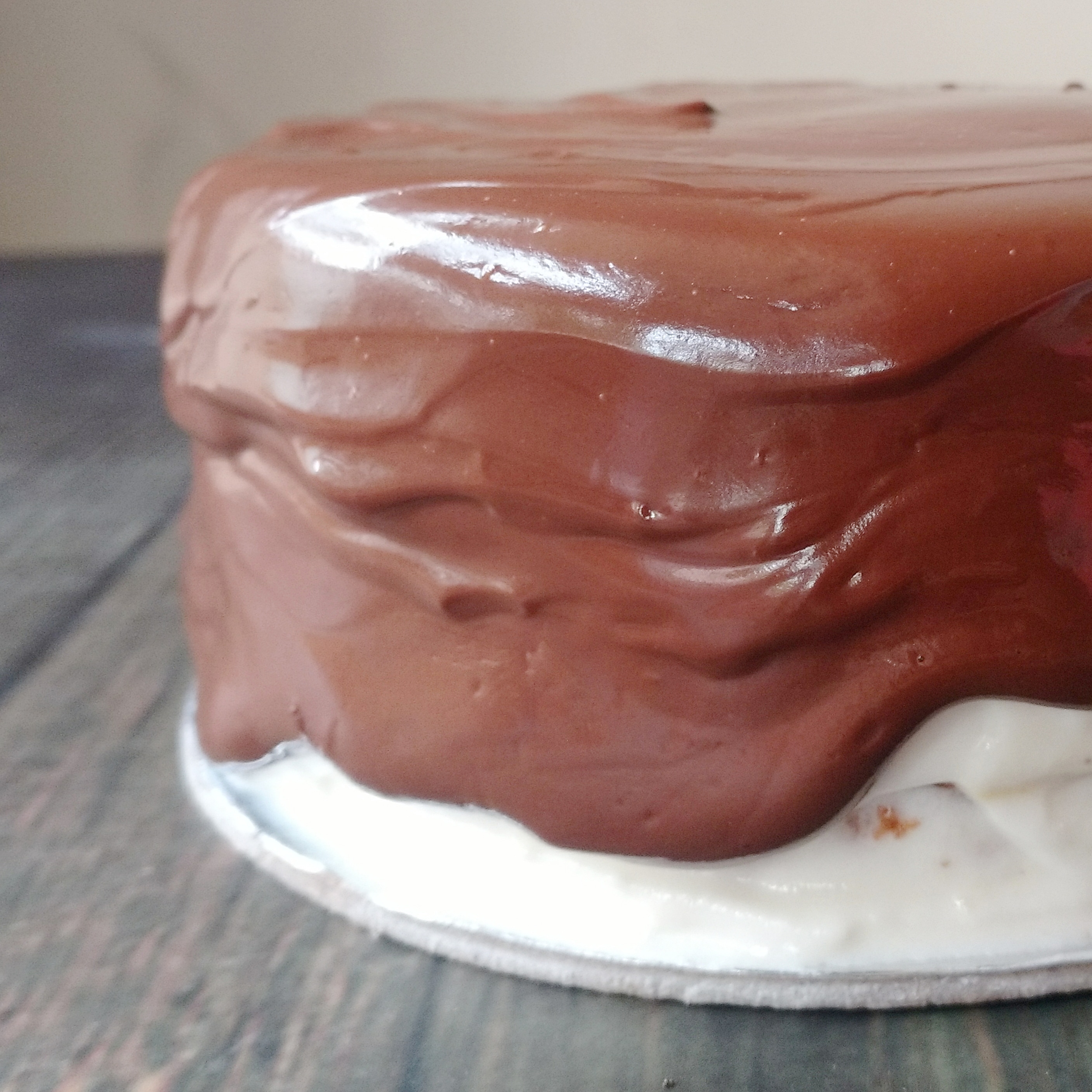 If you havent tried the hot milk sponge cake yet, you should give it a go. Its a great basic vanilla cake- with the lightness of a traditional sponge cake but with a little structure like that of a butter cake. You can eat it plain but I prefer using it in layer cakes. You can make it in a bigger pan and slice in two with the pastry cream slathered in between. Speaking of pastry cream , or creme pastisserie which is its official name , its a thick custard based on milk or cream and eggs with a little flour for thickening. I have a go-to recipe for pastry cream that has yolks but since I didnt want to have spare egg whites lying around, in this cake I used a cream that uses one egg and makes a small quantity.
Like I was saying , I folded some whipped cream into the pastry cream, so you get the flavour of the pastry cream but it is light and fluffy . I covered the cake with it before pouring on just-made ganache. You can whip in more cream if you want to pipe , or you can use the pastry cream itself without the cream. You can also set the ganache and ice the cake instead of just pouring it on. As usual, I couldnt wait !
It sounds simple and probably looks plain – but let me tell you – DELICIOUS !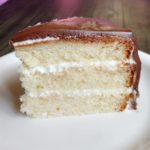 Boston cream pie
2018-06-03 07:43:03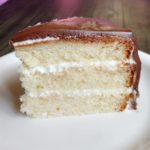 Boston cream pie layer cake - light vanilla cake filled with pastry cream and topped with dark chocolate ganache !
For the hot milk sponge
125 grams or 1 cups all purpose flour
1 tsp baking powder
1/4 tsp salt
150 grams or 3/4 cup granulated or castor sugar
2 Eggs , at room temperature
1 tsp vanilla extract
120 ml or 1/2 cup milk
28 grams or 2 tablespoons unsalted butter
For the pastry cream filling
1 egg
240 ml or 1 cup milk
1 teaspoon vanilla extract
75 grams or about 1/3 cup granulated or castor sugar.
1 tablespoon all purpose flour
1 tablespoon cornflour
Pinch of salt
14 grams or 1 tablespoon unsalted butter , at room temperature
120 ml or 1/2 cup heavy or whipping cream ,chilled
For simple syrup
50 grams or 1/4 cup granulated sugar
240 ml or 1 cup water
1/2 teaspoon vanilla extract
For the ganache topping
125 grams dark or semi sweet chocolate
125 ml or about 1/2 cup light cream (25% fat)
To make the cake
Preheat oven to 180 C / 350 F. Grease and butter well a 6 inch round pan. Line the bottom with parchment ( optional).
Whisk together the flour, baking powder and salt. Keep aside.
Heat milk and butter until the butter melts. Keep aside but keep it hot.
Beat with an electric mixer or whisk, the sugar, vanilla and eggs until light and fluffy (about triple in volume)
Whisk in the flour mixture.
Whisk in the hot milk-butter mixture.
Pour batter into prepared pan , tap against counter and bake for 38-42 minutes at 180 C/ 350 F until cake springs back when touched on top . The top will be browned and edges will come away from the pan.
Cool in pan for 5 minutes and then carefully invert out, remove parchment and cool right side up on a wire rack.
To make the pastry cream
In a bowl, whisk together the milk and egg .
Whisk the sugar, flour, cornflour and salt in a thick bottomed saucepan.
Over medium heat, whisk the egg- milk mixture into the sugar-flour mixture while whisking.
The mixture will come to a boil, lower the heat and continue simmering while stirring until it thickens.
It is done when you dip a spoon and run your finger along the back of the spoon, there is a clear path.
Stir in the butter and vanilla.
Strain (optional) into a bowl. Cover the top with plastic wrap so that it touches the surface of the cream.
Refrigerate until cool.
Whip up the cream to stiff peaks and fold in the cool pastry cream. Keep chilled until using.
To make the simple syrup
Boil the sugar and water together until sugar dissolves
Then simmer for few minutes until it thickens.
Take off heat and stir in the vanilla.
Let come to room temperature before using.
To make the ganache
Chop the chocolate really small.
Heat the cream until it bubbles around the side.
Pour the hot cream over chopped chocolate and stir until all the chocolate melts into the cream.
Let cool for few minutes.
To assemble the cake
Slice the cooled cake into two or three layers using a serrated knife.
Place one layer on a plate or cakeboard
Soak until damp to touch with syrup. Spread about 1/4 cup pastry cream on it using a spoon or spatula.
Place second layer on top , soak and spread cream.
Place the last layer , soak and spread remaining cream on top and sides of cake using spatula.
Chill for 15 minutes.
Smoothen the cream and pour ganache over the top. Let it set
Your cake is ready!
Notes
This cake needs to be refrigerated and tastes good for atleast 4 days.
To make the most of your time , make the cake. As the cake bakes, you can make the pastry cream. Prepare the simple syrup before assembling the cake and the ganache as the cake chills after the crumb coat.
The simple syrup and whipping cream is optional.
My measuring cup is 240 ml.
The finished cake weighs about 1 kg or a little more.
FLOURS & FROSTINGS http://floursandfrostings.com/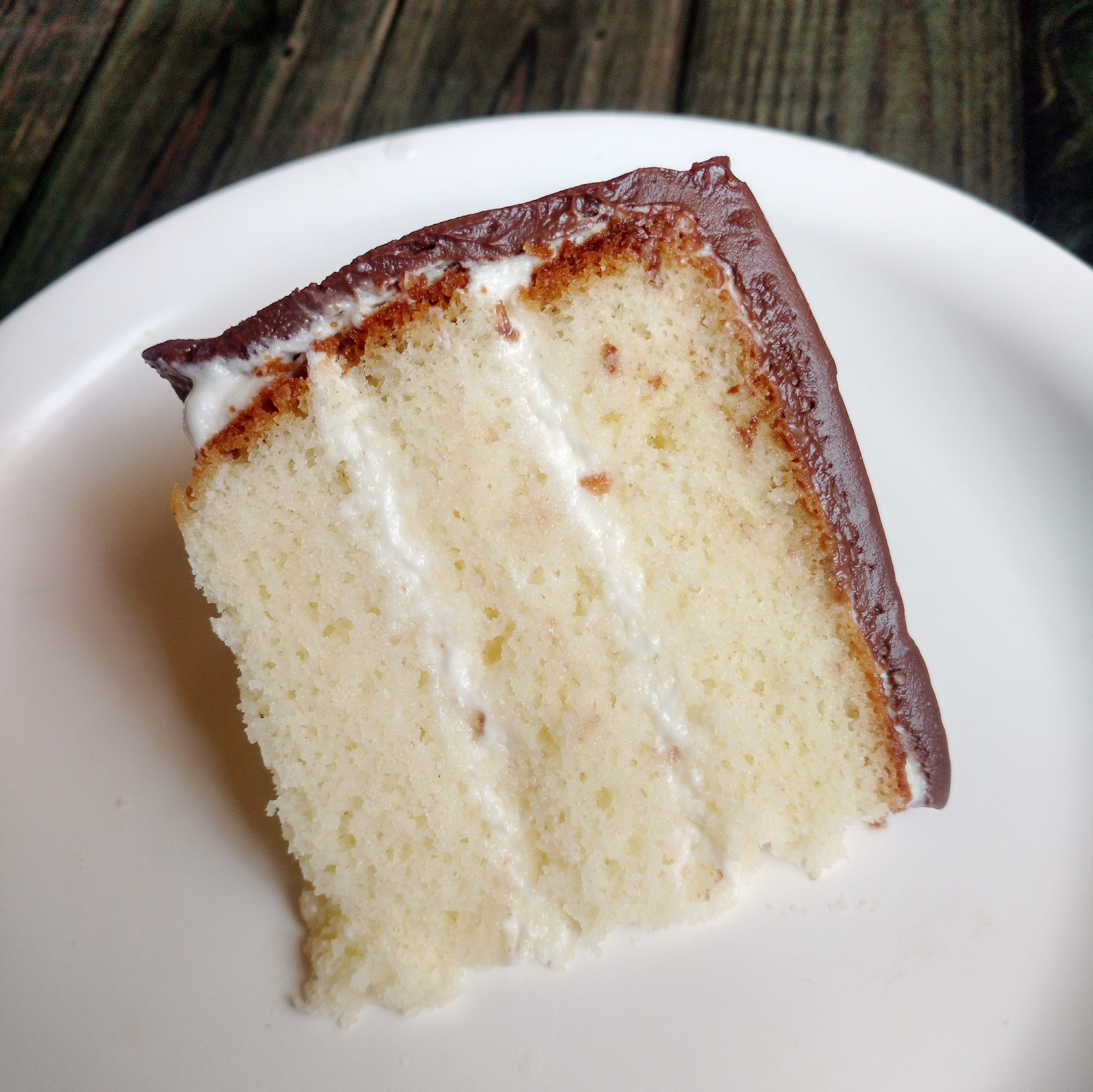 I just love it when its all about the cake . This cake has no frills – just good strong flavours. It tasted really yum when served cold but if you decide against soaking it , do let it come to room temperature. The cake is fluffier but so light and so good!