"Do not take life too seriously. You will never get out of it alive."- Elbert Hubbard
For a while now , I have been wanting to dabble in savoury baking – and after a few nudges and pushes from others, I have been wetting my feet in this different baking zone . I know my ventures have been spaced out and simplistic – like the pull apart garlic bread and the no knead focaccia . But this quiche is much more ambitious – atleast for me it is !
A quiche is basically (and originally) a savoury tart made with a pie crust filled with veggies or meat, topped with cheese and filled with a custard made of eggs and dairy. Needless to say , with all the butter, cheese, eggs and cream – quiche is rich food ! Its filling and a meal in itself – come to think of it, it does cover most of the food groups ;-P .
It does have several components and takes a bit of planning (and waiting around ) but it isn't difficult work .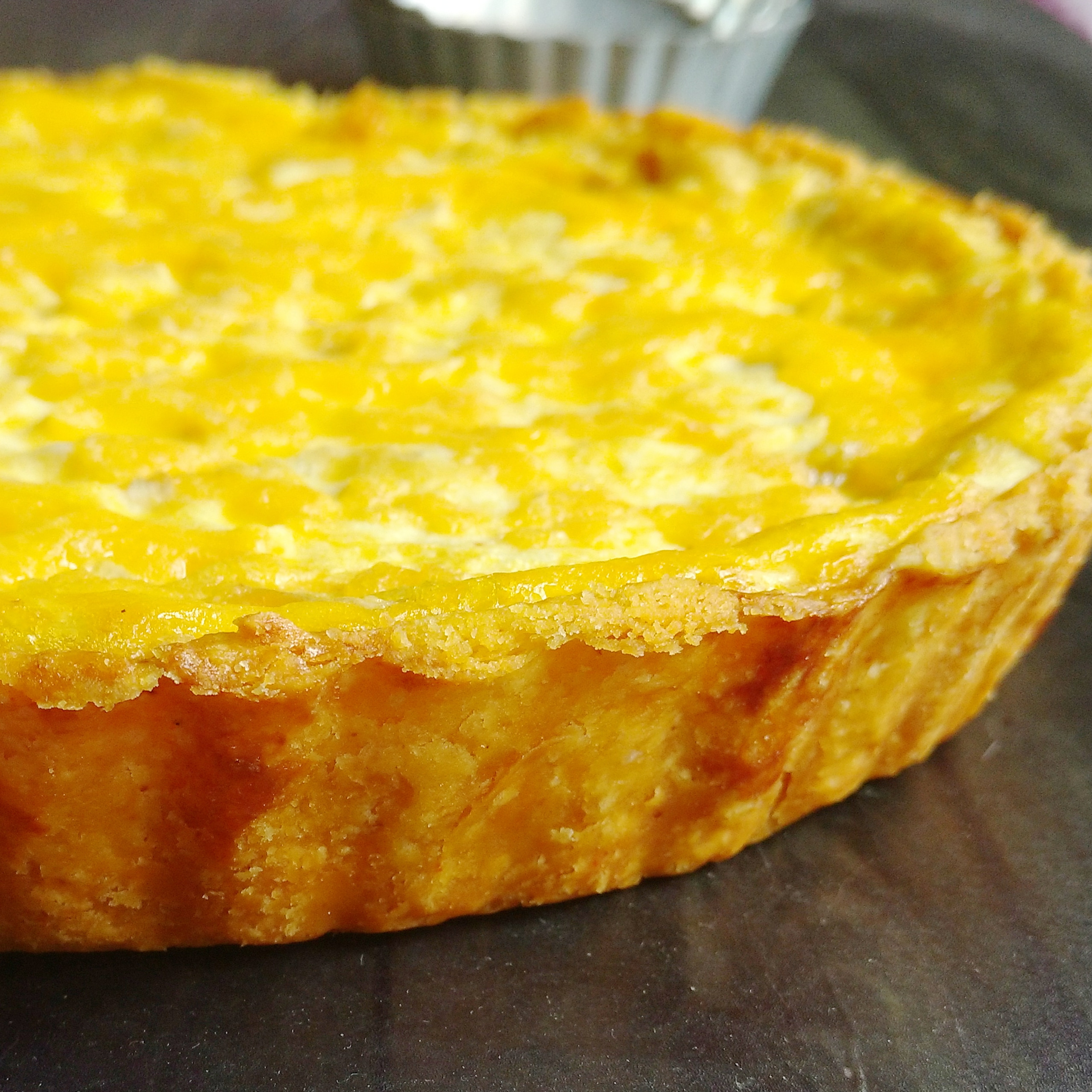 I tried my hand at a Indianised quiche because as much as I like international desserts , some non-sweet food from non Asian countries isn't to my taste ( except of course burgers, fried chicken and other junk food!). And well , i felt like experimenting . So the filling is made with chicken marinated in a tikka- style masala and some caramelised onions. You can use ready made Tikka masala powder too . I sauted the chicken in a frying pan which while not authentic , makes things quicker. You could cook the chicken in the oven for more authentic Chicken Tikka. I used Cheddar cheese and not a lot of it. You could use Mozzarella , Gruyere or Parmesan too.For the custard , I used the standard quiche custard ratio of equal parts of eggs to milk to cream.
Coming to the tart base, I used a savoury shortcrust pastry made of flour , butter , salt and water. I also added some chilli powder to spice up the tart shell as well to keep with the Indian theme. You can easily make this dough by food processor – mix the flour with salt and chilli, add cubed butter and then water until it comes together. But not everyone has a food processor so my instructions here are to make the pastry by hand. Keep in mind , that the dough shouldn't be kneaded ( you don't want gluten forming ). The dough needs to be rested before rolling out , after shaping into tin and blind baked. But while you are waiting around, you can make the filling and custard .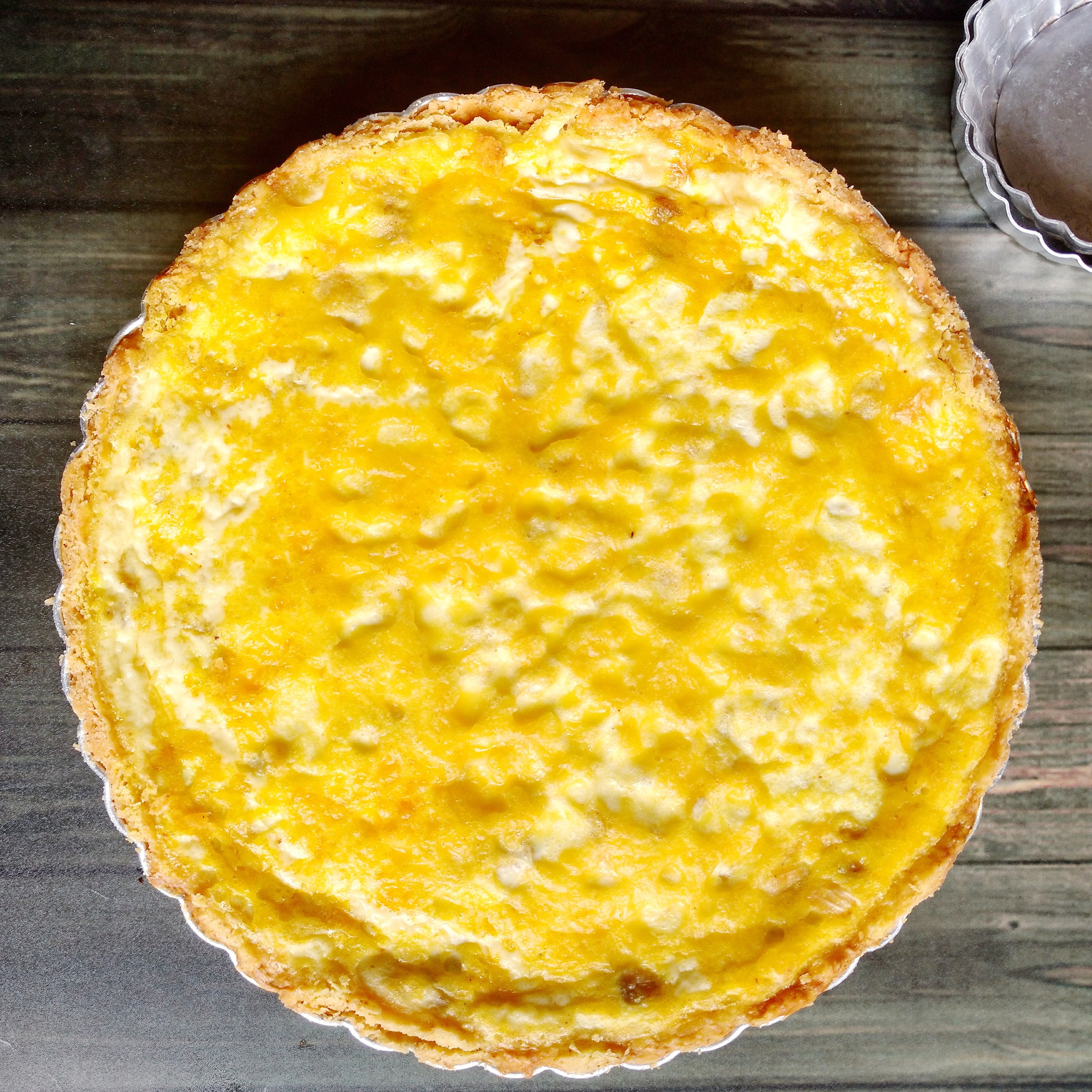 Another small pointer, it is sometimes advised to pour the custard after placing the filled quiche in the oven to prevent spillage, but i just place the tart pan on a baking sheet and move it as gently as possible. I just find it more comfortable that way. Also , in a quiche the wet filling may leak over the edges so trim the edges AFTER baking .
Ok, enough with instructions. Its not rocket science. Its just baking . French baking Indian style !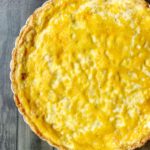 Chicken tikka quiche (Indian style quiche)
2018-05-06 19:26:12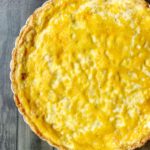 Indian style quiche made with a spiced shortcrust pastry filled , chicken tikka pieces and caramelised onions .
For the shortcrust pastry
140 grams or 1 cup + 2 tbsp all purpose flour
1/2 tsp salt (skip if using salted butter)
1/2 tsp chilli powder
112 grams or 1/2 cup cold unsalted butter
3-4 tbsp ice cold water
For the filling
250 grams boneless chicken
1/4 tsp chilli powder
1/4 tsp garam masala powder
1/4 tsp turmeric powder
pinch of pepper powder
1 tsp ginger garlic paste
Juice of half a lime
2 tbsp curd
Salt to taste
1 large onion
3 tablespoons grated Cheddar cheese
For the custard
4 eggs
240 ml or 1 cup cream
240 ml or 1 cup milk
1/2 tsp salt
To make the pastry
Mix together the flour, salt and chilli powder .
Make a well in the centre of the mixture and add the cold butter diced into small pieces.
Rub the butter and flour between your hands until all the butter is incorporated into the flour.
The mixture should resemble coarse breadcrumbs and have no big pieces of butter visible.
Add the cold water , one tablespoon at a time and mix into the mixture until it comes together into a slightly wet and soft dough. You might not need all the water. No need to knead !
Shape into a disc, cling wrap and refrigerate for 30 minutes.
After chilling, on a floured surface roll out into a circle about 12 inches in diameter.
Grease a 9 inch round tart pan (preferably with removable bottom).
Place rolled out dough into the pan and press into bottom and sides well. You can use bits of broken or extra pastry to fill up empty or thinner spots.
Using a fork, poke holes into the bottom of the dough. This is to prevent the pastry from puffing up.
Chill for 15 minutes.
Preheat oven to 200 C or 400 F.
Place an aluminium foil sheet over bottom of dough and fill with rice or baking beans . The edges needn't be covered.
Bake at 200 C for 15 minutes (blind baking).
For the filling
Cut the chicken into bite sized pieces .
Marinate with salt, spices, curd , ginger garlic paste and lime juice. You can refrigerate this for few hours or rest for a minimum of 30 minutes.
Dice the onion.
In a pan, heat some oil.
Saute the chicken until cooked.
Remove the chicken from oil and saute the onion in same oil until golden brown.
To make the custard
whisk the eggs
Whisk in the cream, milk and salt.
You can strain this mixture.
To prepare the quiche
After blind baking for 15 minutes, remove the tart pan from oven.
Lower temperature to 160 C / 325 F.
Remove the aluminium foil and weights
Place tart pan over a baking sheet or bigger pan.
Spread the chicken over the bottom and then the onion.
Spread grated cheese all over.
Pour the custard and gently place in oven.
Bake for 40-45 minutes until the custard looks set .
Remove from oven and let cool a bit in shell. The puffed up filling will shrink a little.
Using a knife, trim off excess pastry from above the rim of tart pan.
Cool for few minutes and unmould carefully.
Notes
This can be stored refrigerated for 3 -4 days.
Reheat in microwave or oven .
You can make the pastry using food processor.
You can fill the custard into the pan while in oven to prevent spills.
Adjust spices and salt to your taste levels.
My cup is 240 ml
FLOURS & FROSTINGS http://floursandfrostings.com/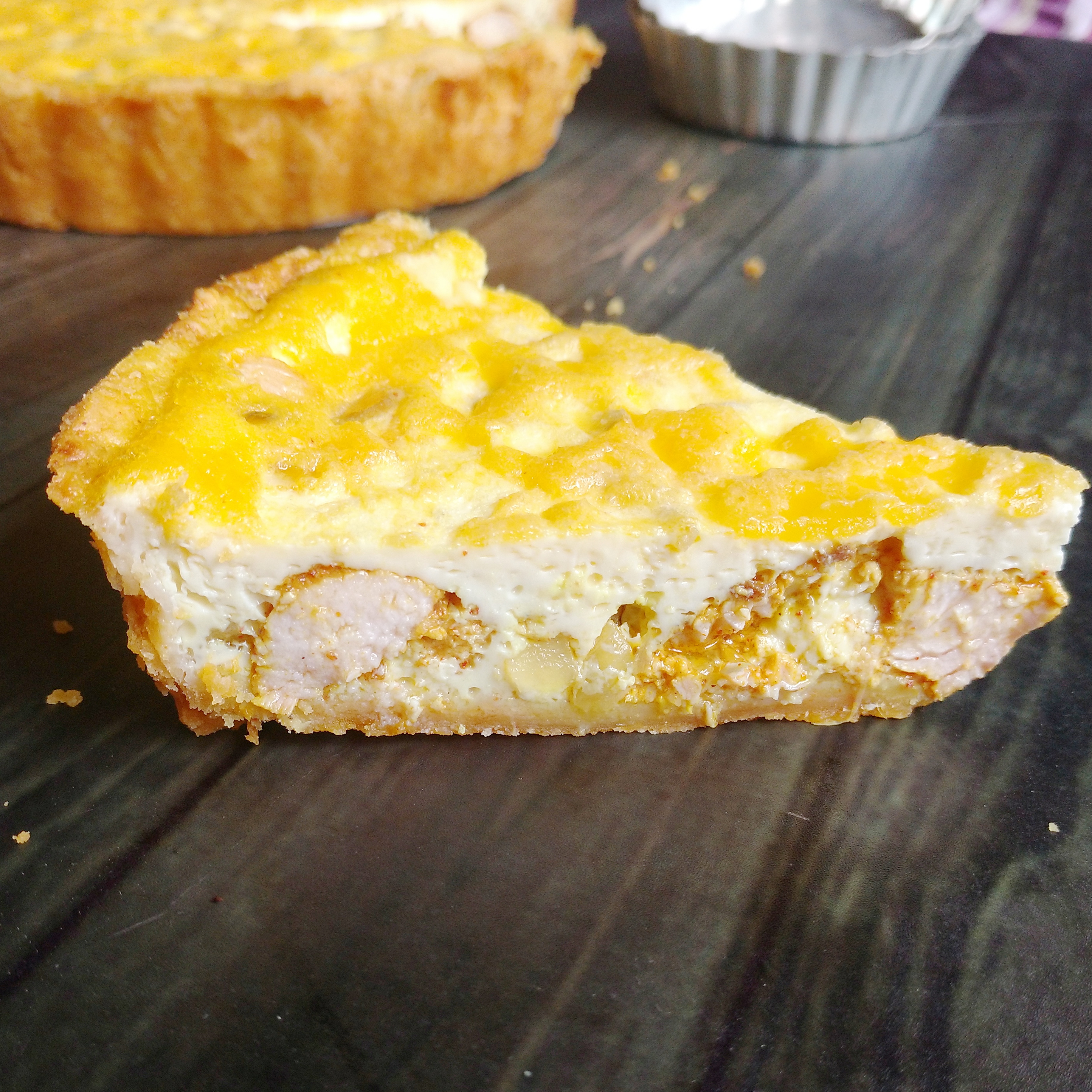 So, I was pretty darn happy with this brain child of mine ! The spiced pastry had a lovely light reddish colour and was amazingly short and crumbly. The chicken tikka and onions were a great desi filling but went so well with the more traditional custard ! A big hit this was at home. Happy Happy me !
P S. I actually made this quiche for a contest for Better Butter which is a great recipe portal . They always have ongoing contests ( with thoughtful prizes!) and there currently is a video recipe contest for bloggers. I have tried doing video recipes before but they never worked out for me. You need to be organised and prepared and neat – I am none of these things . Also , an extra pair of hands go a long way in shooting video recipes and since i bake at odd hours of the day and night, the hubby is either asleep or at work ( or impatient )! But the Betterbutter app makes taking videos a breeze and I m pretty much happy with the result . Do check out my video recipe on their site.
I am aware this sounds like an ad for Betterbutter but it really is not ! I haven't been paid or coaxed (or even asked to write this!) and I don't have friends or relatives there. Its just that I feel good work should be appreciated and those guys are doing a fantabulous job! Way to go Team BetterButter!
SaveSave