"What must you break apart in order to bring a family close together? Bread, of course." – Jodi Picoult, The Storyteller.
We are not really "bready" people at home. Not that we don't like it but bread is an option for breakfast when I have run out of other options for breakfast. You know what I mean ?
That's one of the reasons , I haven't forayed much into bread making . The other being I wouldn't know what to do with the loaves that I would manage to bake as there are only two of us at home. Unless I start distributing slices of bread among my near and dear ( and get rechristened as the "bread lady " instead of my present title of "cake lady" )
But in the spirit of exploring new food groups and in the spirit of catering to requests from my lovely blog readers, I have been taking tiny baby steps into bread making. I do love anything and everything garlic. So it was a no brainer to give a garlic bread a go. I have made a pull apart garlic bread before and have tweaked the recipe so that it's not only super easy , but herby , cheesy and a whole lot of garlicky !
Speaking of trying new things, I have made a simple step-by-step kind of video for the bread . You can check it out below and let me know if its too juvenile or if it actually helps !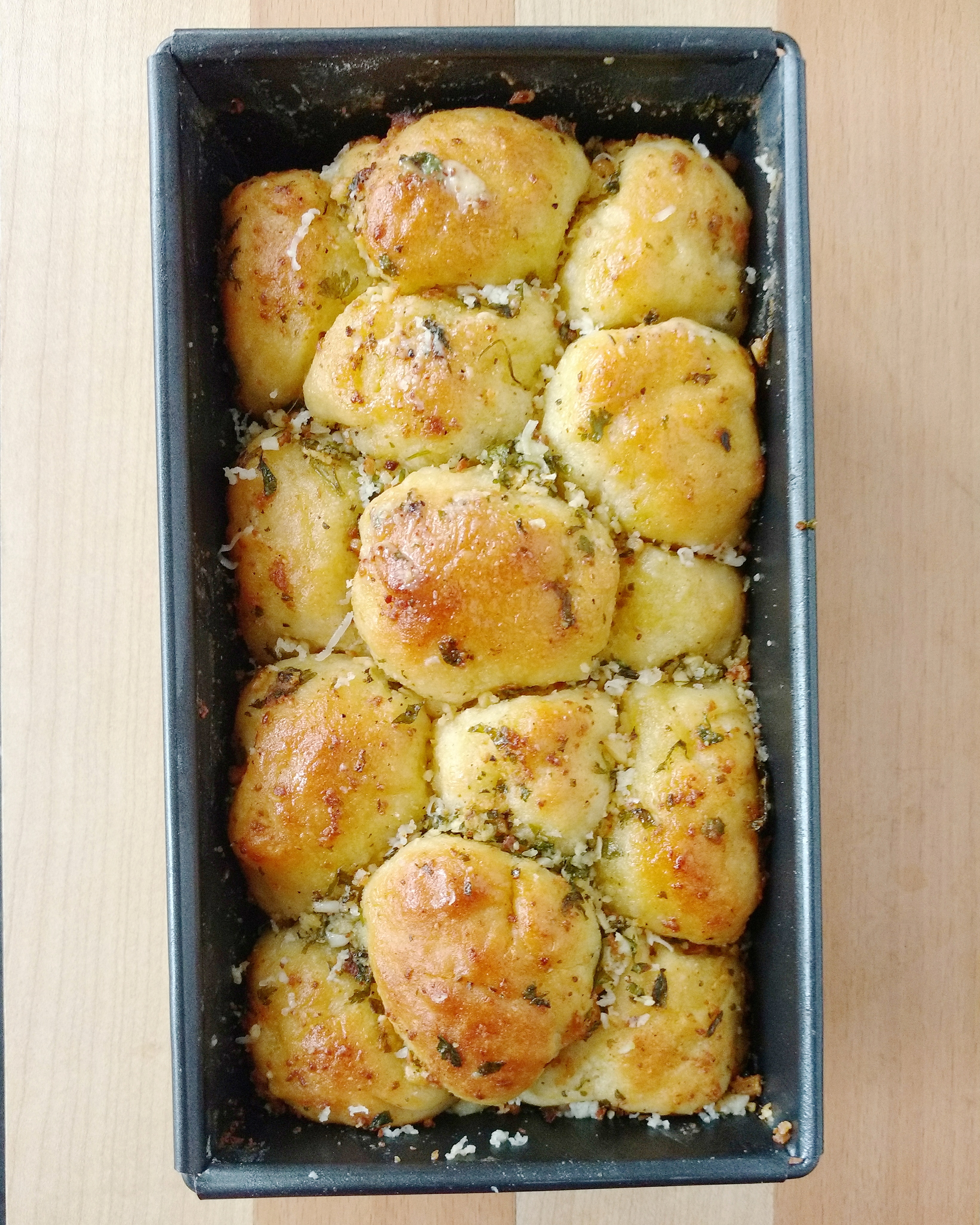 Its quite a simple recipe and you can alter it according to your tastes. I used garlic (a whole lot of it !) and chopped coriander. I added some cheese but I don't think it added anything substantial to the wow factor here. Skip it if you'd rather do that. Same with the spices – I used Oregano but you are the boss of your own spice trail . In case you have the habit of holding onto those satchets of spices that come with ordered pizza , then you can use a couple of them here !
Anything that is all about sharing gets a big tick from me and pull apart breads are the ultimate sharing food. You don't need to bother with individual plates or cutlery or dips. This would double as an evening tea snack , a dinner accompaniment or a table warmer for the beginning of an Italian meal. Just put it there on the centre of your table and let everyone grab their little pillowy bites !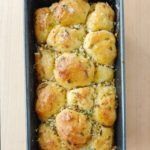 Easy pull apart garlic bread
2017-08-31 13:04:13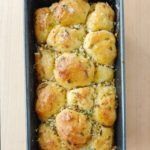 Really easy and incredibly soft pull-apart bread flavoured with garlic , herbs and spices !
For the dough
5 grams or 1 tsp active dried or instant yeast
120 ml or ½ cup milk
60 ml or ¼ cup water
Pinch of sugar
190 grams or 1 ½ cups all purpose flour
½ teaspoon salt
For the garlic and herb mixture
56 grams or ¼ cup butter
16 to 18 pods garlic , finely chopped or grated
5 to 6 sprigs fresh coriander, finely chopped
¾ teaspoon Oregano powder
2-3 tablespoons grated cheese (optional)
¼ teaspoon salt
Instructions
In a saucepan , heat the milk and water together until lukewarm . It should be cool enough to put your finger in but too hot to keep it in for longer than 3 to 4 minutes. A thermometer should show a temperature between 105 to 110 F.
To bloom your yeast , add the pinch of sugar and yeast to the lukewarm milk and water mixture. Let rest until frothy. This could take 5 to 15 minutes depending on your yeast.
In a large bowl, whisk together the flour and salt. Add the yeast mixture and mix until it comes together.
Knead the dough for 5 to 10 minutes until dough is smooth .
Place in a lightly oiled bowl , cover and place in a warm place for one hour or until doubled.
As your dough rests , you can prepare your garlic mixture.
Melt the butter and mix in the chopped garlic , coriander , Oregano , cheese (if using) and salt.
Butter a loaf pan and dust it well with flour.
Once the dough has proven or doubled , knock out the air by punching the dough down.
Make small equal sized balls from the dough (16 to 20).
Dip each dough ball in the garlic butter mixture and place in your prepared pan .
Repeat with all the balls. Place them in rows , leaving some space in between. No pattern is necessary.
Cover and let rest for 25 to 30 minutes until doubled.
Meanwhile preheat your oven to 180 C / 350 F.
Bake for 35 to 38 minutes until the top is well browned.
Brush some melted butter on top as soon as it is out of the oven to soften the top.
Serve warm directly from pan or unmoukded onto a serving dish
Notes
This makes enough for 4-5 people. Recipe can be doubled.
This can be stored for 1-2 days in an airtight container. Warm up before serving.
Make smallish balls so that each piece has enough of the buttery and garlicky flavour.
Adjust the amount of garlic , spice and salt to your tastes.
FLOURS & FROSTINGS http://floursandfrostings.com/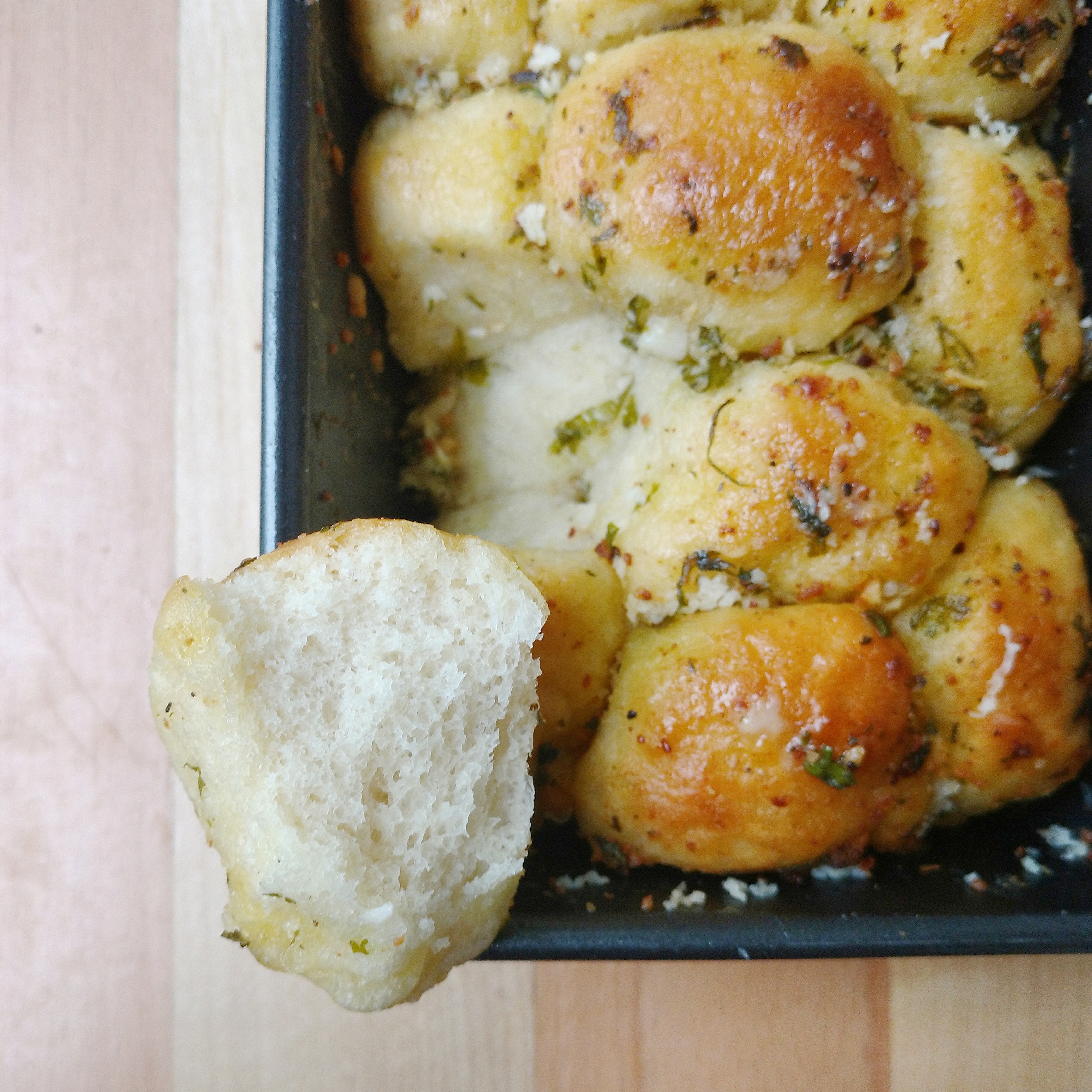 I was so happy with how this bread turned out. I hope the picture shows you just how incredibly soft it was . And the flavours were point on . If you binge on it , you would probably want to stay away from anyone you want to impress – you know, so that you don't repel them with your garlic breath – but hey, small price to pay.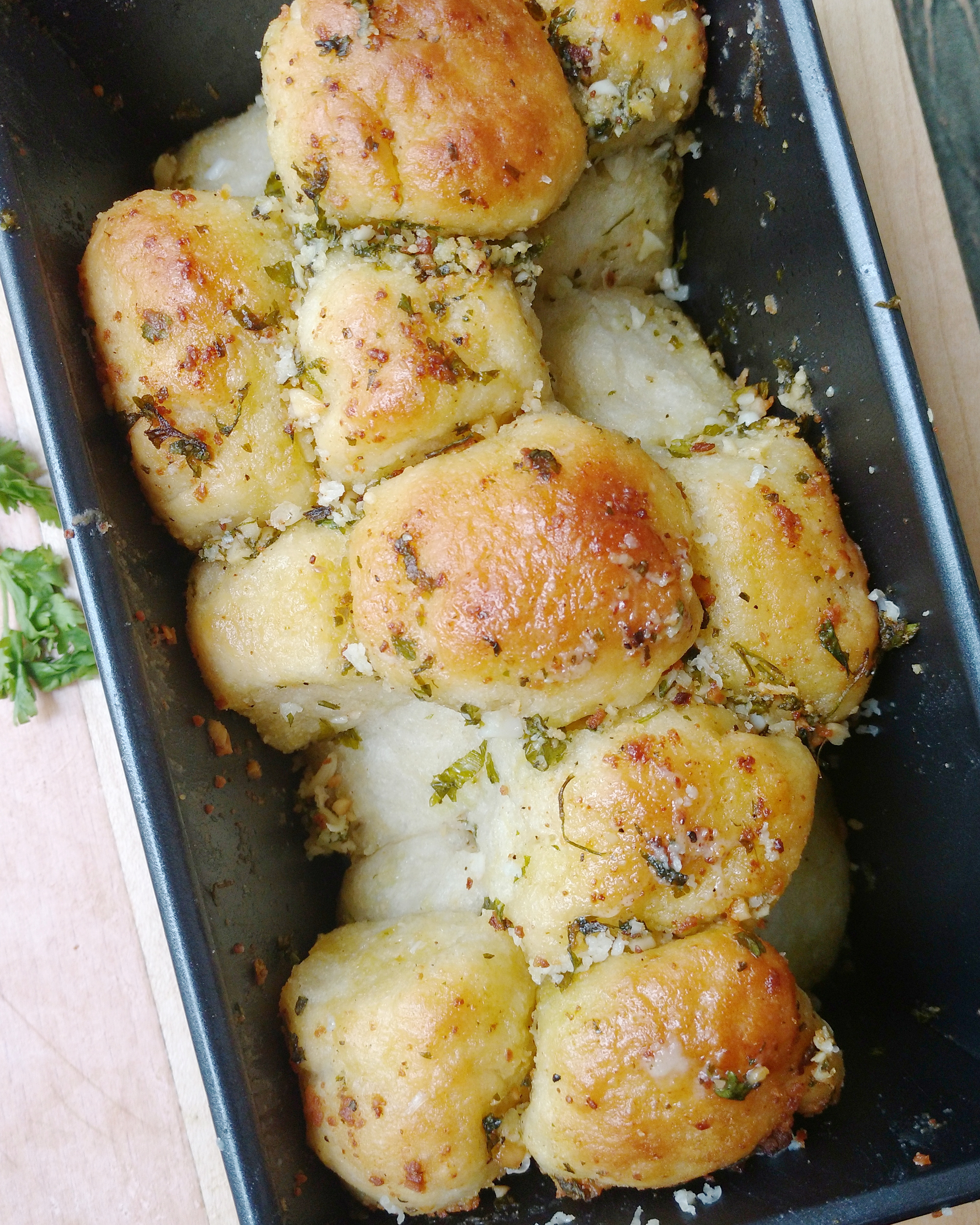 Affiliate links : Just so you know, I have baked this garlic pull apart bread in my trusty Morphy Richards 52 litre oven using
a non stick loaf Pan
.
Happy baking !