"Some people never go crazy. What truly horrible lives they must lead." – Charles Bukowski.
Today's post is all about keeping things simple ! A super simple cake made with simple ingredients . And it tastes simply great !
I call this cake a snack cake. They are low on fuss , and need no embellishments .A slice goes great alongside a cup of coffee or tea. And you can just cut yourself small (or not so small) chunks when u feel hungry throughout the day. Or whenever you pass the kitchen .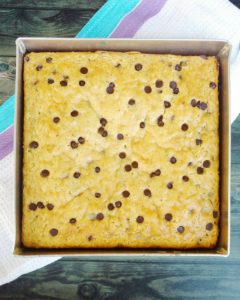 This cake is a version of the "wacky" or "crazy" cake- called so because the whole idea of making a cake without eggs and butter was just unimaginable to people at that point of time. These cakes came about during the depression era in the US when ingredients for cakes were expensive and so this kind of cake is also called the Depression cake.
Which is kind of funny , because the cake is good enough to lift your spirits if you do happen to be feeling low !
I have already shared the chocolate version of this cake here which is even more delicious ( I am biased towards chocolate , you know that !)
This cake turns out soft and has a great vanilla flavour . The chocolate chips are an easy way to add some oomph to a simple cake ! Instead , you could sprinkle some nuts on top before baking or spread some ganache or dust some icing sugar after. Or you could try it plain – it can handle it 🙂 .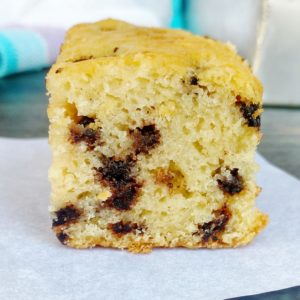 Eggless chocolate chip cake
2017-03-08 17:32:23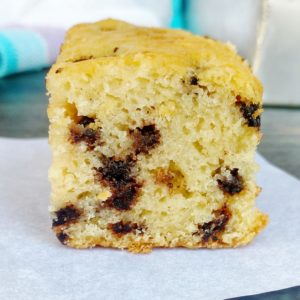 Super simple and super soft eggless cake loaded with chocolate chips !
Ingredients
250 grams or 2 cups all purpose flour
200 grams or 1 cup granulated sugar
1 teaspoon baking soda
1/2 teaspoon baking powder
1/2 teaspoon salt
240 ml or 1 cup milk
120 ml or 1/2 cup oil
4 teaspoons vinegar
1 tablespoon vanilla extract
1/2 cup chocolate chips
Instructions
Preheat the oven to 180 C or 350 F. Grease an 8 x 8 inch square pan with butter and dust with flour. Cover the bottom with parchment paper (Optional).
In a mixing bowl , whisk together the dry ingredients - flour , sugar , baking powder , baking soda and salt - until well combined.
Dust the chocolate chips with a tablespoon or two of this mixture.
Whisk in the oil , vinegar and vanilla extract into the remaining dry mixture.
Whisk in the milk until smooth .
Fold in the chocolate chips gently.
Pour batter into the prepared pan and smooth the top.
Bake at 180 C / 350 F for 28-30 minutes . The top will be golden brown , the edges will come away from the pan and a toothpick inserted in the centre comes out completely dry.
Cool in pan for 5 minutes , and then unmould to cool completely on a wire rack.
Notes
This cake lasts well for 3-4 days in an airtight container.
Dusting the chocolate chips with the flour prevents them from sinking to the bottom of the pan. Also, once they are folded in , pour batter immediately into pan and bake soon so that they dont have a chance to sink!
To make this cake vegan, use soy milk or almond milk instead.
The cake isnt too sweet but the chocolate chips take care of that.
You could skip the chocolate chips , but consider increasing the sugar by couple of tablespoons.
FLOURS & FROSTINGS http://floursandfrostings.com/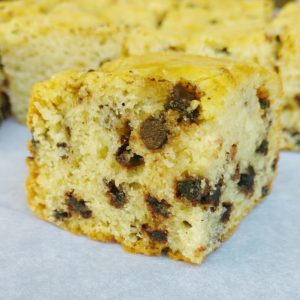 I wasn't kidding about the simple , was I? But the cake really does taste very good for the amount of effort and time it demands of you. Definitely worth a try !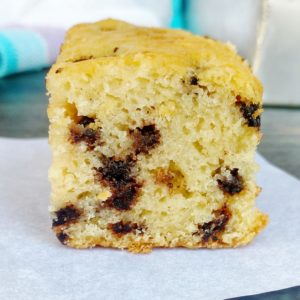 Affiliate links : Just so you know, I have baked this eggless chocolate chip cake in my trusty Morphy Richards 52 Litre Oven
.
Happy baking !