"Is it wrong to send a Valentine's Day card to your coffee?"


Anthony T Hincks
What says Valentine's day more than pink and strawberries!!!
Actually, there is nothing remotely romantic about this cake. I just wanted to make it seem relevant to current events ! But it is pretty delicious. So maybe you can make it tomorrow. which happens to be Valentine's day. Or any day before the strawberries run out of season. Or any day after that with frozen strawberries!
While I truly enjoy incorporating seasonal fruit in my treats , I do prefer using the fruit as fillings or frostings or sauces ( like the pineapple filling , mango buttercream or strawberry compote) . You get the most out of the fruit that way. As opposed to using fruit in the cake itself. Its not easy to get the experience of the fruit in the cake batter as often times the flavour is quite mild. Banana is an exception , and I have had success with apple and mango too. And now , after several trials and tribulations , I present to you this fresh strawberry cake !
(P S . The reason I specify "fresh" strawberry cake , is because if you google strawberry cakes , you will get several recipes using strawberry jello powder as an ingredient ! )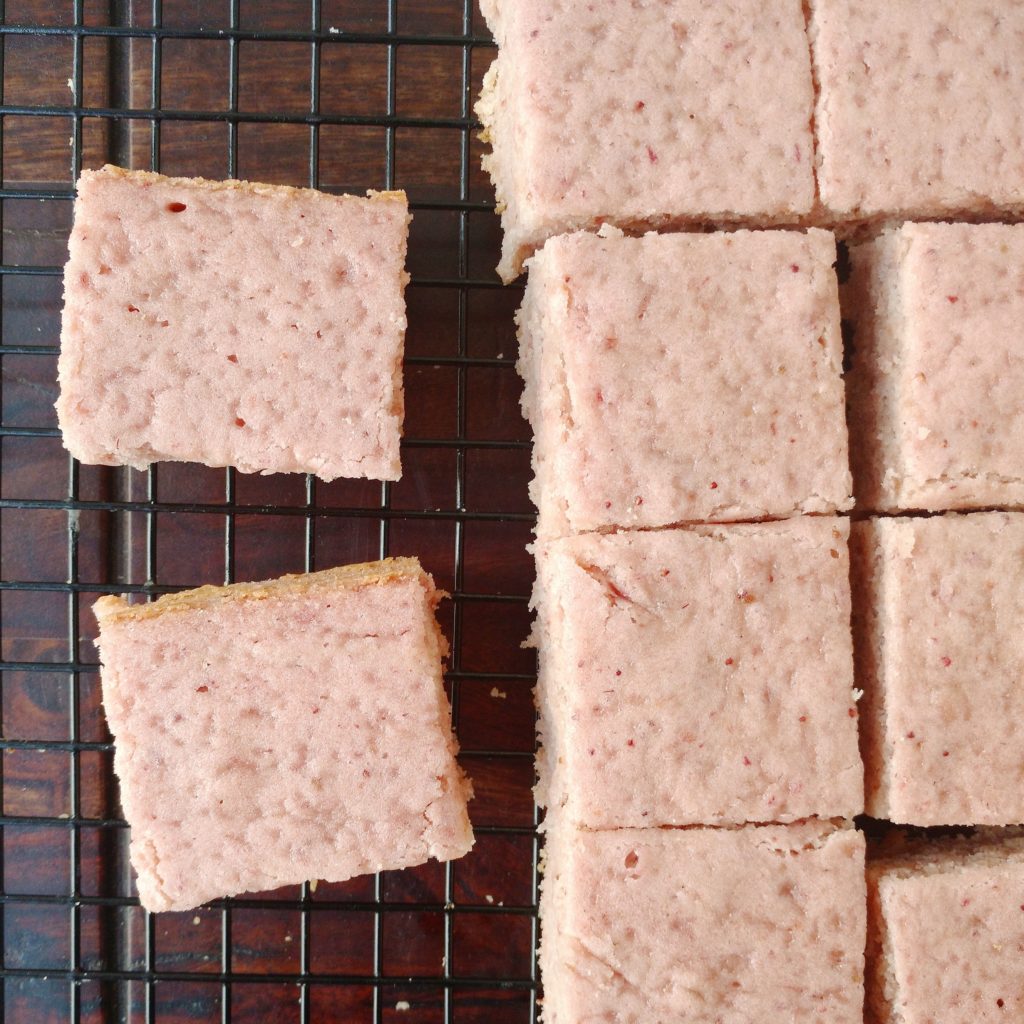 So , this is a simple butter based cake that i got from here . It is easy enough to put together and is flavoured using strawberry puree. If using frozen berries, do thaw them and discard excess liquid before pureeing. I baked the recipe in a 8 inch square pan but you can bake the recipe in a 8 or 9 inch round pan or two 6 inch round pans as well. The recipe can be doubled as well and is good for cupcakes too.
Pans and sizes aside , the cake is really soft and the strawberry flavour is refreshing and pretty distinctive. The colour too ! You could add a drop or two of pink to the batter, but I found the pale pink quite pleasing. Don't you agree?
Fresh strawberry cake
2019-02-13 17:50:09
How to make a light and fluffy strawberry cake !
Ingredients
112 grams or 1/2 cup unsalted butter, at room temperature
200 grams or 1 cup granulated sugar
2 eggs , at room temperature
190 grams or 1 1/2 cups all purpose flour or maida
1 teaspoon baking powder
1/4 teaspoon salt
60 ml or 1/4 cup milk , at room temperature
225 ml or 3/4 cup plus 2 tablespoons strawberry puree ( from about 300 grams of strawberries)
1 tsp vanilla extract
Instructions
Preheat your oven to 180 C / 350 F.
Butter and flour a 8 inch square pan . Line the bottom with parchment paper (optional)
Blend the strawberries and mix with the milk in a glass or bowl. Keep aside.
In another bowl , whisk together the flour, baking powder and salt. Keep aside.
In a large bowl, using a wooden spoon or electric mixer, beat the butter and sugar until light and fluffy.
Add the eggs , one by one , and beat well until each is incorporated .
Beat in the vanilla.
Beat in half the flour mixture and then half the strawberry milk mixture . Scrape the sides of the bowl.
Beat in the remaining flour mixture and then the remaining strawberry milk mixture . Beat only until incorporated.
Pour batter into prepared pan and smoothen the top.
Bake for 25 - 32 minutes until the top springs back when pressed . The edges of the cake will be coming away from the pan and a toothpick inserted in the centre will come out clean.
Cool in pan for 5 minutes, then transfer cake to a wire rack and cool completely
Notes
The cake can be stored in an airtight container for 3 -5 days.
This recipe can be doubled.
This recipe can be baked in two 6 inch round pans or one 9 inch round pan. Double the recipe can be baked in a 9 x 13 inch pan . The recipe yields 12 cupcakes.
To puree strawberries, just blend in food processor or mixer. You can sieve it if you wish but you can use as is.
If using frozen berries, do thaw and discard excess liquid before using.
The colour of the cake is determined by the colour of the berries used !
My measuring cup is 240 ml
FLOURS & FROSTINGS http://floursandfrostings.com/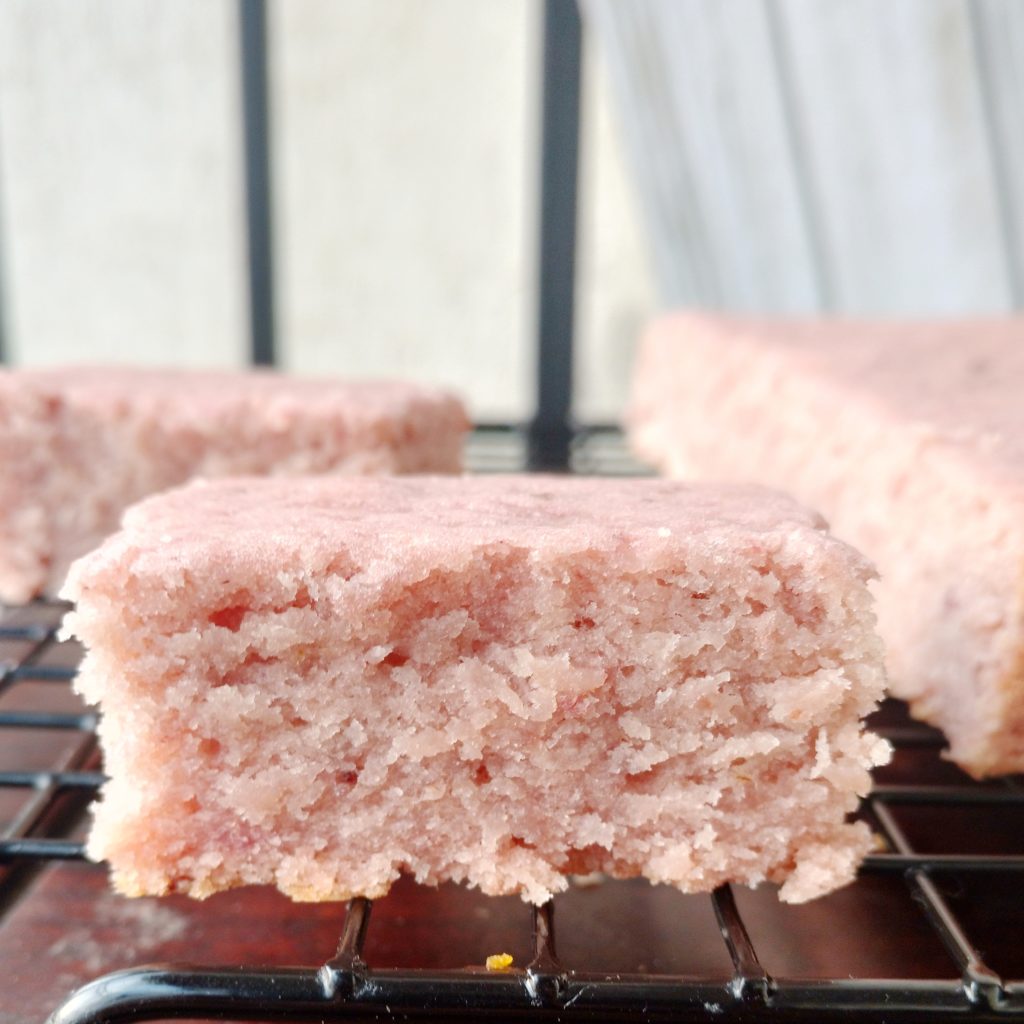 Can you figure out how soft the cake is by that picture ? I hope you do, because the crumb of the cake is really nice ! Fluffy yet moist enough . This cake can be eaten as is , maybe with some icing sugar or plain for tea time. You could layer it and frost it with some whipped cream or buttercream for a nice layer cake. Cant go wrong with Strawberries and cream !If you want to try other recipes with strawberry , have a look at this strawberry galette, or this lime and strawberry cake