"To grow up is to wonder about things; to be grown up is to slowly forget the things you wondered about as a child."
― Henning Mankell, When the Snow Fell
For most of my childhood , I steadfastly refused to eat a banana without putting up a fight. At some point of time, my parents simply gave up and i think I went about 15 years or so without eating the fruit! Until serious adulthood (and good sense) crept in I guess. It still amuses me that me , the original banana hater has so many banana recipes on the blog!
Infact, this is my third banana cake. The first was a simple browned butter choco chip one and the second is a caramelised banana and coconut Bundt cake. This one here is just banana . No other flavours competing in this one! And this is a cake perfect for making a layer cake .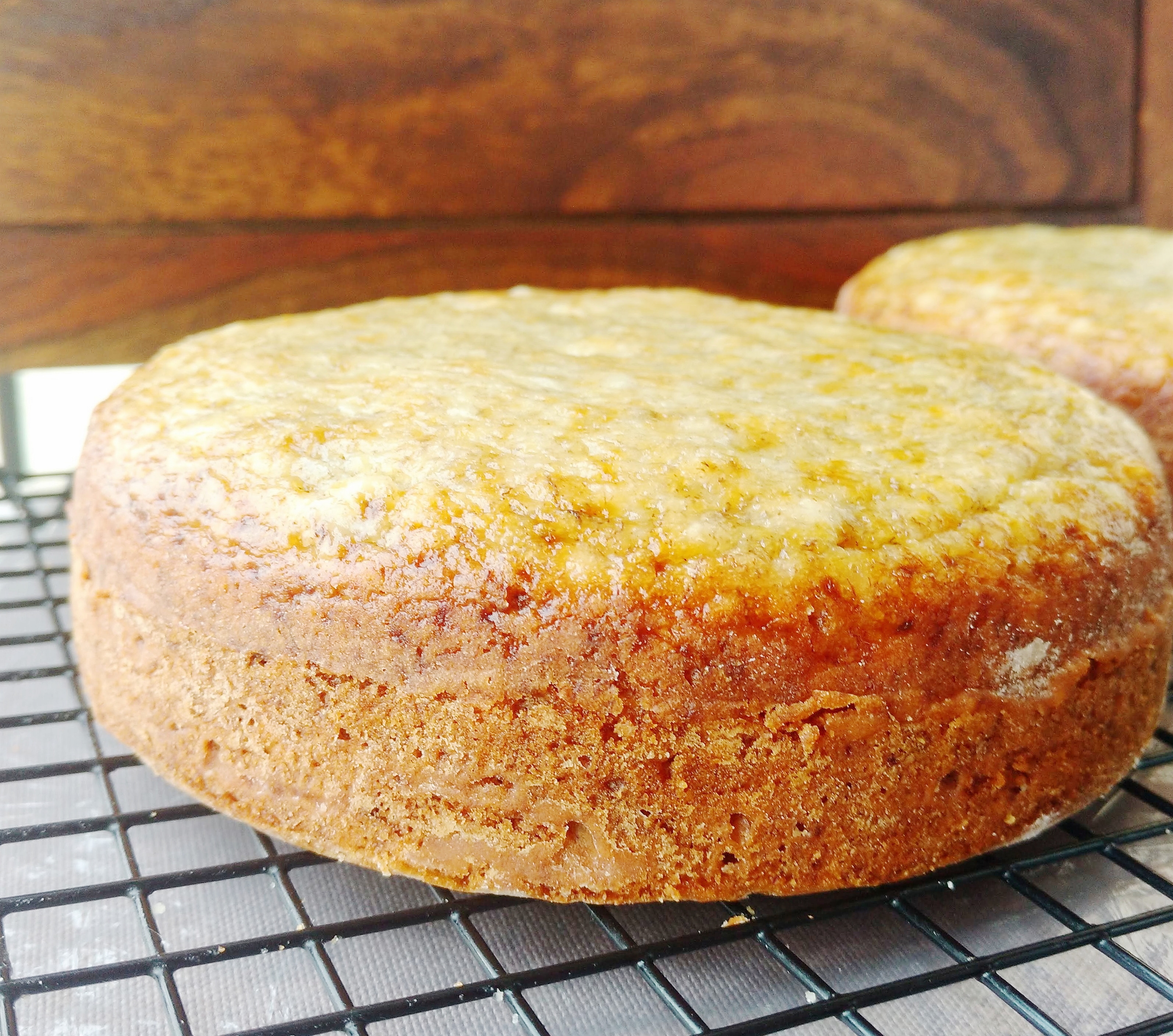 Why do I say that? Its moist and light and just sweet enough, with loads of robust banana flavour! Its also super easy to make , and conveniently bakes up in 2 round pans ( 6 inch for thick layers, and 7/8 inch for thinner ones) or in one 8 inch one. The flat tops are always a plus. And ofcourse its yum yum yum!
As in all banana bakes, do remember to use ripe bananas with black spots on the peels!
Moist banana cake
2019-04-09 17:23:01
An easy , moist and light banana cake that is perfect for layer cakes!
Ingredients
190 grams or 1 1/2 cups all purpose flour or maida
150 grams or 3/4 cup granulated or caster sugar
1 teaspoon baking soda
1/2 teaspoon baking powder
1/4 teaspoon salt
3/4 cup mashed banana (about 2 large size bananas)
1 egg, at room temperature
1 teaspoon vanilla extract
120 ml or 1/2 cup milk , at room temperature
60 ml or 1/4 cup curd or yoghurt , at room temperature
60 ml or 1/4 cup vegetable oil
2 tablespoons hot water
Instructions
Preheat the oven to 180 C / 350 F. Butter/oil and flour two 6 inch round pans or one 8 inch round pan. Line the bottom with parchment paper (optional)
In a bowl, whisk together all the dry ingredients - flour, sugar , baking powder, baking soda and salt.
In another bowl , whisk together the wet ingredients - mashed banana, milk , yoghurt , egg , oil , vanilla and water - until smooth.
Add the dry ingredients and whisk only until you cant see flour anymore.
Pour batter into prepared pan(s) .
Bake at 180 C/350 F for 35 to 45 minutes until the cake springs back when pressed and the edges leave the sides of the pan. A toothpick inserted in the centre of the cake will come out clean.
Cool in pan for 5 minutes, carefully remove from pan and cool completely on a wire rack
Notes
The cake will last for about 5 days when stored in an airtight container.
You can double the recipe.
Baking in two 6 inch pans will give you thick layers that you can slice in two horizontally. You can bake in two 7 or 8 inch round pans for thinner layers.
Sweetness of the cake depends on the type and ripeness of the banana you use.
To make the cake eggfree, you can use 1/4 cup more yoghurt instead of the egg. There is a slight difference in texture.
My measuring cup is 240 ml.
FLOURS & FROSTINGS http://floursandfrostings.com/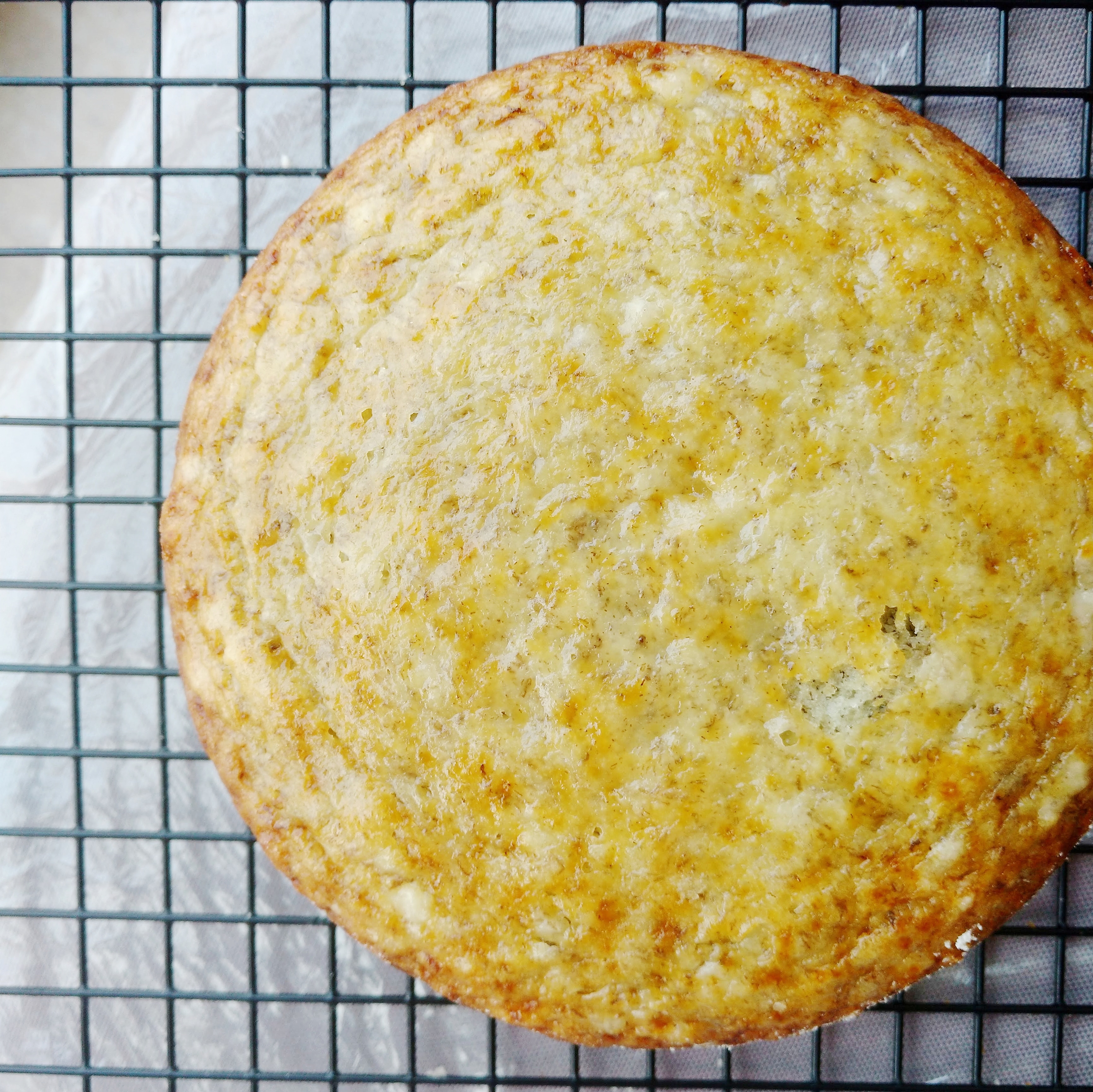 What do you think of the colour on this cake? I kinda dig it. A almost golden hue on the outside and the pale cream with those gorgeous black specks on the inside ! I even sliced off a teeny sliver off the top to show you how soft this cake is.
Actually, I sliced it off when I was torting the cake and filling and frosting it! But I DID click the picture to show you guys! P S. that sugar bomb of a layer cake is coming up next on the blog!
Double PS. What was your most hated fruit as a child? I would love to know!