"You can never have enough garlic. With enough garlic, you can eat The New York Times."- Morley Safer.
So , if you have visited the blog before , you will know that I havent shared much of savory bakes on here until now. I did share this quick focaccia a while back, and these garlic breadsticks are in the same vein – simple to make , big on flavour , extremely addictive!
When you read breadsticks , did you think of the chees-y fingers of soft bread from the nearby pizza place (also really delicious!) ? Nope, these are actually Italian style breadsticks , called Grissini. Grissini are long , slender crunchy sticks. Serve them in glasses or rolled in napkins when you are serving Italian . Put them alongside dips , salsa or cheese but they are equally good to snack on their own.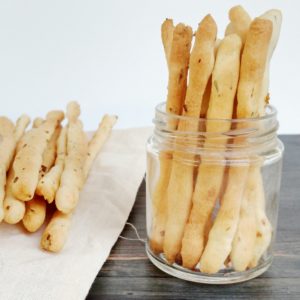 And grissini are so versatile. You could keep your breadsticks basic with just salt , or maybe some pepper . Add any chopped fresh or dried herbs , some olives maybe ? For an even better look , sprinkle seeds on top – think poppy seeds , nigella or sesame ? You could also make these as long or short as you want.
What I love about these breadsticks is that the rustic-ness and unevenness of the sticks is part of their charm. So you dont have to get obsessive-compulsive about rolling them just right . Wonky sticks with wobbly ends make for even prettier grissini !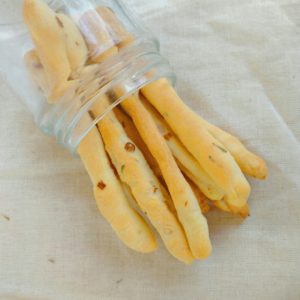 Garlic breadsticks
2017-03-19 11:49:56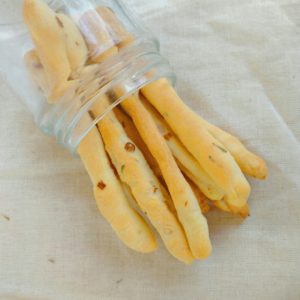 Light and crunchy garlic breadsticks!
Ingredients
120 ml or 1/2 cup water
1 teaspoon active dry yeast
1 teaspoon sugar
2 tablespoons olive oil
155 grams or 1 1/4 cups all-purpose flour
40 grams or 1/4 cup semolina
salt to taste ( i used 3/4 teaspoon)
3 tablespoons finely chopped garlic
1 tsp dried thyme ( optional)
Instructions
Heat the water until lukewarm . It should be hot enough to keep your finger in it for few seconds and no longer. A thermometer will show a temperature between 105 and 115 F.
Add the yeast and sugar to the water and let stand for 10 minutes until frothy.
Mix in the oil.
Add the flour, semolina and salt . Mix until a rough dough forms.
Add the chopped garlic and thyme (if using) and mix in until they are distributed more or less equally.
Knead on a lightly floured surface for 5-7 minutes until the dough is smooth.
Place the dough in a lightly oiled bowl and cover. Keep aside in a warm place until double in volume or about an hour.
After an hour, preheat your oven to 200 C / 400 F.
Punch the risen dough lightly to release the air out. Divide into 2 parts.
On a lightly floured surface , roll one part of the dough to a rectangle of about 5 x 10 inches.
Using a sharp knife , cut strips of the dough - about an inch thick.
With your hands , roll each strip into a long rope , making them as long as you want ( but shorter than your baking sheet!)
Place on a baking sheet lined with parchment. Repeat with all the dough .
You can also make several small balls from the dough and roll each one into the length you want.
Bake at 200 C for 16-18 minutes until well browned . After about 8 minutes of baking, you can move them around for even browning.
Cool and store in an airtight container.
Notes
This recipe makes about 20 really long grissini but you can make plenty of smaller ones.
You can also twist the strips of dough for twisty grissini !
They last for upto 2 weeks when stored in an airtight box.
You can reduce the salt or the garlic according to your tastes.
FLOURS & FROSTINGS http://floursandfrostings.com/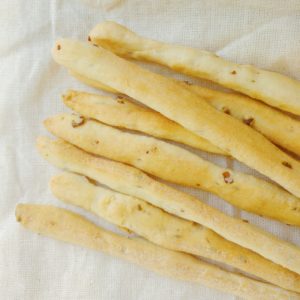 Garlic is one of my favourite flavours in cooking , and its no surprise that I found these garlic breadsticks difficult to stop munching on. But like I have said , you can make them totally your own with ingredients of your choice. These are crisp throughout and keep for a long time . They wont last for a long time though . Because, did I say they are addictive ? Extremely addictive!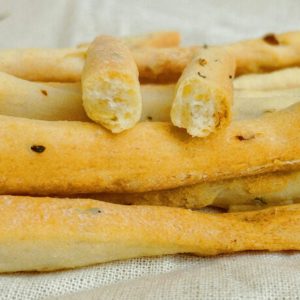 Affiliate links : Just so you know, I have baked these Garlic breadsticks in my trusty Morphy Richards 52 Litre Oven
.
Happy baking !