"Candy is childhood, the best and bright moments you wish could have lasted forever."-Dylan Lauren

Bounty is a favourite candy bar among several members of our family , including the ones who don't like candy so much. I have several favourites among candy bars (no surprises there!) but I have to admit its difficult for me to pass on this chocolate covered coconut treat !
Its fun to try homemade versions of store bought goodies right? First of all , you know exactly whats going into what you are making and also , just to see how close you can get to the original!
This recipe is by no means novel . There are probably a thousand and more copycat recipes for the Bounty bar or the similar Almond Joy bars . This version is the simplest possible – grated coconut , condensed milk and dark chocolate! And it tastes so good that I just couldn't resist trying it and sharing it with you guys.
I have used a cookie cutter here to help me out but you could just roll into balls , chill and dip to make Bounty balls! Speaking of chilling , make sure you be patient and chill it until set or you ll have all your coconut disintegrating in your chocolate while dipping!
These are so easy to make . If you like coconut, you simply can't pass these up! Unadulterated chocolat-y and coconut-y goodness!

Print Recipe
3 ingredient homemade bounty bars
Yum
A super simple three ingredient version of one of my favourite candy bars!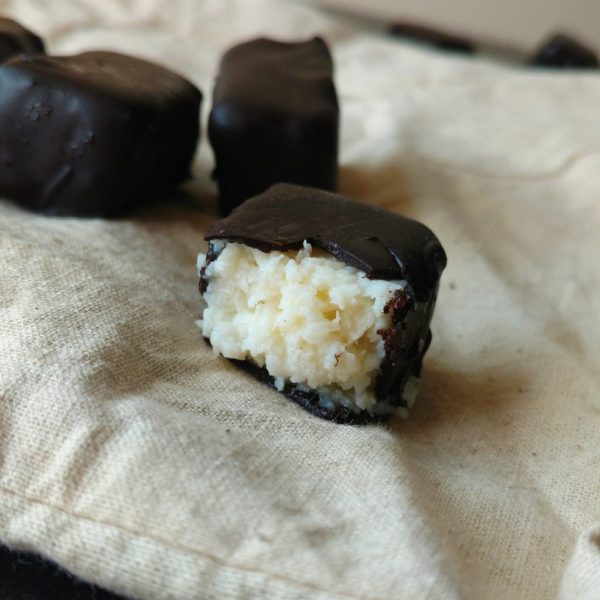 | | |
| --- | --- |
| | |
Mix the grated coconut and condensed milk until thoroughly combined.

Press down tablespoonfuls of this mixture into a cookie cutter laid on parchment paper to make desired shapes. You could also spread onto a parchment (or foil) lined pan .

Chill for 4-6 hours or until set.

Cut into desired shapes if you didn't use cookie cutters.

Melt the chocolate using a double boiler or a microwave.

Working fast, dip each square of coconut mixture into the chocolate and lay on parchment.

Let chocolate set , and cut off uneven edges if any. Store in a closed container.
Step by step tutorial:
Also:
You can make any amount of candy using this recipe. Just use condensed milk 1/3 rd amount in volume or half the amount in weight of the coconut.
If the mixture seems liquid or oozing out condensed milk, add more coconut until you have a very firm mixture. It will set perfectly solid.
I have used fresh grated coconut , you can use shredded sweetened or unsweetened.
If using real chocolate (and not compound) , temper it before dipping for that shine and crack! I usually do this by melting some of the chocolate and then mixing the unmelted amount in.
The best way (I find) to dip the chocolate bars is by holding it with a fork , dipping and tapping the fork against the bowl so the excess drips. Make sure your melted chocolate is cool and the ,mixture is set.
Store in an airtight container in the fridge for upto a week.
While dipping , chill the uncovered coconut mixture if it starts to go soft .