"Let's face it, a nice creamy chocolate cake does a lot for a lot of people; it does for me."- Audrey Hepburn.
A friend who is toying with the idea of turning Vegan urged me to do some experimentation with vegan baking . This is the simplest , most basic vegan cake you could make. Its almost a cheat's version of vegan cakes!
I didn't have to look far for a great vegan chocolate cake recipe . This one is highly rated from Allrecipes.com. It is easy , deeply chocolatey and moist. And like most oil cakes, it keeps well for days. You would never guess it was missing eggs or dairy! As good as any "regular" chocolate cake. I baked it in a 6 inch pan as the intention was to make a layer cake , but you can see my notes below to make an 8 or 9 inch cake.
Making a good Vegan frosting was another story altogether! Many recipes need special vegan ingredients like vegan butter , which I couldn't get hold off. Besides , I wanted to make the frosting with ingredients that would be found in most kitchens. I tried using coconut cream , but the cartons of coconut milk I used did not thicken enough even when chilled . All i managed to make was a frothy , coconut milk -cocoa- sugar mixture ( to which I promptly added a banana and made one delicious smoothie!)
Running out of patience (thats me!), I finally resorted to good old ganache. But ganache made with water ! Did you know that existed ? It seems to go against all the laws of chocolate-ism! Like all bakers, I have tried to dry everything like a maniac while melting chocolate , lest a stray drop seize it all! But apparently , hot water added in the right amount and the right way makes good ganache!
And the right amount is dark chocolate to water in the ratio 2.5 : 1. Couple of pointers, make sure the chocolate you use is Vegan ( the list of ingredients shouldn't say milk solids, casein, whey etc etc) and use the best chocolate you can! (as there is nothing to mask or mellow its taste here). I added a little instant coffee powder in the water for that mocha kick that I love!
This one was a great hit – and not just with my vegan (potential) friend. Its a absolute yum cake , that it is vegan is just a plus! The ganache is creamy and each forkful is outrageously chocolate !
Of course, my interest is piqued and I have a feeling this won't be my last vegan cake . Or frosting!

Print Recipe
Vegan chocolate truffle cake
Yum
A simple , moist chocolate cake with a vegan ganache - for the chocoholic vegan!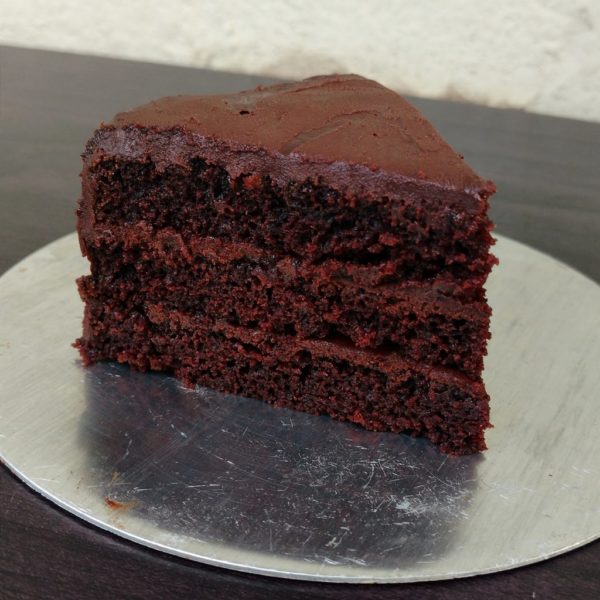 | | |
| --- | --- |
| | |
Preheat oven to 160 C/ 325 F . Butter and flour a 6 inch round pan . Line the bottom with parchment (optional).

Whisk together all the dry ingredients - flour , sugar , cocoa , salt and baking soda-in a large bowl .

Add all the wet ingredients - oil, vanilla , vinegar ,water - and whisk until smooth.

Pour into prepared pan and bake at 160 C/ 325 F for 45- 50 minutes until top springs back when touched and a skewer inserted in the centre comes out dry.

Cool in pan for 5 minutes and remove from pan to cool completely on wire rack.

While the cake is baking , chop your chocolate and heat the water for ganache. Dissolve the coffee in the water if using.

Melt the chocolate in a double boiler or microwave.

Add the hot water (or coffee) little by little to the melted chocolate , mixing well after each addition.

It will seem clumpy but keep adding all the water and mixing until smooth. Rest at room temperature until thick enough to use.

Slice the cake horizontally into 3 layers and fill with the ganache
Also:
This cake keeps well in the fridge for 3-4 days . Get to room temperature before serving.
Bake the same batter in an 8 inch or 9 inch pan for 28-32 minutes or 25-30 minutes at 180 C/350 F.
I used Amul dark chocolate.
The cake will dome slightly.
The ganache amount makes just enough to fill and frost a three layer 6 inch cake (I used one Amul dark chocolate pack)