"Brigadeiros are Brazil's most common and most beloved delicacy. It means Brigadier in Portugese. They are staples for everyday eating as well as special occasions. They are variedly called as Brazilian candy, Brazilian truffles or Brazilian fudge balls." – the vast glorious Internet
I love trying desserts from different countries . A friend of mine had a bday coming up and was going through one of those buzz feed articles. You know the kind …" x,y,z number of international desserts you need to try today!".( By the way, I love going through buzz feed food lists.. don't you? ). And she says … for my bday I want you to make each of these!
I m pretty sure she was joking , but I just need a reason to bake! I The entire list would have required me to take a week off work! So i made a Sachertorte (Austrian cake) which was on the list.. and made these Brigadeiros on the side because a) they were so so easy b) Brazilians rave on and on about it (google it to see what I mean!) so I wanted to see what the fuss is about.
Truffles and fudge are easy to make as it is, so are these .. only three ingredients and three steps. Condensed milk , butter and cocoa powder.  Heat . Chill. Roll. Butter and cocoa could never taste bad. And every third person I know loves to lick condensed milk off the spoon , So I assumed this recipe couldn't go too wrong.
I went the traditional route and followed this recipe from Street Smart Brazil, but you could skip the chocolate vermicelli and cover in cocoa powder or chopped nuts or colored sprinkles. I wouldn't suggest icing sugar as that would take the sweetness over the top.
Print Recipe
Brigadeiros - condensed milk fudge truffles
Yum
Brazilian truffles made with cocoa and condensed milk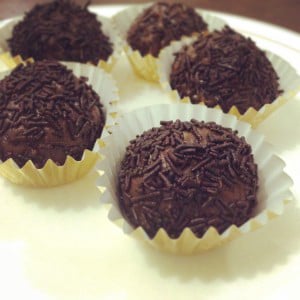 | | |
| --- | --- |
| | |
Melt the butter in a non stick pan. Once the butter has melted add in the condensed milk and mix . Add the cocoa powder (dissolved in little water) and mix.

Now heat while stirring continuously with a wooden spoon until it thickens . This might take 15-20 mins. Once it thickens, it ll coat the back of your spoon ( will not fall off it immediately) and as your stirring, you ll be able to see the bottom of your pan.

Spread it onto a plate ( stainless steel should be good) or baking tray and chill for about 30 minutes to firm it up.

Take spoonfuls of this mixture in your greased (with butter) hands and make balls. You could use teaspoonfuls and make small ones or tablespoonfuls for big ones.

Roll in the sprinkles/cocoa/nuts. Place in cupcake liners or butter/parchment paper . Place all the rolled truffles in the fridge for another 30 minutes to firm up.
This recipe made around 25 Brigadeiros of about 1 .5 cm diameter
You can increase the cocoa powder to 4 or 5 tbsps for a deeper chocolatey and less sweeter version.