What… 2017 already ? The last year passed by faster than I realised. And it was good to me. Really good ! Just one disappointment – an unmet dream , which I am hoping and praying will no longer be a dream in 2017 ! I am the kind of person who gets all excited about new year and makes plans and . It doesn't really bum me out that most of my plans don't see the light of day. New year is a time to reach out , undo and start afresh .
Speaking of fresh, I am kind of experimenting with looks for the blog. I was really into the dark and brooding look for a while but felt like something more cheerful and upbeat before I started posting for the year !
And I am starting with what I made for dinner on the first (I saved one to photograph the next day!) . I have lost count of the number of times people have asked me to share a recipe for one . Somehow I put it off although I have made this recipe by Kirsten Tibballs several times now.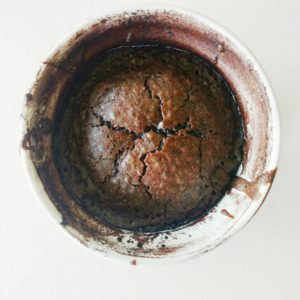 A chocolate lava cake or a molten chocolate cake (or a fondant!) is quite the perfect dessert if you ask me . If you haven't made it already, you must try it. Let me tell you why.
Its individual sized , you don't need to worry about clean slices and equal portions !
It's warm and fulfilling during these chilly evenings.
That oozing lava is fun enough for kids and it's dark and seductive enough for adults!
And this recipe can be made for an intimate two, a cozy 4 or a festive eight.
And … you can make these up to 2 days ahead. So just preheat your oven as you sit down for dinner , pop them in as you start clearing the dinner plates and they will be done just as everyone continues in post-dinner idle chatter.
Everyone will of course take a pause when they break into their little cakes and that luscious lava oozes out – and thats the best reason to make it!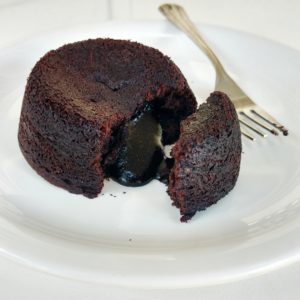 Chocolate lava cake
2017-01-04 10:29:32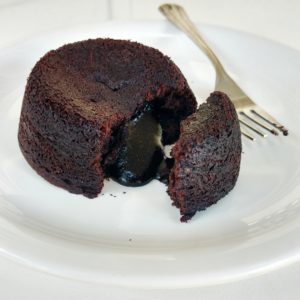 Moist and delicious chocolate sponge cakes with a molten chocolate centre
Ingredients
65 grams or about 1/4 cup dark chocolate
75 grams or 1/3 cup unsalted butter
10 grams or 1 tablespoon cocoa powder
2 eggs, at room temperature
75 grams or 6 tablespoons caster or fine granulated sugar
32 grams or 1/4 cup all purpose flour
Instructions
Grease 4 ramekins or moulds (about 1/2 cup capacity) well with butter and dust liberally with cocoa powder. Shake off any excess.
Melt the butter , chopped chocolate and cocoa powder together in the microwave or a double boiler until smooth.
In another bowl , whisk together the eggs and sugar for few minutes until frothy.
Whisk the chocolate- butter mixture into the egg-sugar mixture until smooth.
Sift in the flour and whisk it in until you can't see flour anymore.
Divide the batter among the prepared ramekins (about 3/4 th cups full)
Chill for atleast an hour to upto 48 hours.
When ready to bake , preheat your oven to 180 C / 350 F .
Bake the cakes for 10-15 minutes (will take longer , the longer you have chilled them ) until the tops are domed and slightly cracked.
Invert carefully onto your serving plate or serve in the ramekins after they are comfortable to touch.
Notes
This recipe makes 4 individual cakes , half the recipe for just 2 cakes and double for eight!
If you don't have caster sugar, grind your regular granulated sugar slightly (one pulse).
Its best to check one ramekin first so you are sure not to over bake the insides, as baking times vary slightly due to oven , ramekin size and chilling times. But if you can't, do wait until the tops are domed and cracked ( above picture for reference!)
FLOURS & FROSTINGS http://floursandfrostings.com/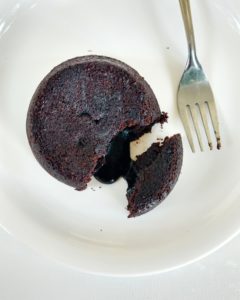 The cake is just gorgeous. It's a rich , decadent sponge and just sweet enough. I would suggest you bake a trial one so you know what's the right timing for that molten centre. And the trial one is yours to eat of course!
Happy new year guys … hope you have a great one full of love and cheer ! And lots of baking !
PS.. is it a total waste of thought to even consider making a resolution to lose weight when one has a baking and desserts blog !
Affiliate links : Just so you know, I have baked these lava cakes in my trusty Morphy Richards 52 Litre Oven
and my ramekins are part of this beautiful Set
.
Happy baking !