"In Italy, they add work and life on to food and wine"- Robin Leach.
Did that title throw you off ? Or have you heard of chocolate salami before? I , for one, first heard about this only very recently. On the face of it , it seems like a simple chocolate fudge rolled up into a log.
But a little reading up told me that Chocolate salami is infact a traditional Italian and Portugese dessert. It is called Salame al Cioccolato , is common on Christmas cookie platters and is an upscale , slightly whimsical version of the refrigerator biscuit cake. They are formed into sausage shapes , dusted with icing sugar and sliced- hence the "salami". They are even tied with string to increase the likeness to the meat!
Recipes for the salami vary with melted chocolate , rum and egg yolks used in many of the traditional ones, and most being a no-cook , no-bake version. I am always wary of using uncooked eggs , so I steered clear of those. I have also used cocoa , because I find more people seem to have cocoa at home as compared to baking chocolate. And because of the cocoa, my recipe involves a bit of cooking on the stove top – but all very quick and easy, I assure you!
You can add anything but the kitchen sink into these . I went with whatever I had at hand , and thought would add interest in texture ,colour and flavour. So crushed digestive biscuits , some cranberries and some pistachios ! Just throw in whatever you want and like ! Serve them with tea or coffee , as an after dinner sweet bite or pack them up in your kids lunch boxes!
To be honest , I didn't expect much out of these when I tried them except a lets-try-it-once easy candy. But it tasted just fab! The chocolate was just sweet enough, the biscuits were crisp , the nuts crunchy and the cranberries tart ! Its like a cross between the richness of a truffle, the ease of a chocolate fudge and textures of a no bake cookie. We just kept having slices each time we passed by the refrigerator . Nom Nom Nom!

Print Recipe
Chocolate salami
Yum
Chocolate salami or Salame al Cioccolato is a delicious no-bake Italian tradition in which chocolate mixture is rolled into a sausage , chilled, sliced and served- like Salami! My version contains crushed digestives , chopped pistachios and dried cranberries ... its simple but so yum!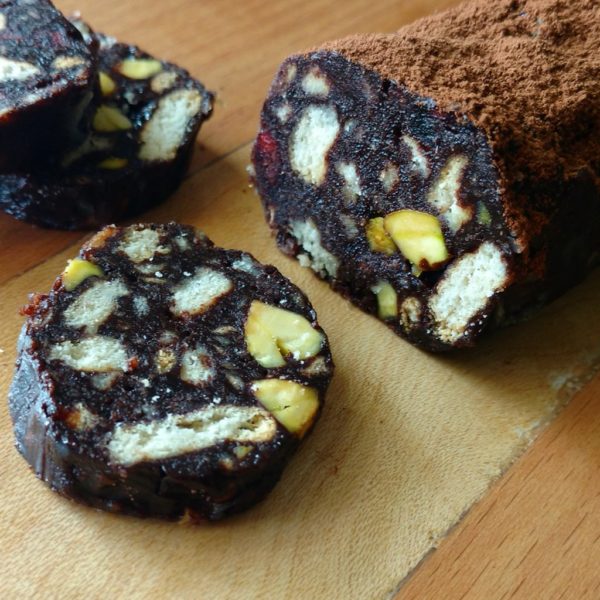 | | |
| --- | --- |
| | |
Crush your biscuits roughly into small pieces by hand or food processor.

Add the pistachios and cranberries and mix well. Keep aside.

In a saucepan, melt the butter .

Add the sugar and whisk until it melts.

Add the cocoa and heat while mixing until smooth.

Add the milk and stir until smooth.

Pour this chocolate mixture over the biscuits, cranberries and pistachios, and mix well.

Divide the mixture into two halves and place each on cling wrap.

Roll each into a log using the cling wrap. Flatten the sides (round ends)

Refrigerate for atleast four hours and unwrap from cling wrap.

Dust with icing sugar or cocoa , slice and serve!
Step by step Tutorial :
Also:
These can be stored refrigerated for up to 2 weeks . Wrap in parchment or butter paper .
I got two logs of about 3 cms diameter and 20 cms length with this recipe.
If your sugar is thickening but not melting , just carry on with the cocoa and milk. Keep heating and stirring until it melts.