"Life's no piece of cake, mind you, but the recipe's my own to fool with."- Haruki Murakami.
Just back from my ultra short vacation by the beach , I can still feel the sand in my feet and the wind in my hair. I love anything and everything "beach" and "tropical" , and that goes for coconuts as well!
Being a true blue south Indian , I doubt there's ever a time when there s no coconut in my kitchen. Which obviously means that it finds a way into my oven time and again! Like in these cookies. This cake is a more versatile kinda recipe . Its sweet and moist and light. Super duper delicious.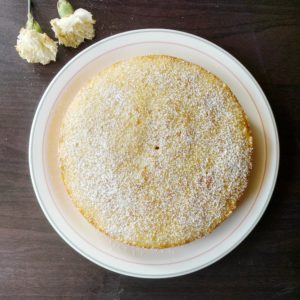 I have made this umpteen times actually . Turns out great every time . Have gobbled up wedges of it plain while reading Perry Mason . Have served it with whipped cream and pineapple compote for a dinner party . Have torted and filled it away to make a glorious birthday cake for a fellow coconut-loving pal.
If you like coconut , there s no way , absolutely no way that you cannot try this one!!
Coconut cake
2017-03-18 13:22:19
Light , fluffy and moist coconut cake!
Ingredients
155 grams or 1 1/4 cup all purpose flour
200 grams or 1 cup granulated sugar
113 grams or 1/2 cup unsalted butter , at room temperature
2 eggs , at room temperature
1/2 tsp vanilla extract or essence
120 ml or 1/2 cup milk , at room temperature
3/4 cup shredded unsweetened coconut
1/2 tsp baking powder
1/4 tsp salt
Instructions
Line a 8 or 9 inch round cake pan with parchment (bottom and sides) or grease with butter and flour well. Preheat oven to 180 C or 350 F.
Whisk together the flour, salt and baking powder. Keep aside.
Beat or cream the butter for 3-5 minutes in a medium sized mixing bowl. Add the sugar and beat for another 3-5 minutes until light and fluffy.
Add the eggs one by one and beat each time until well incorporated. Scrape bowl as needed.
Add the vanilla and beat well.
Add 1/3rd of the flour mixture and beat at slow speed until combined.
Add half of the milk and mix . Now repeat with the second 1/3rd of the flour - remaining half of milk - last 1/3rd of flour mixture , beating well after each addition. Scrape the bowl well.
Add the coconut and mix until well combined.
Pour batter into the prepared pan and smooth the top. Bake at 180 c/ 350 F for 45-50 minutes if using an 8 inch pan and 35-40 minutes if using a 9 inch pan.
The cake is done when the top springs back when touched , the sides come away and a toothpick inserted in the centre comes out clean. Cool in the pan for five mins and on a wire rack until completely cool.
Notes
This recipe can be doubled or halved .
This can be baked in an 8 or 9 by 4 inch loaf pan for 50-55 minutes.
Store in an airtight container for upto 5 days in the refrigerator.
I have used fresh coconut here, but you can use desiccated coconut . If using sweetened , adjust sugar in recipe accordingly.
You could sub coconut milk instead of regular milk, I just prefer the regular milk better!
FLOURS & FROSTINGS http://floursandfrostings.com/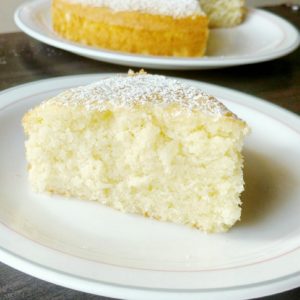 And oh by the way , this is no coconut "flavoured" cake . This is the real deal . There are loads of coconut bits in each yummy bite .I did say it already… but sweet , moist and super delicious!