"Chemically speaking, chocolate really is the world's perfect food"- Michael Levine.
Baking basics ! If you like baking , a mud cake is definitely one you want to have in your repertoire.
A mud cake is essentially a dense chocolate cake with a tight crumb . Owing to this , it is a great option for building layered cakes and sturdy enough to carve . Also , it stays fresh and delicious for longer and freezes well. Very popular among cake artists.
Even if you are not a cake decorator , a mud cake is perfect for your tea tray or dessert table . Its darkly chocolatey and moist . A wedge of it goes a long way in satisfying any chocolate craving. And it doesn't demand adornment or embellishment , although any chocolate frosting would be pure cacao Nirvana!
There is no standard recipe or way to make a mud cake. If you google it, you ' ll see how recipes and pictures vary wildly! Most recipes involve melting chocolate, mixing liquids and then adding dry ingredients . These cakes are generally baked at a low temperature for a longer time for that sturdy composition and also cooled in the pan for a while in order to avoid it from falling apart.
I like this recipe as the cake it yields has great structure and deep chocolate flavour. And it bakes up in reasonable time – some recipes i saw required baking for upto 2 hours! It is one of the most scrumptious chocolate cakes that I have eaten !
I have been through my share of chocolate cakes (more than any normal person should) and I got to say this mud cake is a keeper all the way. Moist , intense , rich and amazing! Chocolate exemplified !
I aint lying when I say I have been through my share of chocolate cakes . Wacky chocolate cake , tiny chocolate cake , Devil's food cake , vegan chocolate cake , eggless chocolate snack cake , chocolate sponge cake … should I go on ???

Print Recipe
Mud cake
Yum
Moist chocolate mud cake with a great crumb and intense chocolate flavour!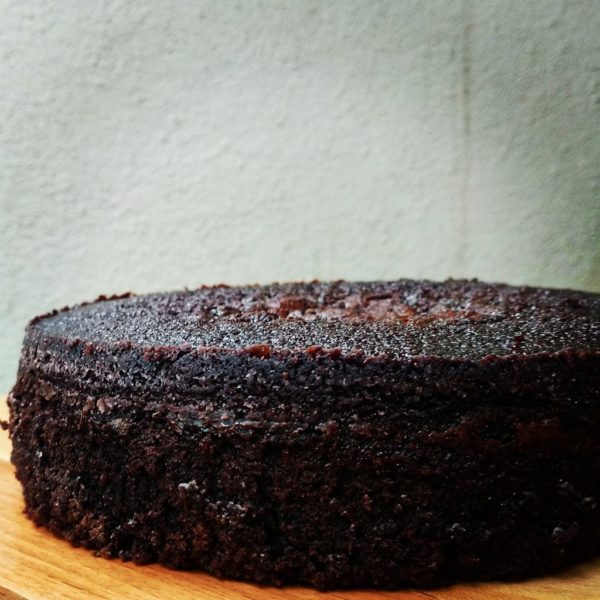 | | |
| --- | --- |
| | |
Preheat your oven to 160 C / 325 F.Grease and flour an 8 inch round pan well. Line the bottom with parchment (optional)

Mix the coffee powder into the hot water. Keep aside.

Whisk together the flour , baking soda and salt. Keep aside.

Melt the butter and chocolate (chopped) together in the microwave or in a double boiler on the stovetop until smooth.

Mix in the coffee and then the sugar into the chocolate-butter mixture.

Whisk in the dry ingredients.

Whisk in the eggs and vanilla until incorporated.

Pour into prepared pan and bake at 160 C/ 325 F for 45-50 minutes until a toothpick inserted in the centre comes out clean and the top springs back lightly when touched.

Cool in pan for 15 minutes and then invert out carefully to cool completely right side up on a wire rack.
Store cling wrapped at room temperature for a day or chilled for 3 days .
Cake can be frozen for 2 months .
The batter is thin and will rise but not a lot.
You can double the recipe