"When it comes to chocolate, resistance is futile." -Regina Brett.
Pots de creme are classic French desserts. They are simple baked custard-y desserts in which cream, sugar and egg yolks form the key ingredients . The custards are rich and decadent and absolutely versatile as they can be made with any type of flavours.
Chocolate is one of the most popular cremes . This recipe for dark chocolate Pots de Creme is straightforward and involves about 10 minutes hands on time. The custard base is baked gently in a water bath. With so few ingredients , and chocolate being the star of the show , do use the best chocolate you can find. You can even skip the sugar if you are skipping the coffee and your chocolate isn't too bitter.
Each spoonful of this delightful dessert is silky smooth and melt in your mouth.. Chocolate at its creamiest best!
Dont you love how glossy these pots de creme look ! This elegant and sinful dessert celebrates the richness and creaminess of chocolate like no other. Better yet , it tastes as good warm or cold !
Print Recipe
Dark chocolate Pots de Creme
Yum
The seductive classic French dessert - rich , decadent and silky smooth.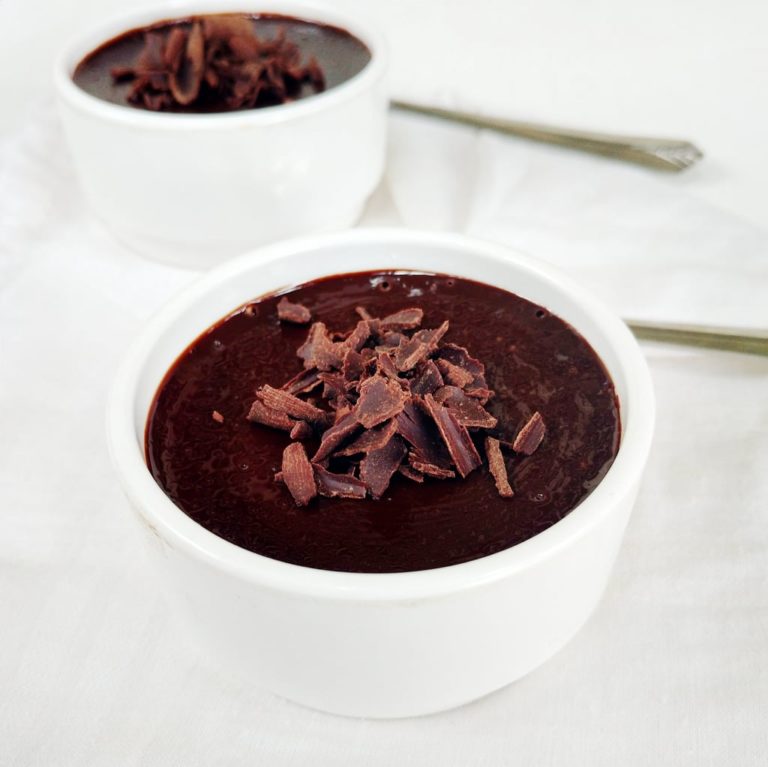 | | |
| --- | --- |
| | |
Preheat your oven to 180 C /350 F .

Heat the cream , sugar , coffee and salt until sugar dissolves and the mixture starts bubbling around the edges.

Pour over chopped chocolate and stir until the chocolate is melted completely.

Cool for 10 minutes then stir in the yolks and vanilla extraCt.

Divide the mixture into 4 ramekins or bowls. Place the ramekins in a larger baking pan , and fill the pan with hot water that reaches halfway up the ramekins.

Bake for 32-35 minutes. The edges of the custard will be set while the centre will be wobbly.

Cool the ramekins on a wire rack.
Step by step tutorial :
Also :
These can be refrigerated for up to 2 days.
The chocolate custard can be refrigerated for 2 days before baking , making this a great make ahead dessert.
I used Amul fresh cream and 64 % dark chocolate here. Compound chocolate can be used.
This recipe yields 4 servings of about 1/2 cup each. It can be doubled.
Adjust the sugar according to the sweetness of your chocolate .