"Home is where you are loved the most and act the worst." » Marjorie Pay Hinckley
Whats up you guys! I was visiting my family back home this past week and hence am in the best of spirits . Besides , in the upcoming couple of months , depending on your faith and what part of the country you are from – a festival is never more than a week away ! September and October are gonna be months of celebrations and holidays and merry making – and I am planning to make the best of it!
Off to a great start with these cookies!
I was asked to make chocolate chip cookies by a friend and wanting to try something different (but still universally acceptable among my chocolate craving friends) , I tried Nutella cookies. Its a simple recipe from Sugar spun run. I swapped out the crushed oreos for some chocolate chips, reduced the sugar some . Otherwise, stuck to the recipe .
The cookie is full of rich Nutella flavour , it is chewy and moist thanks to all that brown sugar. Definitely worth using up all that Nutella . You know – instead of just eating it straight out of the jar.
Exploding with Nutella in each bite , this recipe is a keeper . They are on the sweeter side , so will go down well with a nice cup of coffee (for you) or a tall glass of milk. (for your kid or the kid in you!) .

Print Recipe
Nutella chocolate chip cookies
Yum
Chewy Cookies exploding with rich Nutella and brown sugar! A few chocolate chips added in for good measure!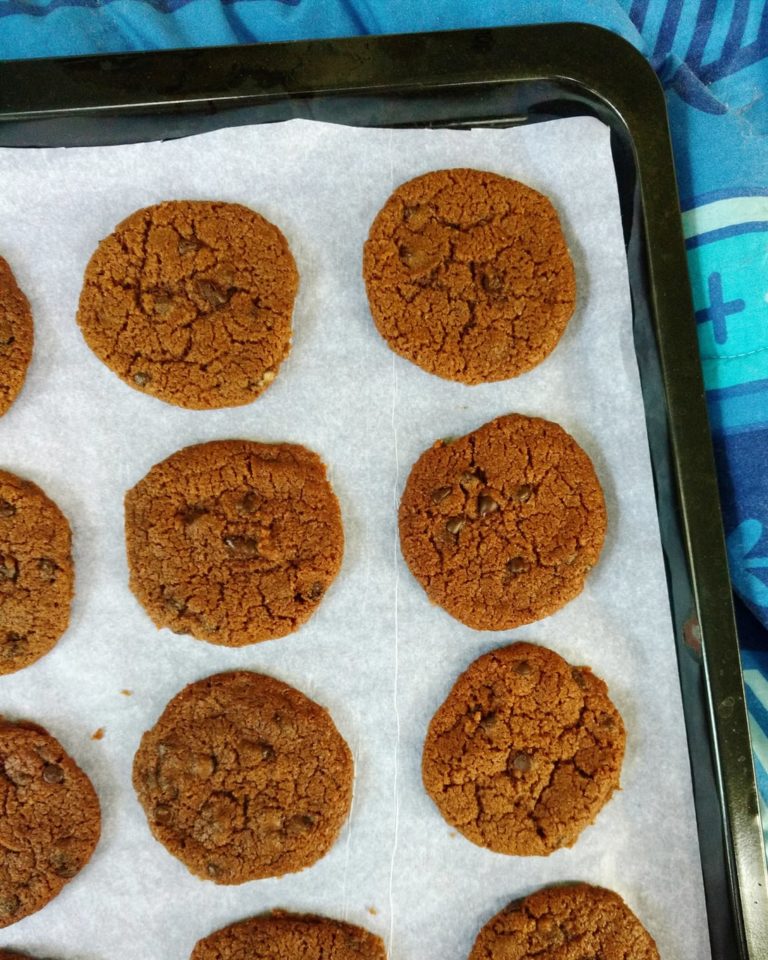 | | |
| --- | --- |
| | |
Preheat your oven to 180 C / 350 F. Line a cookie sheet with parchment or grease well.

Whisk together the flour, cocoa , baking powder , baking soda and salt. Keep aside.

Melt the butter and cool for few minutes.

Whisk in the sugars and vanilla.

Add the flour mixture and mix until incorporated.

Fold in the chocolate chips if using. Chill for 30 minutes or so, or bake right away.

Make balls of the cookie dough , about a tablespoonful each , and place 2 inches away on your prepared baking sheet.

Bake for 16-18 minutes , rotating at half way mark.

Cool for 5 minutes on sheet and then completely on a wire rack.
Step by step Tutorial:
Also:
These can be stored at room temperature for about 3-4 days in an airtight container.
I used a small jar of nutella ( 160 grams) which gave me about 36 large cookies.
Chilling the dough just helps keep the shape of the cookies better.
Space the cookies out well as these spread quite a bit.
Be gentle with the cookies when out of the oven, they will still be soft but will firm up on cooling.