"There's two times of year for me: Football season, and waiting for football season."- Darius Rucker.
Do you ever crave fruits that you know aren't going to be in season for a while ? Happens with me quite a bit.
This summer , I had the good sense to freeze some mango pulp – you know , if I feel the urge to bake with mango in the middle of December. Except its been hardly a month since I froze it, and I have already used it up ! And used it well, even if I do say so myself
So… although Mango season has ended here in India , I still thought this was worth a share.
Its a super easy recipe and it just happens to be dairy free and egg free as well. Its adapted from Anna Weston's recipe for vegan mango cake . The reason I haven't titled this cake "vegan " is because I recently found out that not all types of all purpose flour and sugars are vegan ! I am not sure if the flour and sugar I used here are vegan or not – I just am erring on the side of safety! But if you are vegan , you could just use organic sugar and flour and you are good to go!
All that aside , you'll never miss the dairy or eggs here, the cake is so incredibly delicious and moist. So if mangoes are still gracing the markets where you are (or you have some frozen mango in the depths of your freezer!), do try this. Or else , it works just as well with canned mango puree too !
You know , the batter itself tastes so good – its no surprise how good the finished cake is . So moist and scrumptious. It needs no icing whatsoever. The mango flavour sings of summer and that little bit of cardamom elevates the flavours totally. If you like mangoes as much as I do, you will adore this cake!

Print Recipe
Eggless mango cake
Yum
A moist ,delicious mango cake that is dairy free and egg free as well !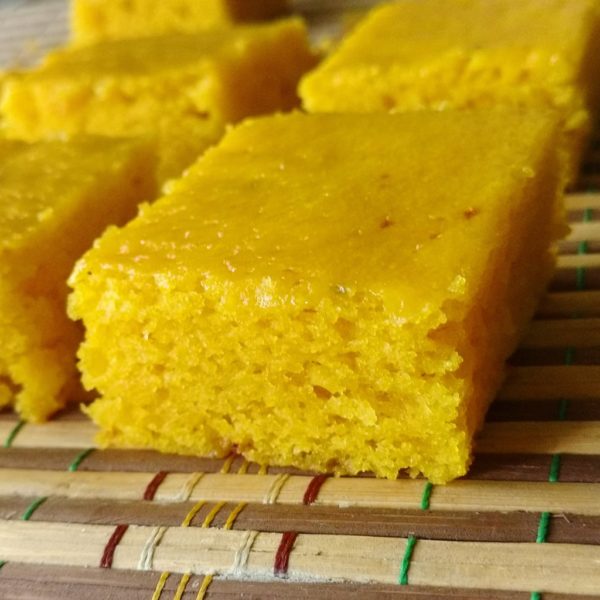 | | |
| --- | --- |
| | |
Preheat your oven to 180 C/ 350 F. Grease and flour an 8 inch square pan . Or you can line it with parchment paper.

Whisk together the flour, salt, baking powder, and cardamom powder. Keep aside.

In a bowl, whisk together the sugar , oil, mango puree and vanilla extract.

Gradually add the flour mixture in 6-8 additions , whisking gently after each addition until the flour is JUST incorporated .

Pour the batter into the prepared pan and smooth the top.

Bake at 180 C/ 350 F for 30-35 minutes until the top springs back on touching or a toothpick inserted in the centre comes out clean.

Cool completely in pan and invert out gently.
This cake can be stored at room temperature in an airtight container for 2-3 days.
You can omit the cardamom if you don't have it on hand.
As the cake is so soft, be gentle while removing from pan and slice after completely cool.
If you want a taller cake, you can bake in a 7 inch pan.
If you are using fresh mangoes , you may need 2-3 mangoes for one cup puree.