"I really don't think I need buns of steel. I'd be happy with buns of cinnamon." ― Ellen Degeneres.
I don't really know why I never baked Snickerdoodles before this. I had never tasted them and maybe I wasn't sure it was my kind of cookie? Or maybe was unsure if it would be too cinnamon-y for me ? Or maybe because I had absolutely no reference to know whether I had gotten them right or wrong?
Answer to the first question -Definitely my kind of cookie . Answer to the second – Just cinnamon-y enough. Answer to the third question – Still don't know , but they are so good I must have gotten them righ
Snickerdoodles are classic cookies that are made by rolling a simple cookie dough in cinnamon- sugar before baking. they can be crisp or chewy. Roy Fare's version , which i adapted ever so slightly , is chewy. Soft and chewy . And oh so delicious.
Crisp on the outside and chewy in the centre. Full of cinnamon flavour. I know cookies are all time, all season food. But if there ever was a cookie for winter- this must be it. Bite into a warm snickerdoodle on a chilly evening to see what I mean !

Print Recipe
Snickerdoodles
Yum
Wonderful snickerdoodles with crisp edges , chewy centres and crinkly tops!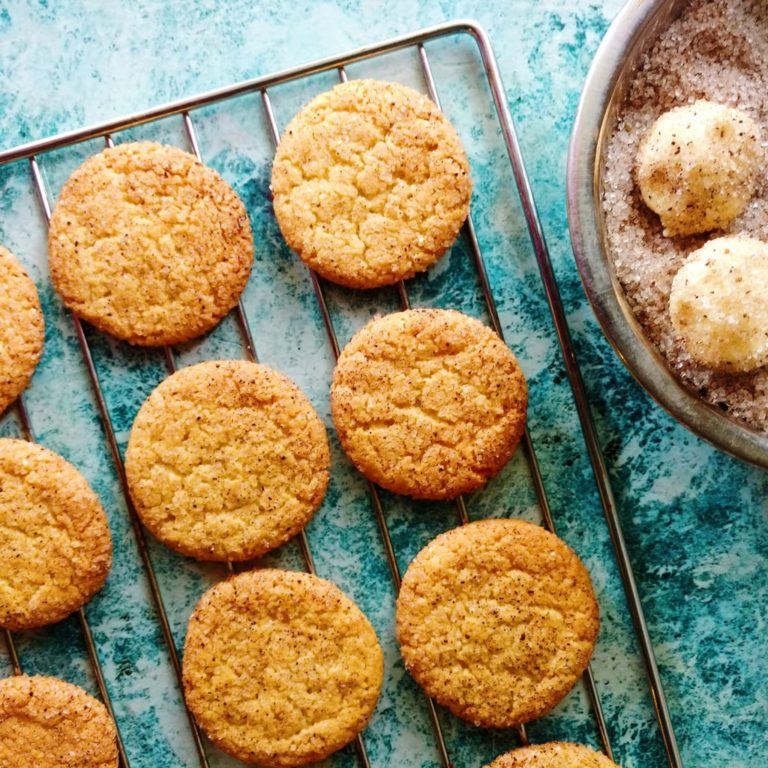 | | |
| --- | --- |
| | |
Preheat your oven to 200 C / 400 F. Line a cookie sheet with parchment or grease it well.

Whisk or sift together the flour, salt and baking soda. Keep aside.

Beat together the butter , sugar and vanilla until light and fluffy.

Add the egg and beat until incorporated.

Add the vinegar and flour mixture , beat until a dough comes together. Its a soft and sticky dough.

Mix together the sugar and cinnamon for coating.

Make balls out of tablespoonfuls of cookie dough and roll in the cinnamon sugar mixture .

Place about 2 inches apart on your prepared cookie sheet (these spread quite a bit) and press down slightly.

Bake for 12 - 14 minutes until lightly brown.

Cool completely before storing .
Step by step Tutorial:
Also:
These can be stored in an airtight container for 4-5 days .
You can let the cookies stay light brown or get them darker . The darker cookies are more chewy, the lighter ones more soft!
You can replace the egg with a 1/4 cup of really thick curd or check out this flax gel recipe by my blogger friend Akila of "Morphy and me" which works brilliantly as an egg substitute.