"There is nothing better than a friend, unless it is a friend with chocolate."- The Printwick Papers.
So here comes Brownie No.2 in my egg free brownie series ! Do you remember the cakey brownies that I shared a while back . While the perfect chewy eggless brownie still eludes me , I did manage to whip up these gorgeous truffle brownies .
Now I know some people (which may or may not include me ;-p) are pretty particular about how they like their brownies . This brownie tastes so smooth. I know they are called Truffle brownies but I'd say they are somewhere between a truffle and a piece of chocolate fudge.
If that sounds good to you, please read on….
They are thick , they are fudgy , and that tad bit gooey. They have those delicious edges and that elusive crinkly top. And the taste… Dark , intense chocolate and rich ! They really are gloriously and luxuriously delicious. Since they are so rich, it might be a good idea to slice them into smaller pieces. Which also means you can have 3 pieces without feeling guilty. Or maybe more!
Ta da ! The answer to every chocolate craving out there . Super rich but this is a no judgement zone ! You could add a handful of nuts or maybe berries to tone it down. As is , these are basically unapologetic , unadulterated chocolate indulgence!

Print Recipe
Eggless truffle brownies
Yum
Deliciously indulgent eggfree brownies that taste somewhere between a chocolate truffle and a piece of chocolate fudge.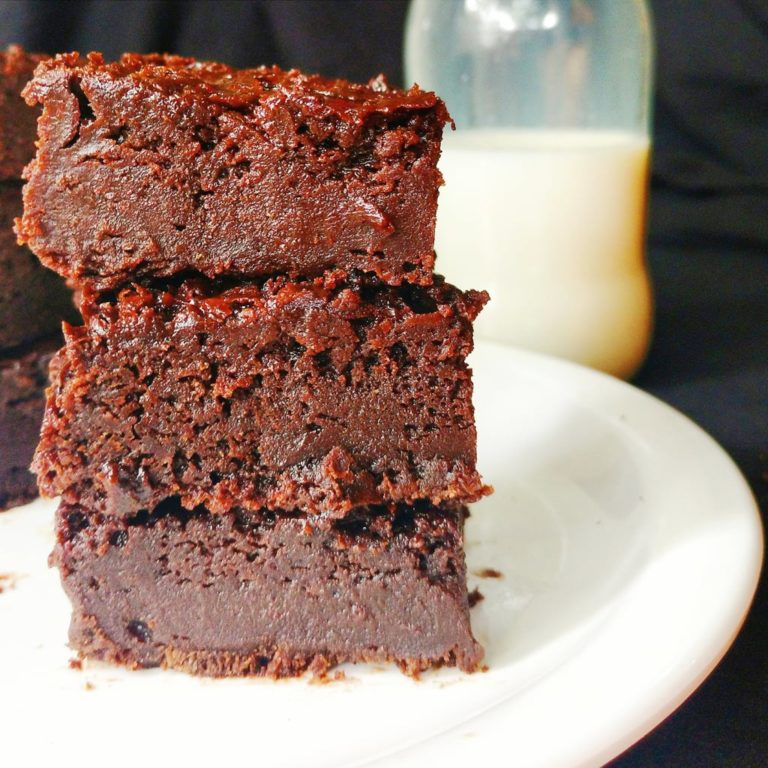 | | |
| --- | --- |
| | |
Line a 8 inch square pan with parchment or foil , keeping enough overhang on the sides so you can pull the brownie slab out later . Preheat oven to 180 C / 350 F.

In a bowl, whisk together the water , sugar, salt and vanilla. The sugar might not all dissolve, but it will be paste-like.

In another bowl, melt the chopped chocolate and butter in the microwave or double boiler.

Stir in the cocoa and coffee.

Whisk in the sugar - water - vanilla mixture .

Stir in the flour until combined.

Pour the thin batter into the prepared pan.

Bake for 35 to 40 minutes until a toothpick inserted has only a few wet crumbs.

Cool completely in the pan , remove and slice with a sharp knife.
Step by step tutorial :
Also :
These can be stored for 3 to 4 days in an airtight container and frozen for 2 months.
These are quite thick , bake them in an 9 inch square pan for 32-35 minutes or so for thinner brownies.
These are quite soft while just baked. So cool completely. Atleast for 2 to 3 hours , overnight if possible and then cut for best slices.