That calls for a celebration , right ?
No? Well, I didn't hear you then.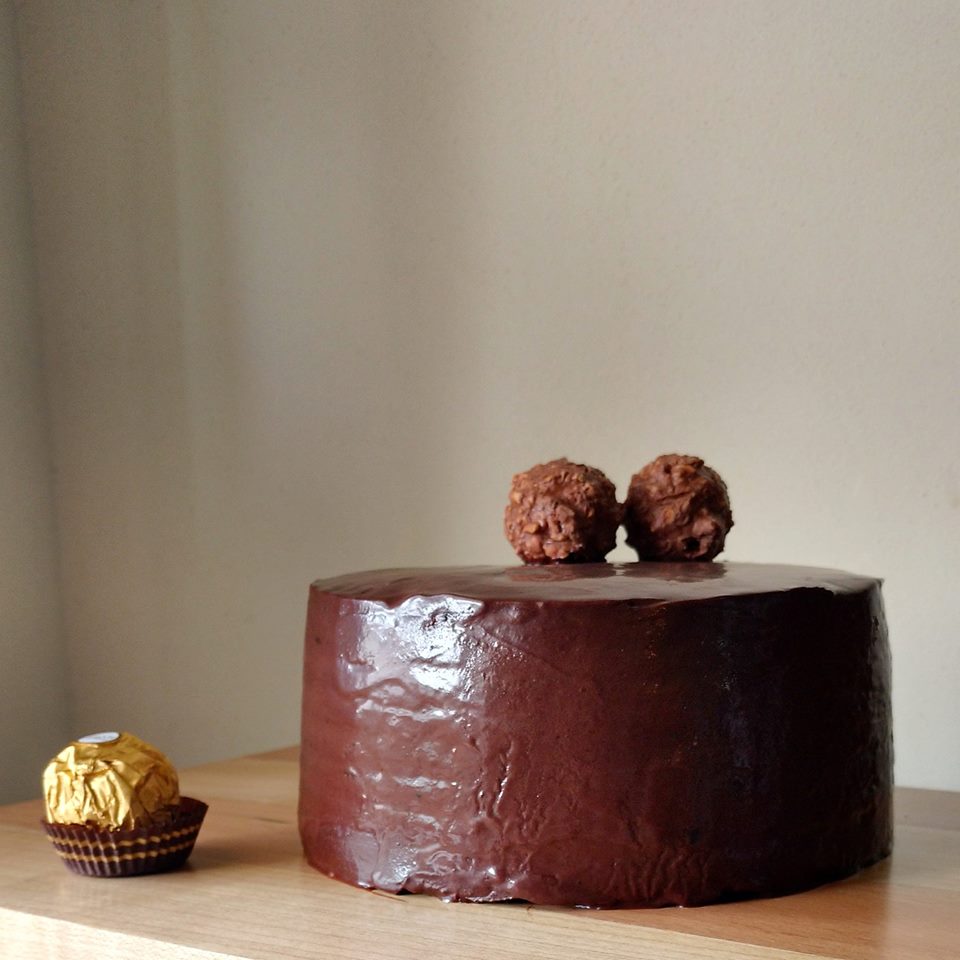 I m the kind of person who is always looking for an excuse to celebrate. And keeping this space alive for 100 posts is not only an excuse… its a valid reason. Right?
No? Then you want to probably skip the next paragraph (aka mini emo speech)!
Baking was a year old hobby when I started this blog. I have loved sharing my hits and misses in my kitchen , connecting with so many of you and growing as a baker in the process. The appreciation and feedback has always been heart warming , at times overwhelming.And when someone tries a recipe and it comes out well … you can be assured I am doing the happy dance !
Well..the celebration cake is chocolate (No surprises there!) . Moist and super duper delicious Devil's food cake filled and frosted with a luscious and rich Nutella dark chocolate ganache . I initially planned to add toasted hazelnuts in between the cake layers but I couldn't find them anywhere nearby when the idea of this cake hit. So I crushed up some Ferrero Rochers and mixed them right into the filling . My "juggad " was the best thing ever. It gave that crunch and that textural contrast in each bite.
This is a 5 inch cake with four layers of that stupendous cake . I divided the batter and baked it in 4 layers. But usually I bake it in an 8 inch round cake pan and it gives me a tall enough cake to split into three! I have given directions for the 8 inch cake as I figured more people would want to bake it that way. If you are doing it that way , you may need to use one and a half times the amount of the ganache .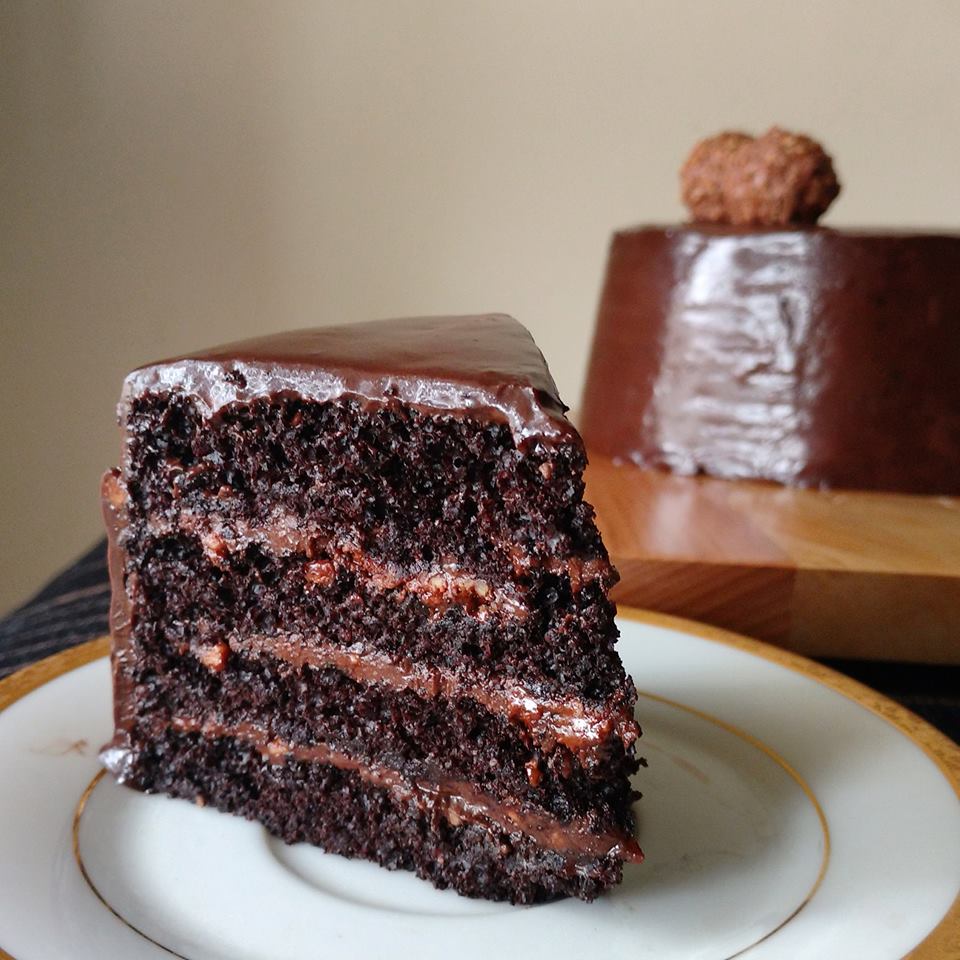 This is an experiment in decadence. I will go so far to say that its probably one of the best chocolate cakes I have made so far. The ganache with the chopped up Rochers is insanely good. If you ever eat Nutella by the spoonful from the jar , you should probably have someone watch over you while making the cake ! To prevent Nutella OD!
So..is this your first visit here ? Or have you tried any of the hundred recipes I have already shared ? Do let me know what you find good here …especially if you don't find anything good here ! Get in touch Here or here ! Or comment below …. I so love to hear from you !

Print Recipe
Devil's food cake
Yum
Dark and dense chocolate cake layers , filled with Nutella ganache and crushed Ferrero Rochers!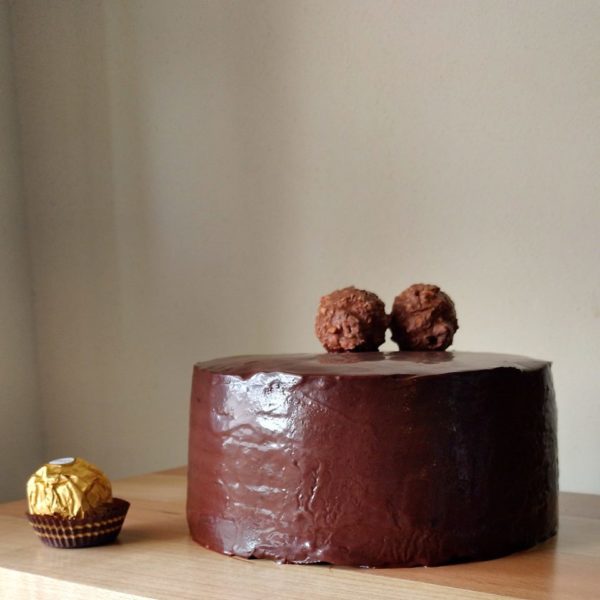 | | |
| --- | --- |
| | |
Preheat your oven to 180 C/ 350 F. Grease an 8 inch or 7 inch pan with butter, dust with flour and line the bottom with parchment.

Mix the cocoa with the boiling water well. Rest until its at room temperature.

Stir or whisk together the flour, sugar , baking soda, baking powder and salt.

Whisk in the cooled cocoa mixture and the egg .

Add the yoghurt, vanilla and oil. Whisk well until smooth.

Pour batter into prepared pan and bake at 350 F/ 180 C for 42-45 minutes for an 8 inch pan and 45-50 minutes for a 7 inch pan. The cake is done when the top springs back when pressed and a toothpick inserted in the centre comes out clean.

Cool in pan for 5 minutes and then unmould , rest on a wire rack until completely cool.
For the Nutella dark chocolate ganache
Chop up the chocolate and add the Nutella in a mixing bowl.

Heat the cream on the stove top or in microwave until bubbles appear around the sides. Pour the hot cream over the chocolate and Nutella , let stand for 2 minutes.

Stir until all the chocolate is melted and the nutella, chocolate and cream are well blended. Let rest at room temperature for 4 - 6 hours or until thick set.

Divide the ganache into two- one for filling and one for frosting. Whip the filling for few minutes if you want it lighter. Crush the Ferrero Rochers and fold into the filling. 
Slice cool cake into desired number of layers. Chill the cake (and then the layers) to make it easier. Place one layer on a cake board or plate. Spread on about half a cup of the filling ganache (with the crushed Rochers) . Place second layer on top and continue filling and layering all layers .

Chill for about 20 minutes. Use the frosting ganache to cover sides and top . Decorate as desired. Keep the assembled cake in the refrigerator. Remove half hour before serving. 
Cake can be stored in an airtight container for 3-5 days or frozen for 2 months.
Same amount of batter can be used by dividing into four 5 inch round pans ( baking each for 15-16 mins) , two 7 inch pans (baking each for 30-35 mins ) or one 9 inch round pan ( baking for 30-35 mins).
The recipe can be doubled.
You can omit the chocolate and make it a purely Nutella ganache . But it was too thin to use for frosting (could pour on as a glaze) and was too sweet for my taste
Depending on how hot it is , and your chosen style of frosting , you might need to add some more melted chocolate to the frosting portion of the ganache to thicken it .