"Alcohol may be man's worst enemy, but the bible says love your enemy. "- Frank Sinatra.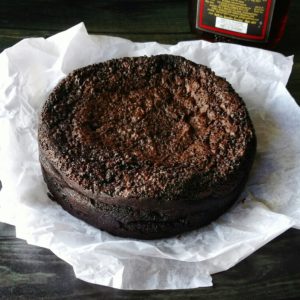 The friends at work were asking for a boozy cake for long and eager as I am when it comes to baking new things, I wanted to try my hand at it. A quick search and chose this simple one from Pastry Affair. The cake is simple to put together , needs only one bowl ( which i love !) and is gluten free to boot. The texture like other flour less cakes is uber velvety , almost fudge like.
To say this cake was a hit, would be an understatement! Although that could be more due to the rum, than the actual cake itself! I didn't taste it myself. But I was told that it tasted GOOD. The deep dark chocolatiness went well with the kick of the liquor . I am paraphrasing here obviously. Because all I managed to get out of those gobbling down the cake at record speed was "Its damn good! You should get this everyday." Again, it could be the booze talking!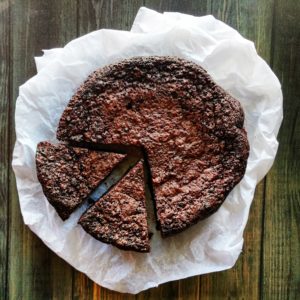 Now if you don't drink(or would rather have it straight from the glass than mixed with chocolate!), you can replace the rum here with water or coffee. Planning to try that soon and will keep you posted. If you do drink , but are worried about how boozy this cake actually is , its just enough to make you feel "warm and tingly inside" without getting you tipsy.
Update (1.12.2016): I have tried this cake umpteen number of times since (so easy) and tasted it too (so good!) , and it works well with coffee , water, dark or white rum!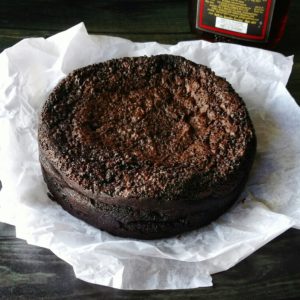 Flourless chocolate rum cake
2016-12-01 10:04:04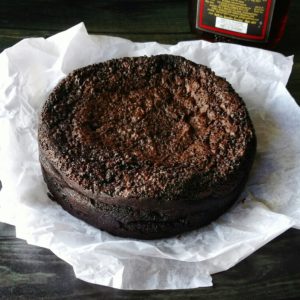 Dense and decadent chocolate rum cake
Ingredients
180 grams dark chocolate
112 grams or 1/2 cup unsalted butter
100 grams or 1/2 cup granulated sugar
4 eggs , at room temperature
1 tsp vanilla extract
40 grams or 1/2 cup unsweetened cocoa powder
80 ml or 1/3 cup dark rum
Instructions
Preheat your oven to 180 C / 350 F. Grease and flour a 7 inch round tin . Line the bottom with parchment (optional).
Chop the chocolate and butter into small pieces. In the microwave or on stove top , melt together until smooth.
Whisk in the sugar .
Whisk in the eggs , one by one , followed by the vanilla extract.
Whisk in the cocoa until smooth.
M8x in the rum.
Pour into pan and bake for 28- 30 minutes until a toothpick inserted in the centre comes out with few moist crumbs.
Cool in pan for 10 minutes , unmould carefully and cool completely on a wire rack.
Notes
This can be stored in an airtight container for 3 days at room temperature and upto a week in the fridge.
You can replace the rum with 1/3 cup water or 1/3 coffee (1 tsp coffee powder dissolved in 1/3 cup water).
The cake will bubble and rise while in oven and settle down once cooled.
You can bake the same batter in a 6 inch pan at 160 C / 325 F for 45- 50 minutes.
FLOURS & FROSTINGS http://floursandfrostings.com/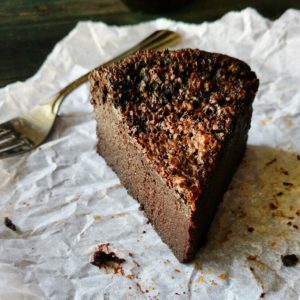 Like most flourless cake, it looks unapologetically rustic and uneven. You can have slices as is – not too delicate or crumbly which makes it travell-able (that should be a word) . Or you could serve it at a sit down dinner with a scoop of ice cream by the side or some whipped cream on top. Do try this for your chocolate kick and some more !