My second most favorite flavor to bake with ( after chocolate of course!) is coffee. Try as I might to be adventurous with my baking, I keep coming back to chocolate and coffee or mocha , which just means chocolate and coffee together. And my favorite things to bake are brownies. So this recipe kinda brings all my favorites together..chocolate, coffee and brownies! Now how could i not love it !
These are basically coffee flavored brownies in cookie form. Which if you ask me is brilliant ! Because sometimes you just don't want to wait for a tin of brownies to cool or to cut and slice them . Also, in built portion control !!! Unless of course you eat half of a batch yourself (not saying that i did !) . Speaking of batches, this recipe makes around 16 cookies which is just enough that you can bake off in two batches, and you don't have too many cookies lying around to tempt you ( I m not sure if thats a good thing or bad!) .
This recipe is adapted from Betty Crocker.
These cookies taste like the edges of a brownie…chewy and rich, with a distinct taste of coffee. These pair well with a cup of coffee. Who am i kidding.. i could eat them any day all day!
PS … i don't bake many cookies. Want to change that asap! So if you got a cookie you d like me to post or any suggestions for more cookie posts, please do let me know in the comments below or email me @ [email protected] ! Hoping to hear from you..!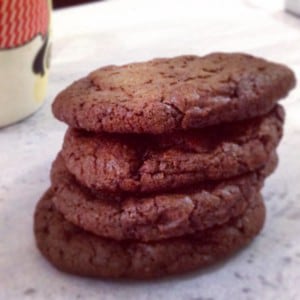 | | |
| --- | --- |
| | |
Melt the chopped chocolate and butter together in a microwave or saucepan. Let cool for few minutes.

Sift or mix the dry ingredients that is flour, salt and baking powder together in another bowl. Keep aside.

Beat together the sugar, egg, vanilla and coffee for a few minutes using beaters or a whisk until its light brown and slightly frothy.

Add the chocolate-butter mixture and mix until smooth

Add the flour mixture and mix until you can't see flour anymore.

Fold in the chocolate chips if using.

The dough will be like a thick batter like brownie batter.

Chill for half hour or so until firm enough to handle.

Preheat oven to 180 degrees celsius. Make balls of around 2 inch diameter and place on an unlined and ungreased baking tray, Keep around 2 inches between them as these cookies spread a lot.

Bake 10-13 minutes at 180 C( I did 12 ) until brownies are dry and have cracks on top. They ll still be soft. Cool on tray for 3 minutes and transfer to rack to cool completely.
The cookies will be puffed up when you get them out of the oven but will flatten out with that beautiful uneven surface as it cool.
Be careful as they are pretty crumbly until cool.
2 inch dough balls yielded 16 cookies of around 4 inches diameter.