At Christmas, all roads lead home. ~Marjorie Holmes.
Yup. A whole week of cookies for Christmas. For seven days, I will be sharing my favourite recipes for my favourite cookies for my favourite time of the year. There's a good mix -traditional and not so traditional , nutty and spiced and sweet , cut outs and hand shaped and dropped. I'd like to think there's something in here for everyone. These are cookies that taste great , look festive and are perfect for gifting and making ahead. Because tis the season to be jolly …fa la la la la la…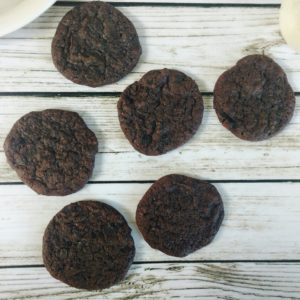 Did you really think my Christmas cookies list wouldn't have an "out and out" chocolate cookie ? And let me tell you…this cookie is one helluva chocolate cookie. It's fudgy and has gooey insides .it's rich and decadent . It is pure and instant chocolate nirvana.
The cookie itself is made with cocoa , but i have swirled in chunks of chopped dark chocolate. Chocolate chips are easier , but I prefer the uneven bits of chocolate that form all these delicious melty pockets inside the cookie. Ofcourse if you chop chocolate like me , the uneven-ness goes a bit too far but its still chocolate right ! I would have liked the cookies to be thicker than they turned out , but I am willing to look past that because they tasted so yum!
I have baked a lot of chocolate cookies in my time , and eaten a LOT of them. This one is one of the best – a keeper , for sure!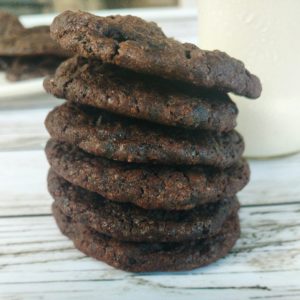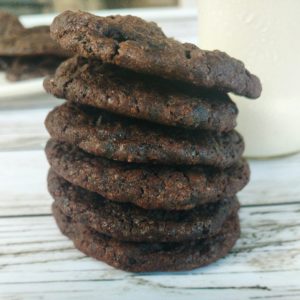 Chocolate fudge cookies
2016-12-14 15:04:12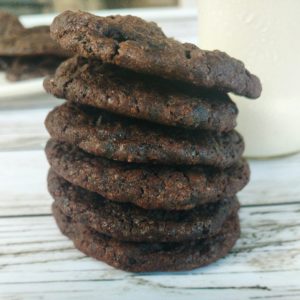 Chewy and fudgy chocolate cookies with loads of gooey chunks!
Ingredients
42 grams or 3 tablespoons unsalted butter, at room temperature
150 grams or 3/4 cup granulated sugar
1 egg, at room temperature
1 tsp vanilla extract
92 grams or 3/4 cup all purpose flour
20 grams or 1/4 cup unsweetened cocoa powder
1/4 tsp salt
1/4 cup dark chocolate chips or chunks
Instructions
Sift or whisk together the flour , cocoa and salt.Keep aside.
Using an electric mixer or wooden spoon , beat the butter and sugar until light and fluffy.
Add the egg and vanilla , and beat until well incorporated.
Add the flour and cocoa mixture , beat at low speed until a sticky dough forms.
Fold in the chocolate chunks or chips.
Chill for 30 minutes .
Meanwhile preheat your oven to 180 C/ 350 F , and line a cookie sheet with parchment.
Place tablespoonfuls of the dough (or balls of about 1 inch diameter) on the prepared sheet about 2 inches apart.
Bake for 8-9 minutes . The top will not be shiny any more but the cookie will still be soft.
Cool on sheet for 6-8 minutes until firm , and then cool completely on a wire rack.
Notes
These cookies will last for about 5-6 days when stored in an airtight container.
The dough can be chilled for upto 2 days .
I got 25 cookies of about 2.5 inches diameter .
Skip the salt if using salted butter.
Handle warm cookies with care . They are delicious but delicate!
FLOURS & FROSTINGS http://floursandfrostings.com/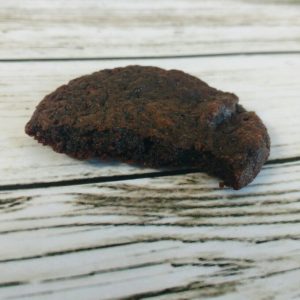 Wow, these really were so good! For such thin cookies, they are insanely fudgy and downright indulgent. If you like brownies , you will love these!
Affiliate links : Just so you know, I have baked these cookies in my trusty Morphy Richards 52 Litre Oven
.
Happy baking !