"There's nothing sadder in this world than to awake Christmas morning and not be a child. "- Erma Bombeck.
Yup. A whole week of cookies for Christmas. For these last seven days, I have been sharing my favourite recipes for my favourite cookies for my favourite time of the year. There's a good mix -traditional and not so traditional , nutty and spiced and sweet , cut outs and hand shaped and dropped. I'd like to think there's something in here for everyone. These are cookies that taste great , look festive and are perfect for gifting and making ahead. Because tis the season to be jolly …fa la la la la la…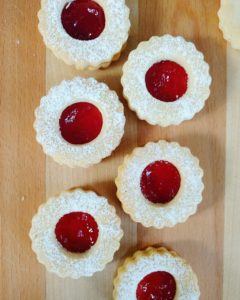 The last one in my Christmas cookie series is one of the most classic ones !I was thrilled about making Linzers as I had never tried them before. Not a big jam fan as such. Or sandwich cookies for that matter! But I am beginning to see that I might not like jam on my bread but its pretty good in bakes – like in these palmiers . And now in these Linzer cookies!
Linzer tarts – or linzertorte- are Austrian in origin and named after the city "Linz". Overtime, the petite and more convenient cookie avatar came into being .Linzer cookies are traditionally made with ground nuts and sandwiched with preserves or jam, and classically dusted with icing sugar. You can of course choose a nut and jam of your choice . The festive season demands a bright coloured jam for sure ! Make your own jam if you fancy.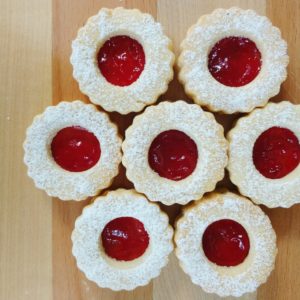 The cookies aren't as quick as some others might be. The dough needs to be chilled , rolled out , cut out and the cut outs chilled again. Don't skip the second chilling as it helps the cookies keep their shape. Just pop into your freezer for 10 minutes or so as your oven preheats. And this dough rolls out pretty easy !
The cookie is tender and soft . The almonds give it this nuttiness thats endearing. I used a raspberry jam and its sweet-tart notes were a perfect contrast. The icing sugar adds some of the sugar factor that you might find lacking in the cookie itself! The day after they are baked , they become softer, and the textures and flavours kind of merge into a heightened deliciousness !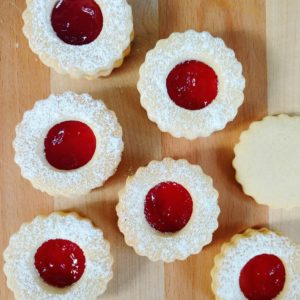 Linzer cookies
2016-12-15 15:37:42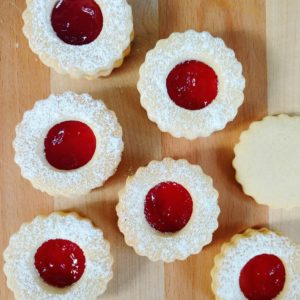 Nutty , crumbly almond cookies sandwiched with a raspberry jam and dusted with icing sugar !
Ingredients
112 grams or 1/2 cup unsalted butter , at room temperature
50 grams or 1/2 cup icing or powdered sugar
1 tablespoon milk
1 tablespoon vanilla extract
100 grams or 1 cup ground almonds or almond flour
160 grams or 1 1/4 cups all purpose flour
1/4 tsp salt
About 1/4 cup jam or preserves
2-3 tablespoons icing sugar , to dust
Instructions
Whisk or sift together the flour , ground almonds and salt. Keep aside.
Beat together the butter and sugar until light and fluffy (using an electric mixer or wooden spoon).
Add the milk and vanilla , beat until incorporated .
Add the flour mixture and beat at low speed until a dough forms.
Wrap in plastic and chill for atleast 30 minutes.
On a lightly floured surface , roll out chilled dough to about 1/4 inch thickness.
Using a cookie cutter , cut out shapes and place 1 1/2 inches apart on a parchment lined or greased cookie sheet.
Re-roll scraps and cut out cookies until all dough is used up.
Using a smaller cookie cutter , cut out the centres of half of the cookie dough shapes you have on your cookie sheet. You can bake the centres too!
Chill your sheet for 30 minutes or freeze for 10 minutes.
Meanwhile preheat your oven to 180 C / 350 F.
Bake the cookies for 14-16 minutes , rotating the pans at around 8 minutes.The cookies will only lightly brown around the edges.
Let cool on pan for 3-4 minutes and completely on a wire rack.
Once cool , spread a teaspoon or so of jam on the whole cookie and dust the cookies with the centres cut out with icing sugar. Sandwich and enjoy !
Notes
These cookies last well for 4-5 days in an airtight container.
My cookie cutter was 2.5 inches wide and the smaller one was 1 inch wide. I got 16 sandwiched cookies.
if your dough seems too dry , mix in an extra tablespoon of milk at the end.
FLOURS & FROSTINGS http://floursandfrostings.com/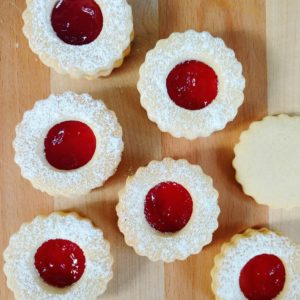 These nutty , crumbly cookies are as pretty as they are delicious. If your Christmas cookie box is full , use a heart shaped cookie cutter and make it for Valentine's day. Don't forget to use a bright red jam!
And with that , I draw the curtains on my Week of Christmas Cookies. What did you think of my favourite holiday cookies ? Which one was your favourite ? Or did you not like any of them ? Let me know !!!
Dont let not having cookie cutters be your excuse not to bake these !