"Hot cross buns , hot cross buns , one a penny , two a penny , hot cross buns…. "
Like the scones from Enid Blyton and the butter beer from Harry Potter , I have always wondered what hot cross cakes from the kindergarten rhyme would taste like. What better way to find out than to make some myself? And what better time than now – when Easter is almost knocking at the door ?
These buns are traditional Easter treats. The history surrounding this buns could probably fill a small textbook! The reasons they are eaten on Good Friday are not entirely known , although they are believed to bring good luck and ward off bad . The bun is also said to have certain Christian symbolism , with the cross on top representing the crucifix and the spices in it representing the agents Jesus was embalmed with .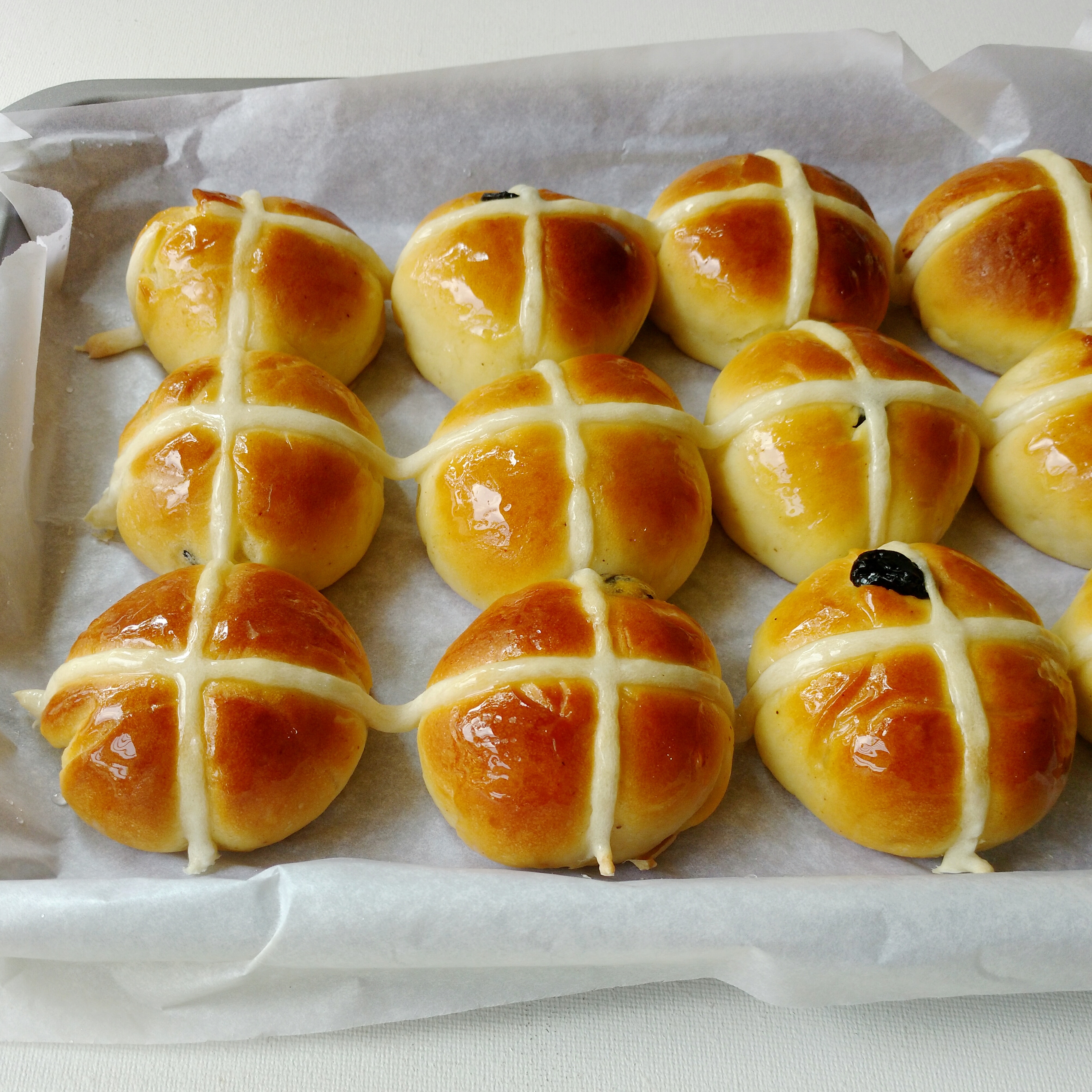 The dough is a simple dough , with some sugar , some milk , some spices , some currants . The cross can be etched on top or could be made with anything from shortcrust pastry to a flour paste or icing. Once baked, the buns are brushed with some jam or a quick glaze for that characteristic sheen.
It is as simple as most breads can get. The kneading is a matter of minutes and the shaping is straightforward. I used raisins and added them right into the dough. Some recipes add the raisins and spices after the first proofing as they can retard the dough rise and prove it a total of three times. I just went the quicker route and the buns rose fine! I used flour paste for the cross and a simple sugar glaze, both of which were really simple to make .
And if you like me wondered if the flour paste would taste off , you actually wouldnt taste it at all !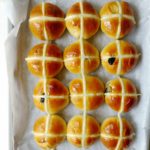 Hot cross buns
2017-04-07 20:14:20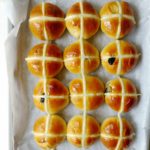 Fluffy and sweet , traditional Easter hot cross buns !
For the dough
60 ml or 1/4 cup milk
60 ml or 1/4 cup water
7 grams or 11/4 teaspoon active dry yeast
250 grams or 2 cups all purpose flour
50 grams or 1/4 cup granulated sugar
1 teaspoon salt
1 teaspoon cinnamon
28 grams or 2 tablespoons butter, at room temperature
1 egg , at room temperature
1/4 cup raisins
For the cross
62 grams or 1/2 cup all purpose flour
60 ml or 1/4 cup water
For the glaze
60 ml or 1/4 cup water
2 tablespoons sugar
Instructions
To activate the yeast , heat the milk and water until hot (105 to 110 F) . You should be able to put your finger in but not keep it in longer than 5 seconds. Add the yeast and one teaspoon of the sugar. Wait until its frothy.
In a bowl, mix the flour, salt , cinnamon , sugar .
Add the yeast mixture , butter and egg.
Mix until the ingredients come together and a rough dough forms.
On a floured surface , knead the dough for 5-10 minutes until it has a smooth surface.
Add the raisins and knead for a minute so that they are incorporated well.
Place the dough in a oiled bowl , cover with plastic wrap or clean cloth and let it rest until doubled or about an hour.
Punch out the air after the first proof .
Divide the dough into 12 portions, roll them into round balls.
Place them on a parchment lined baking sheet in rows. I used a 9 x 13 inch pan.
Cover and let rest for 30 minutes or until doubled.
Preheat the oven to 200 C / 400 F.
Meanwhile , make your flour paste by mixing the flour with the water until a thick paste is formed. Fill into a piping bag fitted with a small round nozzle or cut the end of the bag off.
After the second rise, pipe the flour paste in vertical and horizontal lines passing through the centre of each row of your buns .
Bake at 200 C / 400 F for 20-25 minutes until the tops are well browned.
Make the glaze by boiling the sugar with the water until it dissolves and then simmering for a few minutes. Brush hot glaze over warm buns.
Serve with butter or jam!
Notes
These last for 3-5 days .
You can use any spices that you like.
You can make as many buns as you want. I made 12 small buns and placed them in 4 rows of 3 each. Depending on size of your pan , you could make bigger buns and place them 3 x 3 or 4 x 4.
When you pipe the crosses , let the lines run down in the space between the buns as the buns will increase in size.
FLOURS & FROSTINGS http://floursandfrostings.com/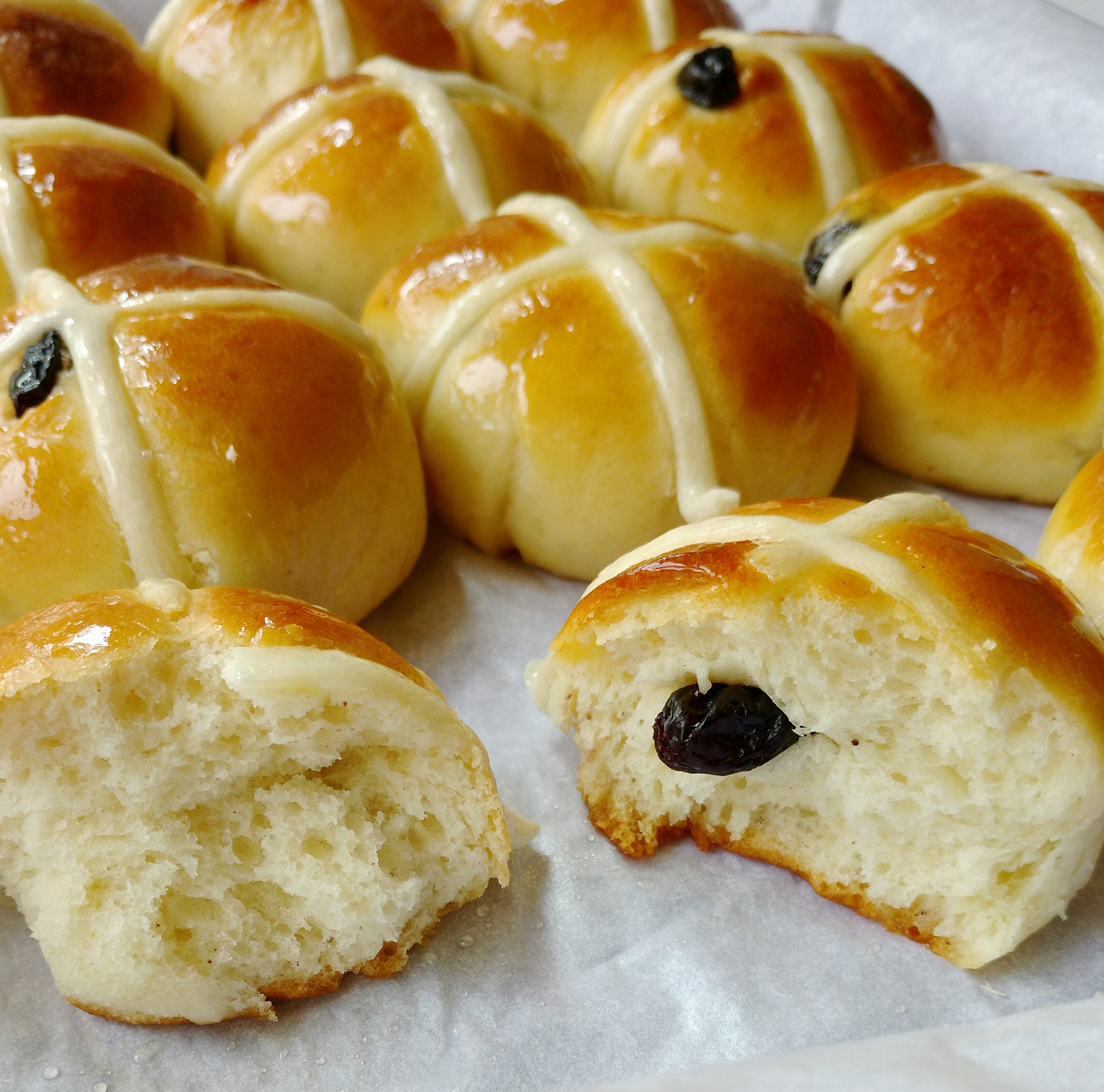 The buns were sweet and fluffy. In retrospect , I should have cut up my raisins as I made such small buns so that I had that "studded" appearance. You can have these buns plain or slathered with some butter , some jam for more sweetness. They taste best when warm!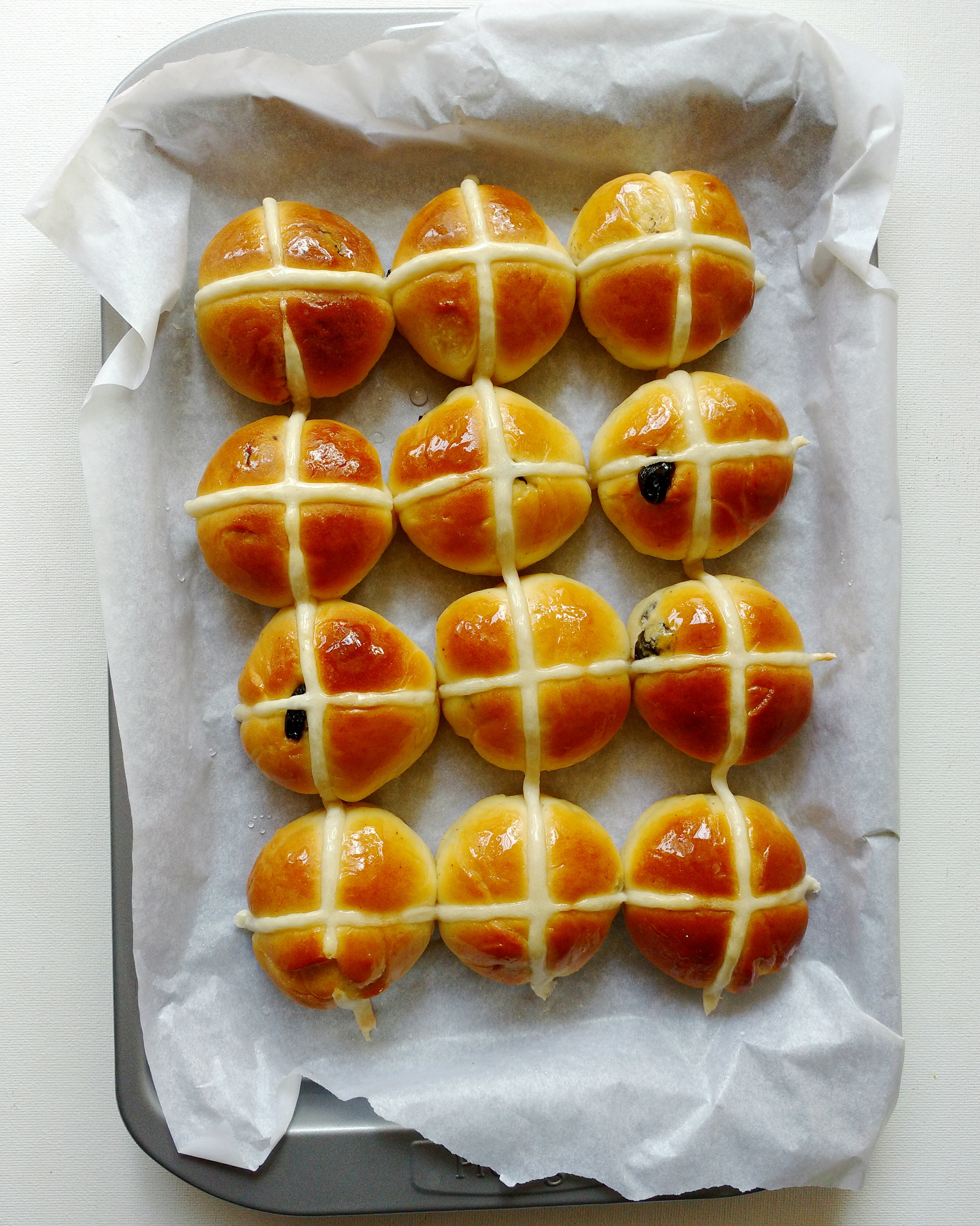 Affiliate links : Just so you know, I have baked these hot cross buns in my trusty Morphy Richards 52 Litre Oven
.
Happy baking !