"Don't worry even if things end up a bit too heavy, we'll all float on."- Modest Mouse.
The marbling in this cake happened totally by incident. Someone bought us a box full of juicy Alphonso mangoes and we have steadily been eating them throughout the week.
I intended to try out a simple Mango loaf cake with some of the fruit. But half way through the procedure , I realised that there was only one Mango left in the box. The oven was preheating , the butter was already at room temperature and the pan was already prepared – so I just changed the plan a little- turned a mango loaf cake to a vanilla-mango marbled loaf! (I like doing simple things and pretending I just discovered a way to make free electricity or something)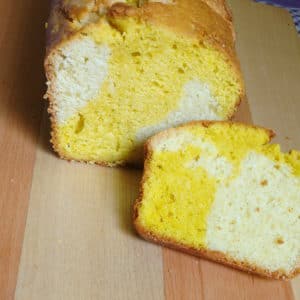 Whether you go all mango or just half , me thinks this is one that you'd love to try . Its easy to make and light in texture. The crumb is tight and beautiful, the crust is brown and crisp , the mango flavour is just there without getting overwhelming. It's a great tea cake and the bright colours will perk up your snack time!
Recipe courtesy : Annie's noms
Mango and vanilla marble cake
2018-10-24 06:04:57
Buttery and tender mango and vanilla marble cake
Ingredients
170 grams or ¾ cup unsalted butter , at room temperature
200 grams or 1 cup granulated sugar
3 eggs , at room temperature
1 tsp vanilla essence or extract
310 grams or 2 ½ cups cake flour or all purpose flour ( look at the step-by- step for details)
2 tsp baking powder
½ tsp salt
½ cup mango puree (from 1 mango)
Instructions
Grease your loaf pan with butter and dust liberally with flour. Or you could line with parchment. Preheat oven to 160 C/ 325 F.
Sift or whisk together the flour , baking powder and salt. To make cake flour : measure out 2 ½ cups all purpose flour into your mixing bowl, remove 5 tablespoons of the flour out and replace with 5 tablespoons of corn flour. Whisk this with the baking powder and salt. Keep aside.
Beat the butter and sugar together until light and fluffy .
Add the eggs , ONE at a time , and beat each well until incorporated.
Add the vanilla and beat well .
Add in the dry ingredients mixture and beat at low speed for a minute or so until incorporated.
Divide the batter into two bowls. It doesn't need to be exact as you will be swirling them anyways.
To one bowl, add the mango puree and beat until incorporated smoothly.I
In the pan, alternately drop big blobs of the vanilla and mango batter like. Then over the vanilla, drop mango blobs and over the mango , drop vanilla batter. Do this until you use up both batters.
Swirl ( s – shapes) both the batters using a skewer or knife.
Bake in the preheated overn at 160 C/ 325 F for 45- 50 inutes until a toothpick into the centre comes out dry.
Cool in the pan for 15 minutes and then remove from pan , and cool completely on a wire rack.
Notes
For a whole mango cake , use 1 cup mango puree from 2 -3 mangoes.
To puree the mangoes, simply chop and blend in your mixer or food processor . Use the ripest and brightest coloured mango flesh that you can find .
If your mangoes aren't that ripe / bright yellow, you can add couple of drops yellow food colouring. The final colour will be lighter than your batter.
If you like your cakes sweet , add upto 1/4 cup sugar more into the recipe.
My measuring cup measures 240 ml
FLOURS & FROSTINGS http://floursandfrostings.com/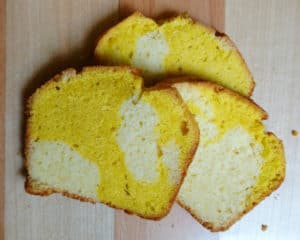 No frills. Just good old cake. The keyword being "good" ! Soft, tender and flavourful. You' ll be having slices of it everytime you pass the kitchen .Its that kind of cake ! Simple and sweet!