"Seven days without chocolate makes one weak."- Unknown
Who decides to make some chocolate chip cookies and realise they have no chocolate chips just when its time to add them in? That would be me.
As much as I love chocolate (and its no secret that I love me some chocolate!) , I hate one thing to do with it , and that is chopping it into equal sized chunks. Did I say equal? Nope, never happens. Even my most careful chopping results in a mixture of thin shards , largish chunks , many shavings and lots of chocolate powder. Which is why these cookies look the way they do!
Don't be like me . Remember to stock up on chocolate chips before making these. Reduces your work, clean up is easier and so is slicing the cookies. Or atleast chop up your chocolate better than I managed to!
But then again , I liked the way these cookies looked , and tasted. And I like slice and bake cookies , because they are easier to portion out ( no measuring out tablespoons and scoops ) and you can chill the cookie dough logs and bake as many as you need whenever you feel cookies! And people wonder why I never lose weight!
Ignore my rant about chocolate chopping and weight watching , make these cookies !
These are great little devils. Some bites have blobs of gooey chocolate, some just a little. The cookie is crisp and crunchy . Make sure to keep them away from prying eyes and hands though. They have a way of disappearing !
There s more you can do with chocolate chips and cookies – chewy chocolate chip cookies , Nutella chocolate chip cookies and chocolate chip blondies !

Print Recipe
Slice and bake chocolate chip cookies
Yum
cRisp and crunchy chocolate chip cookies!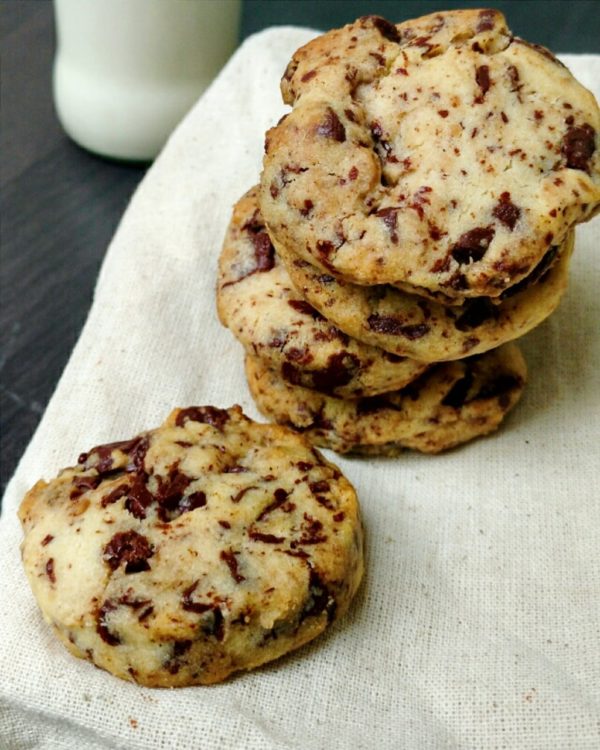 | | |
| --- | --- |
| | |
Roughly chop the chocolate . Keep aside.

Beat or cream the butter with the sugar and salt using an electric mixer until smooth.

Beat in the egg and the vanilla .

Whisk together the flour and baking powder.

Add the flour mixture and mix until just combined.

Fold in the chopped chocolate.

Shape the dough into one or two logs , wrap in clingfilm and chill for atleast two hours.

Meanwhile , preheat your oven to 180 C/ 350 F . Line a baking sheet with parchment or grease well.

After chilling period, unwrap the cookie dough logs and slice cookies of about 1 cm thickness.

Place cookies on the prepared baking sheet , about 2 inches apart and adjust the shape if needed.

Bake at 180 c/ 350 F for 10 minutes , turn the baking sheet front backwards , bake for 8-10 more minutes until lightly brown on the edges.

Cool on pan for two minutes and then completely on wire rack.
Also:
Store these in an airtight container for upto a week.
The cookie dough can be chilled for a week and frozen for a couple of months.
Add chopped nuts to the dough if you wish.