"I have not failed. I've just found 10,000 ways that won't work."- Thomas A. Edison
Its been a while since I had a major baking fail and I had almost begun to think that I was getting good at this! Serves me right! Brookies made me come crashing down to earth. But in a way , I enjoyed the challenge of trying to get them right!
So Brookies are basically the ultimate cookie bringing together the stalwarts of the baking world . Cookies + brownies = Brookies! Now some brookies are literally that – half of a chocolate chip cookie and half brownie. And some are just brownie like cookies.
After the fame of Harry's brookies (of Masterchef ), I tried recipe after recipe (some from very known sources) of brownie cookies,but every batch of cookie dough resulted either in one flat gigantic cookie or thin hard (delicious) discs ! Others had tried the very same recipes , and had rave reviews to share. I had no idea of what I was doing wrong. I chilled the batter more , baked at different temperatures and tried making cookies of different sizes.
I was almost about to give up when I came across this recipe in Mindy Segal's book Cookie love . I adapted it some and finally I had some Brookie success ! Not just brookies… brookie crinkles!
Brookie recipes are quite like brownie recipes but with more flour and a little bit of baking powder for the cookie structure. The dough is chilled (so that it hold its shape while baking) and rolled in icing or powdered sugar. As the cookie bakes, the sugar settles down in the cracks and crevices of the surface of the brookie… gorgeousness!
And Super Yum ! So worth all the trials and errors !
I still have to figure out the mystery behind the ruined cookies, but until then I am more than happy to gorge on these. And "gorge" is the right word as these are so rich. Crisp exterior and chewy centres ! And surprisingly not too sweet despite all that icing sugar! And that white crinkly effect against the dark chocolate ??? WOW!

Print Recipe
Brookie Crinkles
Yum
Super pretty crinkly black and white cookies with crisp exterior and chewy centres like a brownie!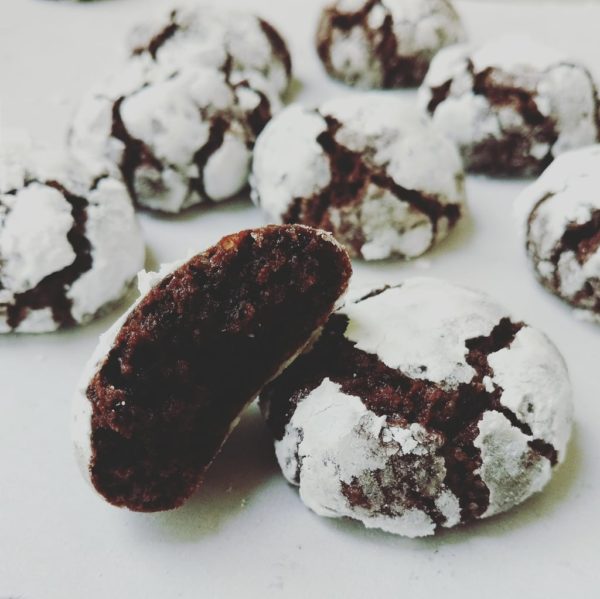 | | |
| --- | --- |
| | |
Sift or whisk together the flour, cocoa powder, baking powder, coffee powder and salt in a small bowl. Keep aside.

In a bigger bowl , chop and melt the chocolate (on a double boiler or microwave).

To the still hot melted chocolate , whisk in the sugar and then the oil and vanilla.

Whisk in the eggs , one by one , whisking well after each addition .

Add the dry ingredients , and whisk until a dough forms. You may need to use your hands for ease.

Cover and chill for atleast half an hour .

Meanwhile preheat your oven to 180 C/ 350 F . Line a baking sheet with parchment paper.

Sift icing sugar into a bowl or a surface.

Roll the chilled dough into balls of about 1 1/2 tablespoons each , roll in the icing sugar well and place on prepared baking sheet atleast 2 inches apart.

Bake at 180 C/ 350 F for 8- 9 minutes, rotate pan front to back and bake for 4-5 minutes more.

Cool on the pan for two minutes and then completely on a wire rack .
Step by step Tutorial:
Also:
These can be stored in an airtight container for 3-4 days at room temperature.
Dough can be refrigerated for upto a week.
Recipe can be doubled.
Bake only at the corners are set , the cookie will still seem soft but will firm up when cooling.
You will not use all the icing sugar .