"Love is a fruit in season at all times, and within reach of every hand."-Mother Teresa.
I have a problem. I keep buying strawberries everywhere i see them as I want to make the most of it as long as they are in season. Now I have more lying around than I know what to do with!
I always wanted to try a galette and thought it was the best way to put yet another tin of particularly bright berries to good use. A galette is a kind of free form tart that is basically a tart or pie crust dough or even puff pastry rolled out and filled with sweetened fruit .The edges of the tart as just folded over at the edges so that most of the fruit is still uncovered and visible in all their glory. Its as uncomplicated a fruity dessert as can get , so customisable and needs little know-how . Check out the step-by step tutorial here.
And it makes a beautiful dessert plate without all the fuss that you normally would accept.
Easy strawberry galette
2017-12-14 08:25:31
Easy and rustic freeform strawberry tart!
For the Dough
125 grams or 1 cup all purpose flour
85 grams or 6 tbsp unsalted butter , cold
pinch of salt (omit if using salted butter)
1 tsp granulated sugar
2-3 tbsp ice cold water
For the Filling
1 1/2 cups strawberries or around 6-8 large strawberries
1 tsp cornflour
2 tbsp granulated sugar
1/4 tsp vanilla (optional)
Also
Beaten egg or 2-3 tbsp milk for wash
1 tsp granulated sugar
To make the dough
Measure out the flour , salt and sugar in a large mixing bowl . Add the cold butter , cut into 1 cm chunks. You can make this dough in the food processor as well.
With a knife , pastry cutter or your hands , cut the butter into the flour. The texture should be like coarse breadcrumbs. Don't worry if there are biggish pieces of butter, it ll just make the pastry flakier when it bakes.
Add 2 tbsp of cold water and bring the dough together. Add more water if needed. Just mix until the dough comes together. Don't knead.Wrap in cling wrap and refrigerate for about 30 minutes.As the dough rests , preheat oven to 200 C/ 400 F.
To make the filling
Slice the strawberries into 1/4 cm thick slices.
Add the sugar, corn flour ,and vanilla. Mix well.
On a piece of parchment , sprinkle some flour , roll out the dough to a circle around 9 to 10 inches in size and 1/4 inch thick.
Add the filling in the centre , keeping it atleast 2 inches away from the edge of the dough.
Fold the edges over , pleating if you wish . Make sure the fruit in centre is still exposed.
Transfer the parchment to your baking sheet . Brush egg or milk over the dough. Sprinkle some sugar over the dough and fruit. Bake for 35 -45 mins at 200 C / 400 F until pastry is golden brown. Cool or serve warm.
Notes
This makes a 8 inch - 9 inch roundish tart, you can make several smaller tarts if you wish.
Substitute any fruit of your choice like raspberries , blueberries , apples , peaches etc.
Adjust the sugar in the filling as per the sweetness in the fruit you are using .
This is best served the same day.
If storing, Store covered in the refrigerator for 2-3 days. Get to room temperature or warm before serving.
I use a 240 ml cup
FLOURS & FROSTINGS http://floursandfrostings.com/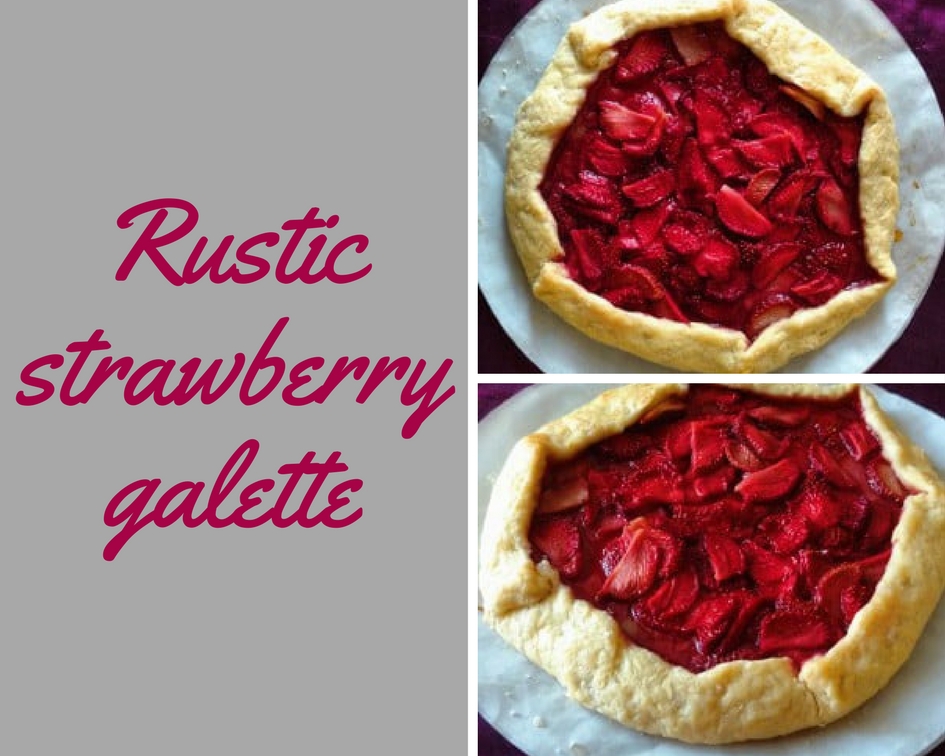 I love trying new things and loved how easy this is to put together. And anything rustic always goes down well with me! The crisp , flaky pastry and sweet, juicy cooked fruit tasted absolutely delicious. Eat it the same day for the best flavours and textures. This is a recipe to play with . Let me know what you'd fill up in yours!
How to make a easy strawberry galette :