"Your hand and your mouth agreed many years ago that, as far as chocolate is concerned, there is no need to involve your brain." ― Dave Barry
"A perfect cross between a molten chocolate cake and a fudge brownie; the edges get chewy, the top is crisp, and the centre is pure molten chocolate goo".. When you see a cake described like this , how can you NOT try it ? Atleast for a die-hard chocoholic like me , the words itself are drool worthy.
This is a recipe I came across in the Top with cinnamon blog. Its a Swedish cake Kladkakka which means "sticky cake". It is extremely popular , for obvious reasons and surprisingly simple to make. One saucepan is all you need. Only downfall here is , i don't really see a way of making this egg-free and this cake has a lot of sugar.I mean a lot! I reduced some but it s still not a cake I would suggest making often !
Its a cake that picks you up when you've had a lousy day. Its the cake that you gorge on with your girlfriends forgetting about calories and weighing scales . AND this is a perfect dessert cake, to be served on plates with a fork and napkins , beside a scoop of ice-cream or whipped cream. Best served warm , and deliciously gooey!
If you are someone who likes pristine , clean cut cake slices with perfectly smooth tops, or if you don't like too sweet cakes , you should probably stay away from this one ( but please don't!) . The cake surface will crack, the centre will fall , it ll drip all over when you cut it , it ll stick to your fork when you eat it.. You 'll love it !
Chewy edges. Check. Crisp top. Check. Molten chocolate goo in the centre. Check. One way ticket to chocolate heaven ? Check!

Print Recipe
Swedish chocolate cake
Yum
Ooey gooey chocolate cake !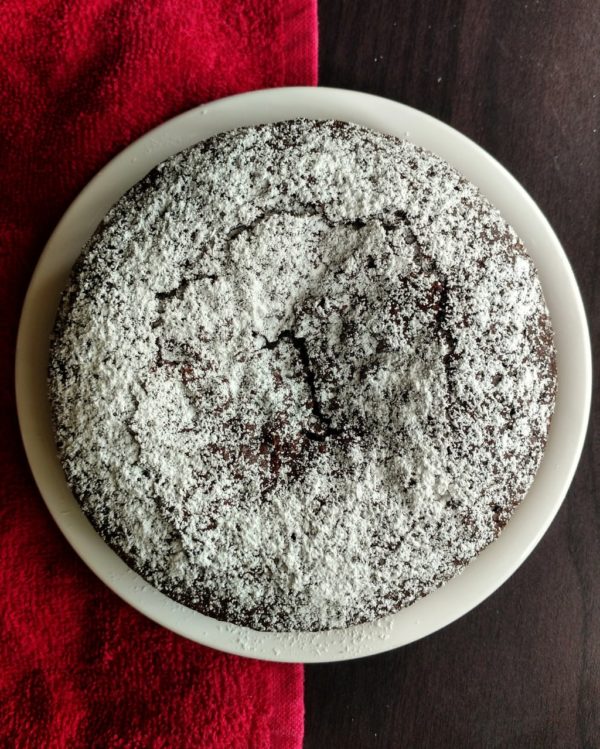 | | |
| --- | --- |
| | |
Preheat your oven to 180 C. Grease a round pan ( I used a 7 inch loose bottomed pan) with butter and dust with flour/cocoa well.

Melt the butter in a saucepan.

Get off the stove and stir in sugar and cocoa powder.

Stir in the eggs and the vanilla.

Pour batter into prepared pan and bake for 25-30 minutes .

Cool in pan . Run a knife or spatula along the inside edge of the pan to loosen cake. Invert onto cooling rack .
You can make the batter ahead of time and keep it the refrigerator for upto 2 days. Bake when you need it. You can also make it earlier and microwave whole cake or slices before you eat. But only 10 seconds or you ll have a plate of lava!
A 6 inch pan will take 35-40 minutes and 8 inch pan will take 22-24 mins. I suggest a springform or loose bottomed pan.
Do not over bake. No point in the toothpick test. When you press on the top of the cake , it'll slightly spring up.