"Cakes are healthy too, you just eat a small slice." ― Mary Berry.
The theme for this month's Creative Cookie Exchange – Healthy Cookies – couldn't have been more month-appropriate! For most people January brings plans of becoming nicer people ,chasing our dreams , building perfect relationships , achieving more success , making healthier choices and lots of other things.
There's another 12 months to worry about the rest, for now lets start with these wholewheat digestive biscuits ! Baby steps y'all !
You know , I have eaten digestive cookies for most of my life and never really thought much about the name. They are called so because they are supposed to aid digestion (duh!) . I am not entirely convinced they do . But mysterious alimentary properties aside , I don't know many who aren't fond of dipping their Maries or Mcvitie's into their afternoon cup of tea or coffee or milk !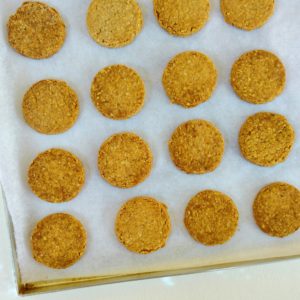 This recipe is a Mark Bittman one and is great. It has whole wheat flour and oats . It does have sugar and butter (its a cookie after all!) but the proportions are much more good for you than any regular cookie . The dough is made in a shortcrust-esque way by rubbing in cold butter into the dry ingredients.It is easiest made by in food processor but I have made it by hand too and it works just fine! The dough is crumbly and not the easiest to roll. But it does come together – and stays together for some healthier dunk-ability !
I know these cookies aren't much to look at . But trust me , they taste a whole lot better than they look. They are crunchy and tender and quite delicious !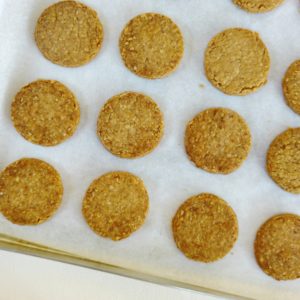 Wholewheat digestive biscuits
2017-01-16 17:09:13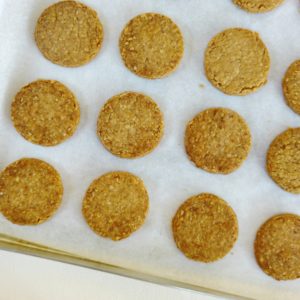 Crunchy , delicious biscuits made with whole wheat flour and oats!
Ingredients
130 grams or 1 cup whole wheat flour
65 grams or 3/4 cup quick cooking oats
40 grams or 3 tablespoons brown sugar
1/2 tsp baking powder
1/4 tsp salt
75 grams or 1/3 cup unsalted butter , cold
2-3 tablespoons milk
Instructions
If using a food processor , pulse together the flour , sugar , oats , baking powder and salt until its a coarse powder. Add the cubed butter and pulse until the mixture resembles bread crumbs. Add milk, one tablespoon at a time , until the dough just comes together.
If not using a food processor , grind together in your mixer or blender the flour, sugar , oats , baking powder and salt until its a coarse powder. Place this mixture on a clean work surface and add the cubed butter. Using a pastry cutter or two knifes, cut the butter into the flour or using your hands , rub the butter into the flour until the mixture resembles bread crumbs. Add milk, one tablespoon at a time , until the dough just comes together and you are able to shape it into a ball. Do not knead or overmix.
Cover the dough in plastic and chill for atleast 2 hours.
Preheat your oven to 180 C / 350 F . Line a cookie sheet with parchment.
On a lightly floured surface , roll out the dough to about 1/4 inch thickness. If the dough cracks, just patch it together and continue rolling.
Cut using a cutter of your choice and place on the prepared baking sheet about 2 inches apart.
You can optionally chill the pan for another 20 minutes now.
Bake at 180 C/ 350 F for 15-18 minutes until lightly browned.
Cool for few minutes on the sheet and transfer to wire rack to cool completely.
Notes
The dough can be chilled for upto 2 days.
The cookies can be stored in an airtight container for 4-5 days at room temperature.
I used a round cookie cutter of diameter 2 inches and got 24 cookies.
Recipe can be doubled.
While making the dough with your hands, just pick up flour and butter and rub your hands together. Keep doing this until the entire mixture looks like breadcrumbs. Then add the milk and just bring the mixture together into a ball. Overworking or kneading will make your biscuits tougher.
Skip the salt if using salted butter.
FLOURS & FROSTINGS http://floursandfrostings.com/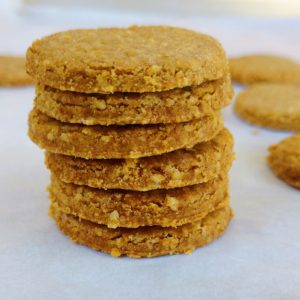 These rustic cookies came out really good and were gone sooner than I expected. Which makes me wonder how "healthy" these cookies really are… if you just can't stop eating them!
I just about resisted dipping them into some chocolate – given the theme and given that its January !
Creative cookie exchange!
New Year's resolutions? The theme this month for the Creative Cookie Exchange group is "Healthy" Cookies! If you are a blogger and want to join in the fun, contact Laura at thespicedlife AT gmail DOT com and she will get you added to our Facebook group, where we discuss our cookies and share links. You can also just use us as a great resource for cookie recipes–be sure to check out our Pinterest Board and our monthly posts (you can find all of them here at The Spiced Life). We all post on the first Tuesday after the 15th of each month! Also, if you are looking for inspiration to get in the kitchen and start baking (or this month "no baking"), check out what all of the hosting bloggers have made:
SaveSave