"Colours are the smiles of nature."- Leigh Hunt.
Strawberries are in season ! Strawberries and I have a love-hate kind of relationship. I love how pretty and bright they are. But I don't really enjoy eating them so much. Hugely because I usually don't pick up the ripe enough ones. I love baking with them though!
This cake is quite dynamite ! I love the combination of lime and strawberries in it. The flavours are so fresh that they make a concoction of butter , flours and sugar seem light and refreshing!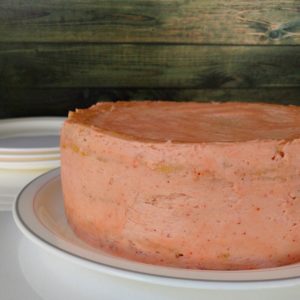 The cake here is a lime sponge that is adapted by a recipe by Duff Goldman and is really soft . It is pretty fuss free to bake – basically a whisking together of dry and wet ingredients. The batter is a funny bubbly mixture that you should get into your pans and into the ovens as soon as you can!
The strawberry frosting is a simple american buttercream style one flavoured with a thickened fresh strawberry puree. I am usually not a great fan of american buttercream as most recipes are cloyingly sweet . But the strawberries were tart enough to balance out the sweetness. The frosting is light enough to compliment the cake and there is just enough of it not to overpower it !
Without any added colour, i found this cake so pleasing to the eye. Don't you agree? But for a brighter pop, go ahead and add in some . Some much needed cheer in the winters!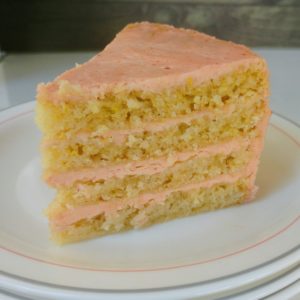 Eggless lime cake with strawberry buttercream
2017-01-16 12:33:38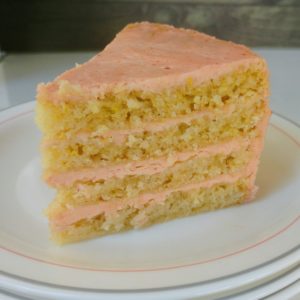 For the cake
335 grams or 2 2/3 cups all-purpose flour
300 grams or 1 1/2 cups sugar
1 1/2 teaspoons baking powder
1 1/2 teaspoons baking soda
1/2 teaspoon salt
120 ml or 3/4 cup milk
120 ml or 3/4 cup vegetable oil
2 tsp pure vanilla extract
60 ml or 1/4 cup lime juice
2 tablespoons lime zest
1 1/2 tbsp vinegar"
For the frosting
170 grams or 3/4 cup unsalted butter
10- 15 strawberries
200 grams or 2 cups icing sugar (you may need more)
2 tablespoons milk
Pink food colouring (optional)
For the cake
Preheat your oven to 180 C/ 350 F. Butter and flour two 7 inch round pans , line the bottom with parchment paper.
In a mixing bowl , whisk together all the dry ingredients - flour , baking powder , baking soda , salt , zest , sugar .
In another bowl , whisk together the liquid ingredients - oil, milk , vanilla , lime juice, vinegar . Whisk in the vinegar in the end.
Pour the liquid ingredients into the dry and fold/whisk until flour cannot be seen. It will be a thick batter , slightly foamy.
Divide immediately into prepared pans and bake for 30-35 minutes until a toothpick inserted in centre , comes out clean.
Cool in pan for 10 minutes and then unmould to cool completely on a wire rack.
For the buttercream
Puree the strawberries in your blender or food processor , and strain. You should have 1/2 cup puree.
Heat this puree in a saucepan on low , stirring occasionally. Continue until it is reduced to about 2 or 3 tablespoons. It should thick.
Beat the butter for a few minutes until pale.
Sift in the 2 cups of icing sugar, half cup at a time, beating for few minutes after each addition until smooth.
Add the thickened strawberry puree and beat until incorporated.
If your buttercream is too thin, add more sifted icing sugar a few tablespoons at a time.
If its too thick , add milk, one tablespoon at a time.
Beat until desired consistency is achieved.
For assembly
Divide each cooled cake horizontally into two layers.
Spread 1/4 cup of buttercream on one layer, place another on top and repeat.
Using a spatula , cover the top and sides of the cake with the remaining buttercream.
Notes
The buttercream can be refrigerated for a week and the cake for 3 days.
You can bake the same batter in a 9 inch round pan for one layer.
You can also divide the batter among 4 seven inch pans and bake for 20-22 minutes .
The cake recipe can be halved for one seven or 8 inch round cake.
The buttercream recipe makes about 2 cups, and the recipe can be halved.
I kept the cake naked ( crumb coated) . If you want to do some piping , you will need twice or one and half times the amount.
FLOURS & FROSTINGS http://floursandfrostings.com/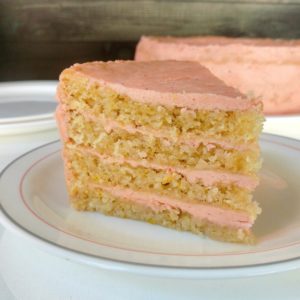 The cake itself was as subtle as its colours . The lime was just vibrant enough without getting all pucker-y , and the slight tang of the strawberry buttercream was quite literally the icing on the cake !
Affiliate links : Just so you know, I have baked this cake in my trusty Morphy Richards 52 Litre Oven
.
Happy baking !