" You know, all that really matters is that the people you love are happy and healthy. Everything else is just sprinkles on the sundae."- Paul Walker.
One fine day, I thought lets bake some muffins!
Banana muffins – great way to use put those blackening bananas in your fruit bowl.
Chocolate banana muffins – even better , as chocolate and bananas are soul sisters!
Eggless banana muffins – super, because more people can have them!
Wholewheat banana muffins – healthy bhi, tasty bhi !
Wholewheat eggless chocolate banana muffins – perfect !!!
Is it oxymoronic to intend to make something healthier and then stuff it chock-a-block with loads of chocolate? Thats up for debate I guess. After all , isn't dark chocolate supposed to be good for you too!
As I stay blissfully biased on the matter, I would love to share this recipe with you that is bound to make you agree with me ! Another excuse to have chocolate for breakfast!
I get such a rush when I bake something "healthier " and when you taste it, you couldn't say it was! Because treats are meant to be treats right! These muffins are tender and delicious , and filled with pockets of gooey chocolate . And I love how dark , almost ebony they are!
SaveSave

Print Recipe
Wholewheat eggless banana muffins
Yum
Moist and delicious muffins with the goodness of wholewheat and bananas , and the lovely indulgence of chocolate!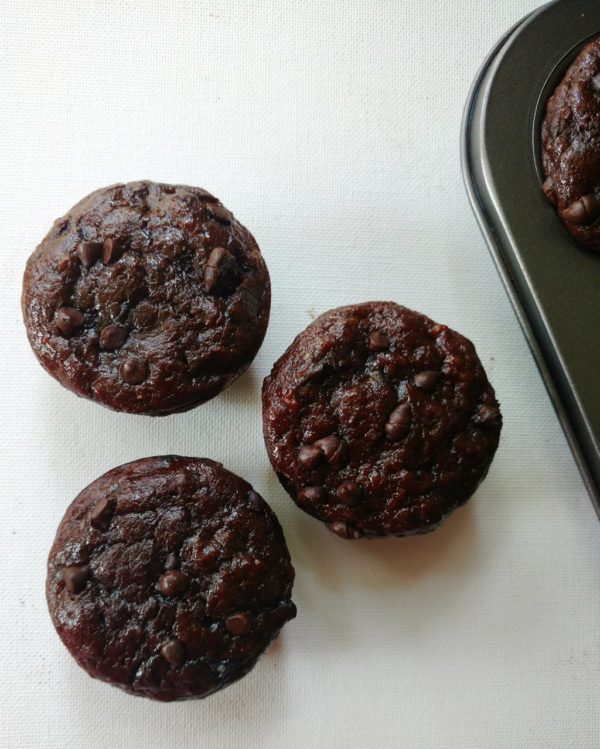 | | |
| --- | --- |
| | |
Preheat your oven to 180 C/ 350 F. Grease the cavities of a muffin tray and dust with cocoa powder well.

Whisk together the flour, baking soda , salt and cocoa powder in a bowl.

Dust the chocolate chips / chunks with a tablespoon of this flour mixture. Keep aside.

In another bowl , mash up your bananas. Add to this, the oil , sugar , vanilla and curd.

Whisk the dry and wet ingredients together until just combined . Do not over mix.

Fold in the dusted chocolate chips / chunks.

Fill the muffin tray cavities about 3/4 th full and sprinkle more chocolate chips on top if you want.

Bake at 350 F/ 180 C for 20 - 25 minutes until a toothpick inserted comes out dry.

Cool in pan for 5 minutes , then remove and cool completely.
Step by step Tutorial:
Also:
These muffins can be kept for upto 4 days in room temperature in an airtight container.
I ran out of chocolate chips , so used both chips and chunks.
The chips are dusted with flour so that they don't sink to the bottom.
I used 2 large (about 15 cms long) bananas that weighed 250 grams after peeling.
Use the thickest yoghurt you can find- greek style works best but any thick curds will do.
You can add nuts if you wish or increase the amount of chocolate chips.
While removing from the pan, gently run knife along the edge of the muffin and nudge it out.
SaveSave