"There are two food groups in the world- one you put cheese on ,and one you put chocolate on!" – Anon
Do you like cheesecakes but find them too heavy? Or too finicky to make? I might have the answer for you..
And that is …ricotta ! I think I have found a new favourite in cheeses (Mascarpone holds the current number one spot ) . Its creamy, its light and it will not burn a whole in your pocket! Wait…it gets better . Its a breeze to make at home .
So out of my recent trials with Ricotta , came this cheesecake . Actually it came out of this recipe on an Italian blog , which I translated and tweaked to my liking ! As far as cheesecakes go, this is pretty simple fare. And relatively fuss free. Only five ingredients, and you don't need a water bath to bake it . Nor does it require any chilling time after baking . It sets well and slices like a dream . And is so so light! Have I convinced you yet ???
This no crust cheesecake is tender , light and not too sweet. It has a texture that is different from the cheesecakes made with cream cheese . It is far more subtle yet very pleasing to the palate. It is super dark of course – but the chocolate is too intense for anyones liking , it is nothing a little whipped cream or ice-cream can't take care of!
Another light cheesecake ? My three ingredient mascarpone cheesecake !

Print Recipe
Chocolate ricotta cheesecake
Yum
Light, creamy ricotta chocolate cheesecake!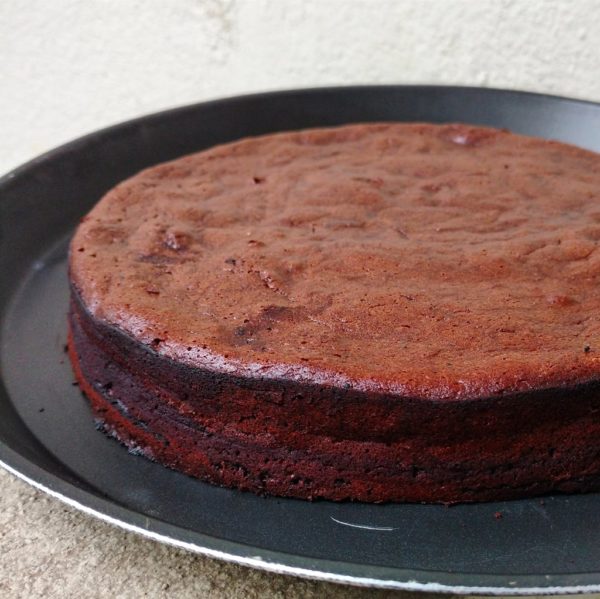 | | |
| --- | --- |
| | |
Preheat your oven to 180 c/ 350 F. Butter a 8 inch round pan , preferably springform or loose bottomed ( the pan I used is in the recommended products below) . Dust well with cocoa powder.

Melt the chocolate in microwave or double boiler. Keep aside.

Separate yolks from whites.

Whip up whites with one tablespoon of the sugar to firm peaks.

With an electric mixer or whisk, beat the rest of the sugar and yolks until fluffy.

Add the ricotta , melted chocolate and corn flour. Beat until smooth.

Using a spatula, fold in about 1/3rd of the egg whites into this mixture.

Fold the rest of the egg whites in gently.

Pour batter into prepared tin, tap against counter to level the top and bake at 180 C/ 350 F for 30-35 minutes. The top will be firm and smooth.

Keep the oven door slightly ajar (with a wooden spoon) and let the tin remain in it for 30 minutes.

Unmould when cool .Serve dusted with icing sugar or with whipped cream.
Step by step Tutorial:
Also:
This cheesecake can be stored in the refrigerator for about 3-4 days.
To make your own ricotta cheese, try this easy method by David Lebovitz .
The original recipe asks for 70 % dark chocolate , I used a 75 % stone ground couverture . But a compound should work fine.
If you are not used to dark chocolate and are using a high percentage dark chocolate , you can increase the sugar by 1/4 cup.
After cooling in the oven , the cheesecake would have firmed up and come away from the sides of the pan.