"The best of all gifts around any Christmas tree: the presence of a happy family all wrapped up in each other."- Burton Hillis.
Yup. A whole week of cookies for Christmas. For seven days, I will be sharing my favourite recipes for my favourite cookies for my favourite time of the year. There's a good mix -traditional and not so traditional , nutty and spiced and sweet , cut outs and hand shaped and dropped. I'd like to think there's something in here for everyone. These are cookies that taste great , look festive and are perfect for gifting and making ahead. Because tis the season to be jolly …fa la la la la la….
If you haven't made biscotti before , they are crisp and crunchy finger shaped cookies from Italy . The cookie dough is baked in a long , sliced and then baked again until they are absolutely dry. Hence the name , which means "twice baked" . Not unlike our Indian Rusk. By the way , why is the rusk called the rusk? One thing that I couldn't google out!
Biscotti are ideal for christmas . Why ? For starters , they look all rustic and home-made . And then there's the fact that they last for ever , making them perfect for gifting around the holiday season( I am beginning to sound like a broken record – I say that about all my christmas cookies !) . Plus , when the weather is all chilly , what better way to warm up than a mug of hot coffee or tea or cocoa and a good biscotti to dip it into!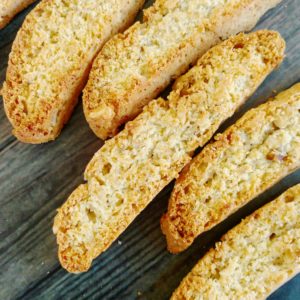 And if biscotti and coffee are a match made in heaven, so is the pairing of banana and walnut. This classic flavour profile is just as awesome in a biscotti as it would be in banana bread or cake. The basic biscotti recipe is adapted from Betty Crocker . Ofcourse , walnuts could be replaced by any nuts that you think would pair well with the banana. Or you could never go wrong with a handful of chocolate chips ! Try dipping the end of the biscotti in melted chocolate and then finely chopped nuts for an even more festive looking cookie !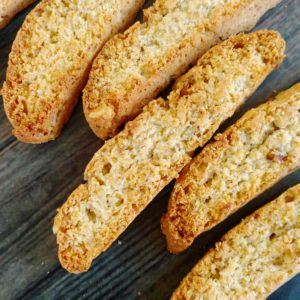 Banana walnut biscotti
2016-12-05 18:00:36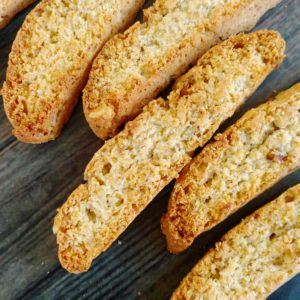 Banana and walnut biscotti - some totally delicious crunch
Ingredients
185 grams or 1 1/2 cups all purpose flour
1 1/2 tsps baking powder
1/4 tsp salt
56 grams or 1/4 cup unsalted butter, at room temperature
100 grams or 1/2 cup granulated sugar
1/4 cup mashed overripe banana ( 1 medium banana )
1 egg , at room temperature
1/4 cup toasted , skinned and chopped walnuts
Instructions
Preheat your oven to 180 C/ 350°F. Grease or butter a cookie sheet or line with parchment paper .
Sift or whisk flour, baking powder and salt. Keep aside.
Using an electric mixer or wooden spoon, beat sugar and butter until light and fluffy.
Beat in banana, vanilla and egg until smooth.
Beat in flour mixture until a dough forms .
Fold in the chopped walnuts.
Shape this sticky dough into a log (about 10 x 3 inches) and place on cookie sheet.
Bake for about 25 minutes or until toothpick inserted in center comes out clean.
Cool the log for 15 minutes and then using a sharp knife, slice into 1⁄2-inch slices.
Place the slices, cut side down, back on the cookie sheet.
Bake for 10 to 12 minutes or until golden brown and dry on top.
Turn cookies over and bake about 10 minutes longer or until brown.
Cool the cookies on wire rack.
Notes
These can be stored for 2 weeks or longer in an airtight container.
Use a blackening over ripe banana for the best banana flavour.
To toast walnuts , heat at 180 C for 8 to 10 minutes in the oven or on a dry pan stovetop . Rub the skins off the toasted nuts and chop coarsely.
Remember that the wider your dough log is, the longer your biscotti will be . It will increase in length during the first bake. So make a narrow log if you want shorter cookies or divide the dough into two longer narrower logs .
While slicing , its best to use a serrated knife. If the cookie breaks or crumbles , chill for 5 more minutes and try.
FLOURS & FROSTINGS http://floursandfrostings.com/
Step by step :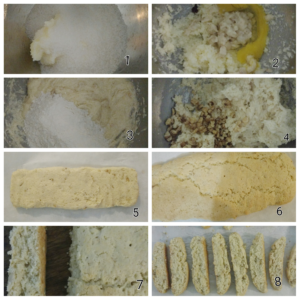 These biscotti are among the best I have made or tasted. Lovely banana flavour and a totally delicious crunch. A totally dunk-able cookie !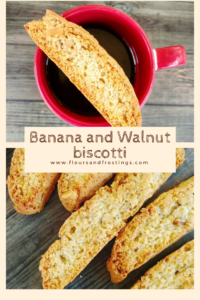 Affiliate links : Just so you know, I have baked these cookies in my trusty Morphy Richards 52 Litre Oven
.
Happy baking !