Very immodestly , I consider myself a person of above average intelligence ( of course most people don't agree with me !) but I often have "damn , why didn't I think of that!" moments. Which is exactly what I thought when I came across these brondies on Foodgawker.
The picture gave it away : Brownie + Blondie = Brondie! I find dessert mash ups very interesting (think brookies , duffins, cronuts) and this one blew my mind. So simple , yet so good. Chocolate plus butterscotch , chewy plus fudgy , brownie plus blondie – its a no brainer really!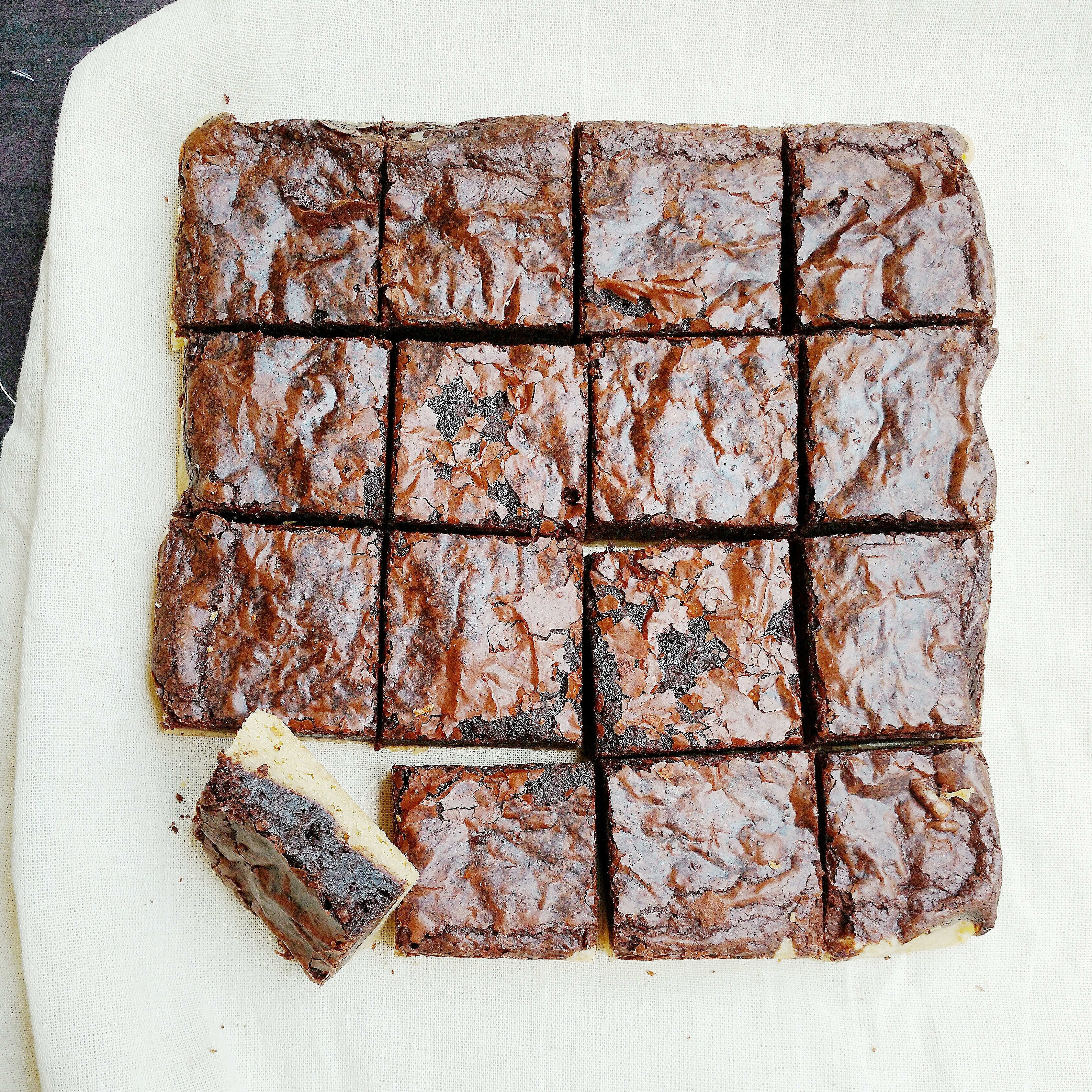 So all the credit of this recipe goes to Lights Camera Bake . Google gave back exactly three relevant results for the brondies , both earlier than Emma's version but one used ready made mixes , and the other had a cookie layer sandwiched between TWO brownie layers ( too rich even for me, maybe some other day!) . So I followed Emma's recipe and followed it almost to a tee. I mean , look at the pictures of her blondies and you will know why !
You could try making a brondie with a combination of your favourite Brownie and Blondie recipes but you will need to scale down the recipes for thinner layers . Also , the baking times and temperatures of both should be similar. So if you are upto the math and the experimentation , go ahead.
But I strongly recommend trying this one. They did not disappoint. Far from that actually .I was sold at the crackly top, but one bite into the "yin and yang" bar -pure indulgence !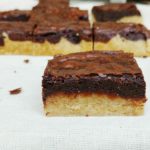 Brondies
2017-05-04 20:07:35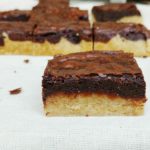 An awesome dessert mashup - chewy brownies and fudgy blondies in every truly indulgent bite!
For the brownie layer
75 grams or 1/3 cup butter
90 grams or 1/2 cup dark or semi sweet chocolate
60 grams or 1/3 cup brown sugar
60 grams or 1/3 cup granulated sugar
1 egg , at room temperature
1 teaspoon vanilla extract
20 grams or 1/4 cup cocoa powder
42 grams or 1/3 cup all purpose flour
For the Blondie layer
75 grams or 1/3 cup butter
125 grams or 1/2 cup plus 2 tablespoons brown sugar
1 egg, at room temperature
1 teaspoon vanilla extract
125 grams or 1 cup all purpose flour
Instructions
Preheat your oven to 180 C or 350 F.
Line a 8 x 8 inch square pan with parchment paper or foil. Else, butter well and dust with flour .
To make the brownie layer : In a saucepan or microwave , melt chopped chocolate and butter together until smooth.In another bowl, whisk the egg, vanilla and sugars for a couple of minutes until light and fluffy. Add the chocolate -butter mixture into this and whisk until smooth. Add the cocoa and flour .Whisk until smooth.
To make the Blondie layer :Melt the butter and whisk in the brown sugar. Whisk the egg and vanilla in until incorporated. Add flour and whisk it in.
Spread the blondie batter in your prepared pan and smoothen the top.
Spread the brownie layer on top as evenly as possible.
Bake at 180 C for 28 to 32 minutes until a toothpick inserted in the centre comes out with only a few moist crumbs.
Cool completely and slice.
Notes
This stays well for 3 to 4 days at room temperature in an airtight container.
I used a 52 % couverture dark chocolate but I am sure compound will work as well.
You can use salted or unsalted butter.
FLOURS & FROSTINGS http://floursandfrostings.com/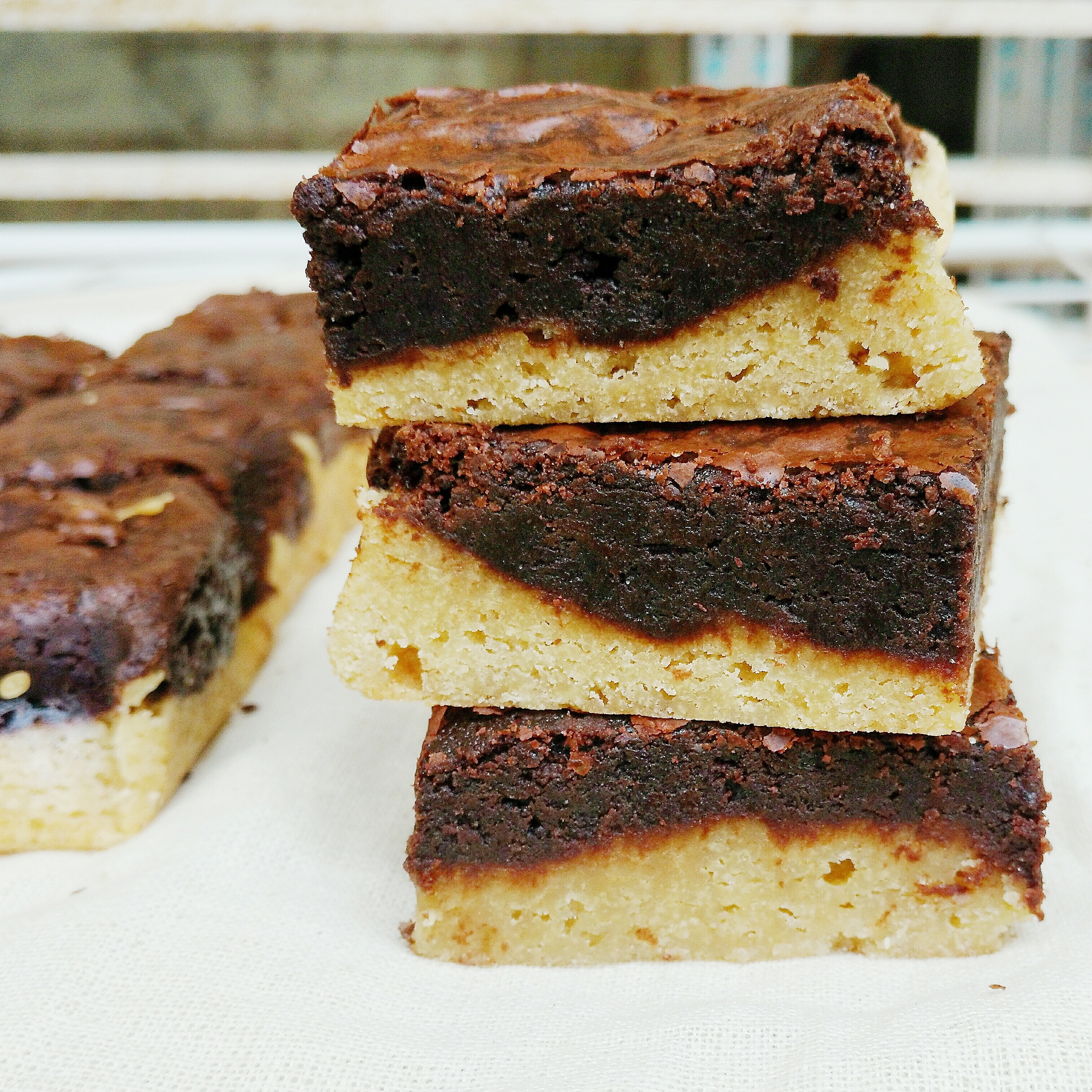 Yes , its two recipes and more than a couple of dirty dishes . But two really easy recipes . So its a small price to pay for such delicious sinfulness ! There is the small matter of outrageous calories per bar , but lets just enjoy small pieces and not make them very often.What say? Are you ready to try the new cookie in town!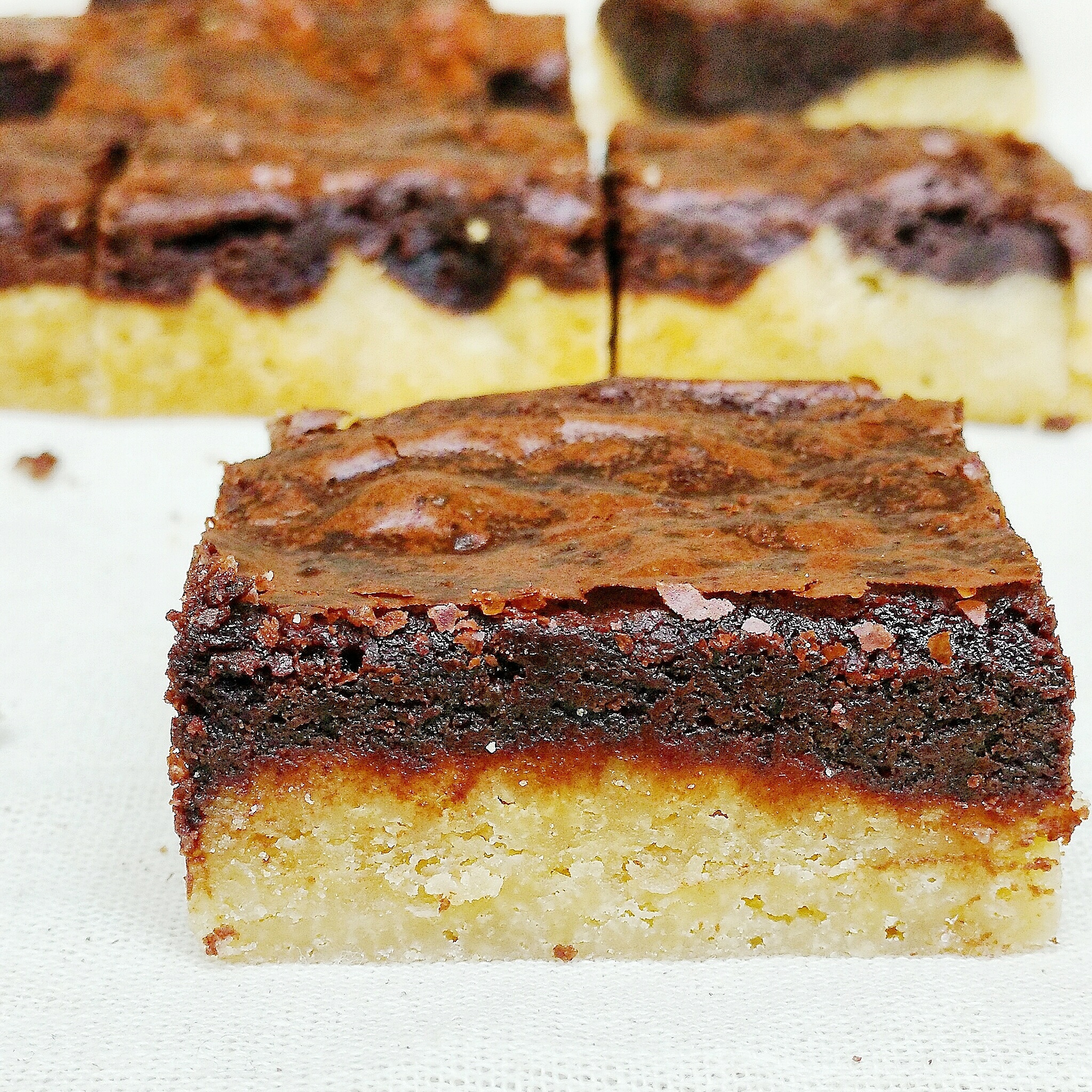 Affiliate links : Just so you know, I have baked these Brondies in my trusty Morphy Richards 52 Litre Oven
. I also used (and love!) Cocoacraft 52% Dark Couverture Chocolate
and Cocoacraft Cocoa Powder
.
Happy baking !