"Make it simple, but magnificent ." – Don Draper.
If you have a look through my blog , you will realise chocolate ganache is quite literally my go-to when it comes to chocolate frostings . I have also used and loved chocolate versions of whipped cream , swiss meringue buttercream and the "new" buttercream! Delicious as they all are, they all need melted chocolate!
As it happened, when I needed to fill this dark and luscious chocolate mud cake , I realised I was out of dark chocolate (yup! it happens rarely to chocolate-obsessed me, but it does happen!) . Seeing it was around 11 30 in the night , and I needed this cake by the next morning , a supermarket run was out of the question and I started hunting for frostings with cocoa powder .
Here, I ran into another problem ..almost all the recipes I found for cocoa powder frostings required some heavy duty electric mixer action and I was in no mood of waking up my sleeping neighbours (11 30 pm on a weekday) . Finally I found this awesome frosting by Dan Lepard!
This is so easy – it needs icing sugar (which is not my favourite ingredient , but what can you do!) , cocoa powder , cream and melted butter. You can use heavy or light cream , and I have since tried milk too. While milk works, I would recommend using the light cream . The frosting comes together in minutes and is the perfect consistency for filling and frostings . Think set ganache .
What I liked about this frosting : its simple to make , needs no mixer , egg free . It doesn't need time to thicken . Its the perfect consistency to frost your cakes and to pipe.
What I didn't like so much : its sweeter than ganache .
So all in all , a great frosting worthy of making again and again. And worthy of sharing with all of you . So try it and let me know what you think of it ? Yay or Nay?

Print Recipe
Easy cocoa frosting
Yum
Simple cocoa frosting that needs only a whisk and a few minutes!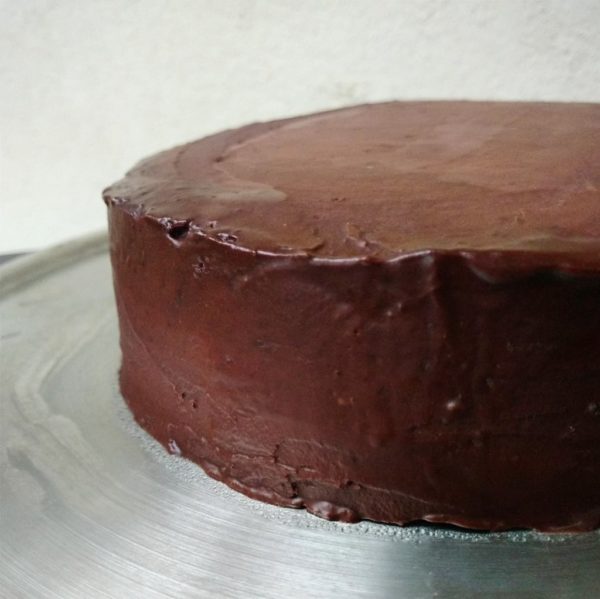 | | |
| --- | --- |
| | |
Sift or whisk together the icing sugar and cocoa in a bowl.

Add the melted butter and cream.
Step by step Tutorial :
Also:
This frosting makes enough to fill and frost a three layer 8 inch cake. If you want elaborate piping, you ' ll need to make one and half times or twice the recipe.
Store in the refrigerator for about 5-6 days. Get to room temperature and whisk before using.
If the icing is thicker than you wish, add a little hot water . If its too thin , add more icing sugar and whisk well.
Do not freeze the frosted cake for more than few hours or it might sweat when you get it out.