"Coffee is a language in itself."- Jackie Chan
I absolutely love making shortbread. Buttery and crumbly , they are easy to make and you can easily add any flavours you want.
This version version takes a basic recipe, to another level with a generous dose of instant coffee powder . Being an out and out coffee lover (make that coffee maniac) , I really enjoyed these ! And the gorgeous texture was lovely. The dipped chocolate adds a tad bit of elegance (?) to an otherwise simple cookie and some relief for people who like their cookies sweet!
These are subtly sweet, tender and pack an insane coffee punch! Its a cookie for the true coffee connoisseur . Might not be everyone's cup of tea (pun fully intended!)
The beauty of this recipe is the simplicity of it and the buttery divine taste that results. Enjoy these , with what else…. a cup of coffee!
Print Recipe
Chocolate dipped Coffee shortbread
Yum
Buttery , crumbly shortbread intensely flavoured with instant coffee and dipped in dark chocolate !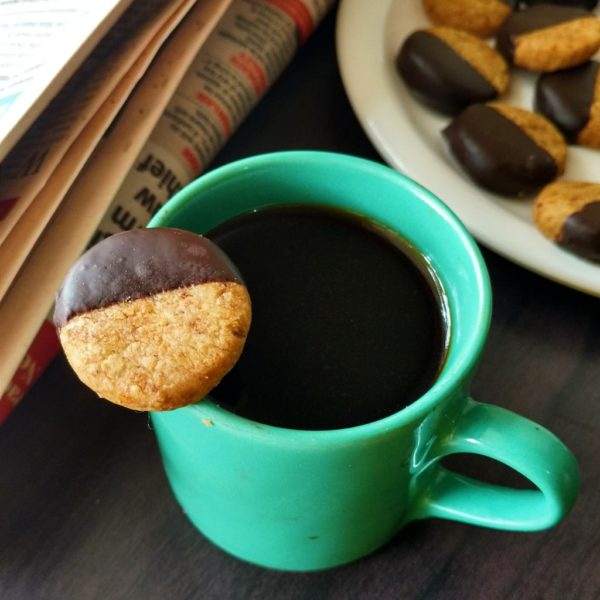 | | |
| --- | --- |
| | |
Preheat your oven to 160 C / 325 F. Line a baking sheet with parchment or grease it with butter.

Sift or whisk together the flour, corn flour , coffee and salt.

Beat the butter and sugar together with an electric mixer or a wooden spoon until light and fluffy.

Add the dry ingredients and beat until it comes together. Knead the dough on a floored surface until smooth (takes only a minute or two)

Roll out the dough to about 1 cm thick and cut out desired shapes using a cookie cutter or knife. Reroll scraps and cut until all dough is shaped.

Place the shaped dough on the prepared baking sheet , leaving about 2 cms gap between each. Chill for 30 minutes.

Bake at 160 C/ 325 F for 15-16 minutes until the cookies brown around the edges.

Cool for a minute on the pan , then transfer to a wire rack to cool completely.

Melt your chocolate in a double boiler or microwave. Dip half of each cooled cookie and let dry on parchment paper or silicon mat.
Step by step tutorial:
Also:
These cookies keep well for 3-4 days at room temperature in an airtight container.
Reduce the coffee as per your taste.
Its easiest to roll the dough between two sheets of parchment.
Re rolling scraps many times may cause the dough to get greasy.
I made cookies using a 2 cm circular cookie cutter. Adjust your baking time according to the size of your cookies.
You can chill the shaped dough overnight if you want.