"Love is like a picnic without ants, pleasant for a while, but sooner or later something's definitely getting squashed." – Frances Winkler.
Whenever I think of baking for a group , for a potluck , for a charity bakesale or even for a hostess gift , brownies are the first things that come to my mind – they are easy to whisk up and taste as good three days after you bake them. If they last that long!
So when the Creative cookie exchange chose picnic cookies as the theme, it had to be brownies ! And this time around, I thought of pairing them with coconut !
I love the chocolate and coconut combination , and since I hail from Mangalore , I always have coconut in one form or another at home – be it oil, fresh grated coconut meat , coconut milk or even tender coconut. But for the brownies , I decided to go with dessicated coconut .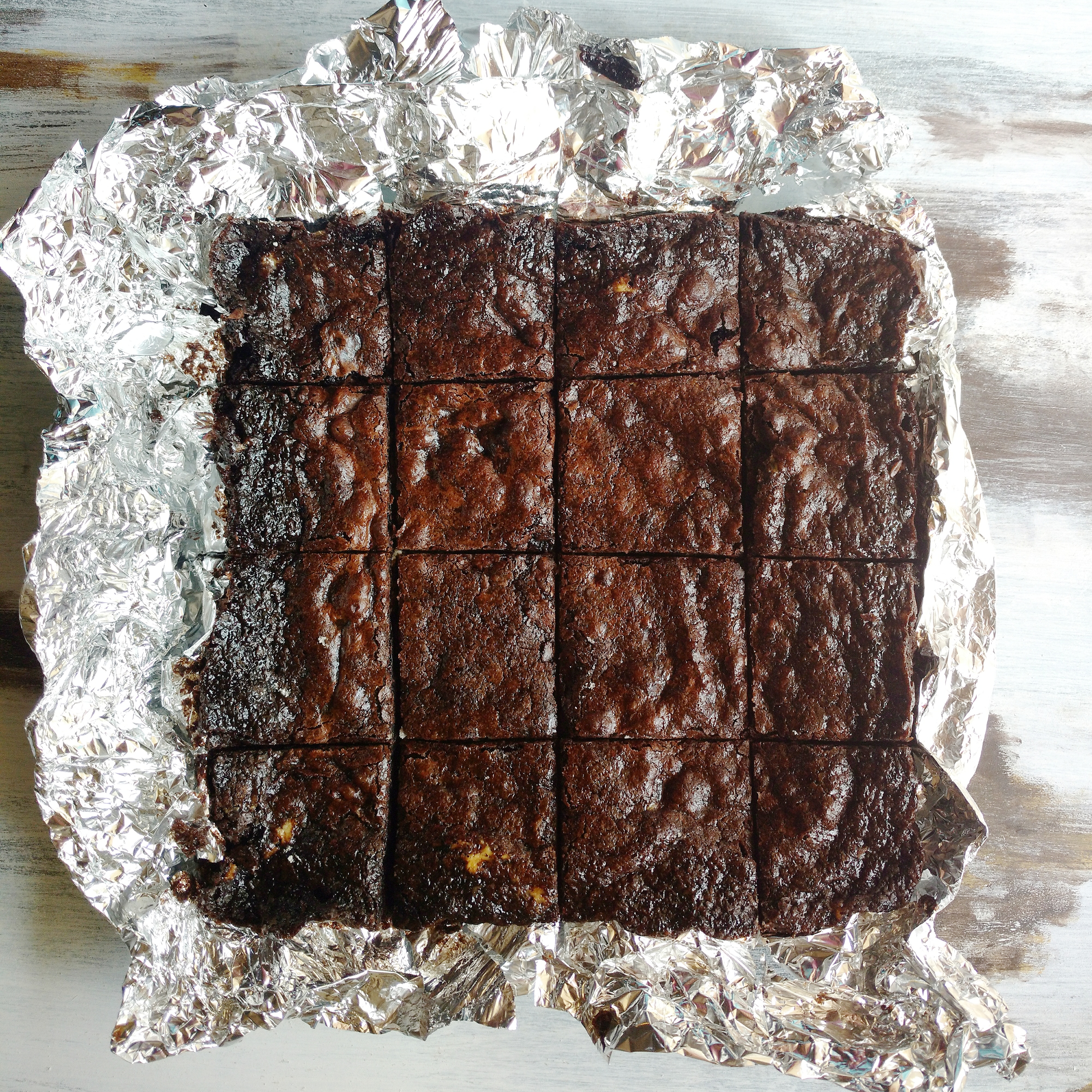 So it's basically a fudgy brownie with chewy edges stuffed with a mixture of sweetened condensed milk and coconut . I used half the quantity of coconut filling that some other recipes do because I was worried about the brownies getting too rich or sweet. The brownies still ended up plenty indulgent !
Me thinks a dash of coconut extract would elevate the nuttiness of these brownies even further but I didn't have any so made do with vanilla.
Still. So. Yum.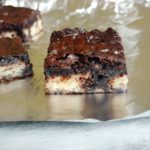 Coconut brownies
2018-05-22 10:07:02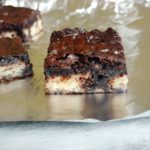 Fudgy brownies filled with a sweet coconut filling !
For the brownies
112 grams or 1/2 cup unsalted butter
30 grams or 1,/3 cup cocoa powder
200 grams or 1 cup castor or granulated sugar
2 eggs
1 tsp vanilla extract
65 grams or 1/2 cup all purpose flour
1/4 tsp baking powder
1/4 tsp salt
For the filling
130 grams or 1/2 cup sweetened condensed milk ( about a 1/4 tin )
1 cup dessicated coconut
1 tsp vanilla extract.
Instructions
Line a 8 inch square pan with foil or parchment leaving two opposite sides long ( to pull out the brownie slab after baking )
Preheat oven to 180 c or 350 F.
Whisk or sift together the flour, baking powder and salt. Keep aside.
Melt the butter and stir in the cocoa until smooth.
Whisk in the sugar and then the eggs and then the vanilla.
Stir in the flour mixture.
Prepare the filling by mixing rhe dessicated coconut  , condensed milk and vanilla.
Pour half the brownie batter into the pan.
Spread the filling on top ( place dollops of if over brownie batter if too thick ).
Spread the remaining brownie batter on top.
Bake for 25 to 30 minutes until a toothpick inserted in centre comes out with only a few crumbs.
Cool completely in pan. Then remove and Slice !
Notes
These can be stored upto 3 days in the refrigerator.
The cup I use is 240 ml.
These are quite sweet - you can reduce the sugar in the brownie to 3/4 cup or 150 grams but the brownie will be less fudgy
FLOURS & FROSTINGS http://floursandfrostings.com/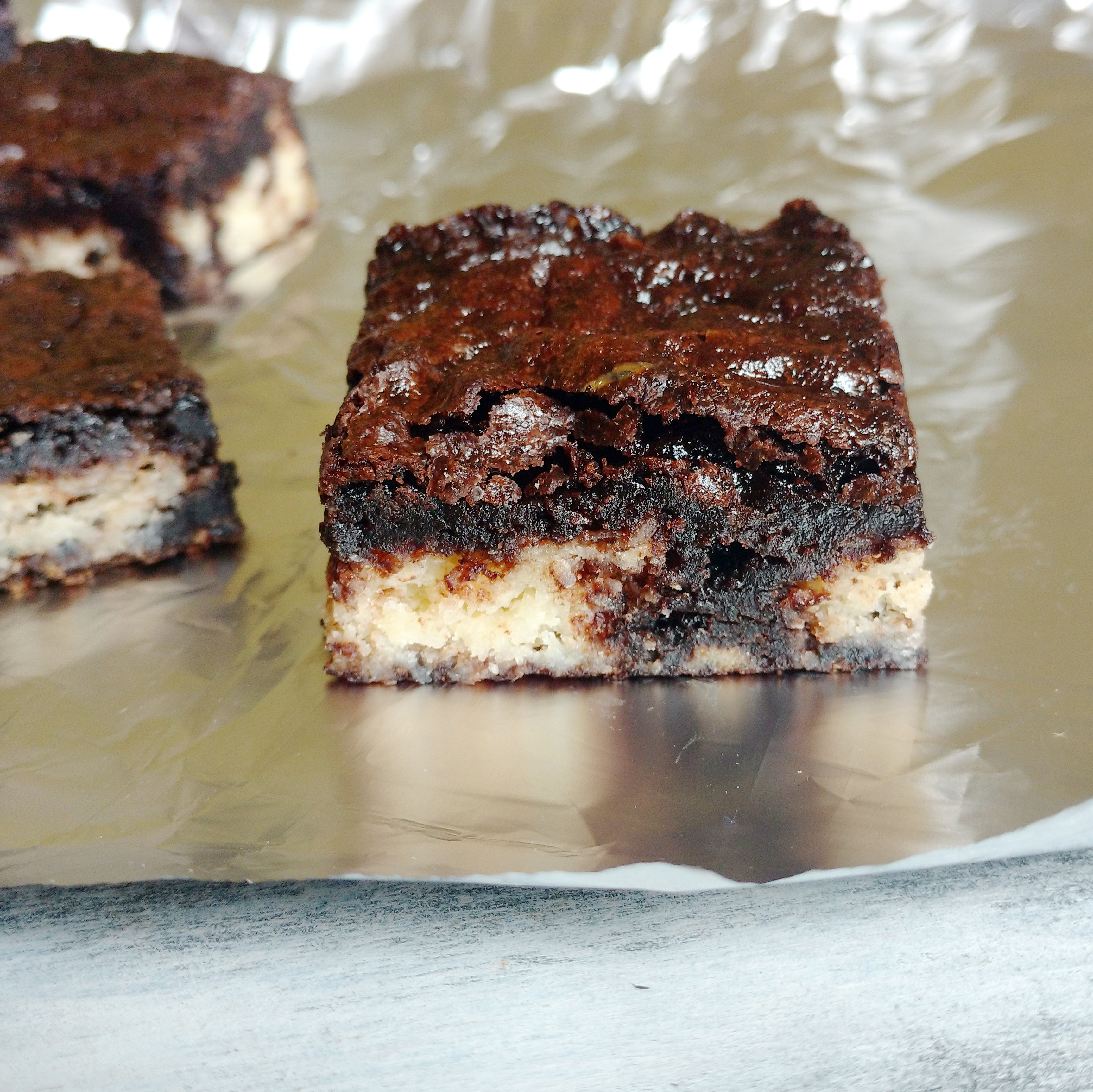 The brownies are just fudgy enough with chewy edges and the coconut mixture is . It's almost like biting into a Bounty or Mounds bar. So good. So rich. But so good .