"India is a country in which every great religion finds a home. "- Annie Besant.
This month is such a beautiful time with all the festivities and the lights and the sparkle and the rituals and just the magic that is India. Lets not forget the sales and the shopping!
Regardless of state or faith, whether it is Navaratri, Dussehra, Durga Puja or Diwali – one vein runs common and that is sweets. When some friends invited us over for Golu (Kolu) or the doll festival, I wanted to take them something befitting the occasion.. And my fondness for baking with coconut is no secret !
A recipe jotted down ages ago from the Clandestine Cake Club (what an idea!) seemed like the right fit. How great it would be to have the flavours of the coconut burfi in cake form . I adjusted , tweaked, subtracted and added to get a cake that was just short of sheer festive baking brilliance. No , I am not being shamelessly immodest, I can totally say this because the original recipe was not mine !
The milk and milk powder in the coconut burfi cake works well to definitely remind you of the sweet coconut fudge and did I mention how ridiculously easy it is to make !
This cake is soft and has a texture quite similar to the Burfi. Its a lot less sweeter but this traditional Indian sweet is just as delicious in the more universal cake Avatar! If you are looking for more Indian inspired desserts for your festive platter , this rasmalai like japanese cotton cheesecake is gorgeous !
Happy Navaratri everyone !

Print Recipe
Coconut Burfi cake
Yum
A soft , delicious cake that is inspired by the traditional Indian sweet coconut fudge.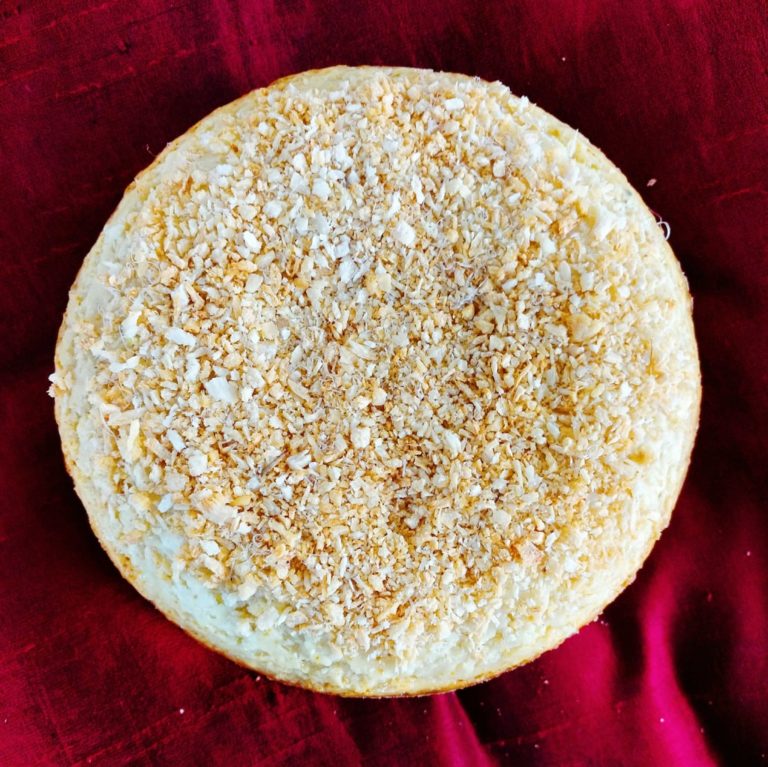 | | |
| --- | --- |
| | |
Preheat your oven to 160 C / 325 F . Butter and flour a 8 inch round cake pan . Line the bottom with parchment .

In a bowl , whisk together all the dry ingredients.

Add the milk and oil , whisk until smooth . It's a thick batter.

Pour batter into prepared pan . Bake for 40 to 45 minutes until a toothpick inserted in the centre comes out clean.

Cool in pan for 5 minutes , remove from pan and cool completely on wire rack.

Sprinkle the top with sweetened toasted coconut .
This can be stored at room temperature in an airtight container for a day or refrigerated for 3 days.
To make your own dessicated coconut , spread grated coconut on a baking sheet as thinly as possible . Heat in a preheated oven at 120 C for 8-12 minutes until the coconut is dry and brittle.
To make the sweetened toasted coconut, spread grated coconut on a baking sheet as thinly as possible . Heat in a preheated oven at 180 C for 6-8 minutes until the coconut is golden brown. Mix with 1/2 tsp of powdered sugar or icing sugar of 3 tablespoons coconut.
You can use fresh coconut , but the texture will be different and the shelf life will be reduced.
If baking in a 6 inch pan, bake at 140 C or so , so that the centre cooks as well.