"Home is where you treat your friends like family , and your family like friends."
My blog has a new home ! And I thought this occasion calls for some cake ! Well, I think all occasions call for cake …
This cake , by Caroline Wright, really ticks all the boxes for me.
Well, first of all . Its Mocha. Mo….cha! Mocha is probably one of my favourite culinary words. Two of my poisons in one – chocolate and coffee ! Just can't get enough of both. D
And then , it is so ridiculously easy to put together, Thats how cake making should be right . One or two bowls , a good whisk , a whole lotta love and off into the oven it goes. You just need to wait for the magic to happen !
Now lets talk about the size. Two perfect sized 8 or 9 inch layers or four equally perfect 7 inch layers . How great is that .
The most important obviously is the taste test ! Absolutely delicious . Not too dense , not too moist , not too fluffy. Just right !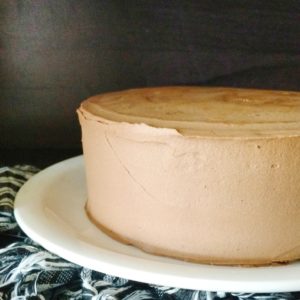 Lets talk about some frosting …shall we ?
I am usually a dark chocolate girl but this time I decided to go with milk. Milk chocolate gets a bad rap . I too don't use it much – find it a little too sweet. But I guess its the right recipe that matters. And this lovely milk frosting from Dede Wilson turned out finger-licking good ! it kinda marries a ganache with an American style buttercream but the end result is smooth , light and infinitely yum!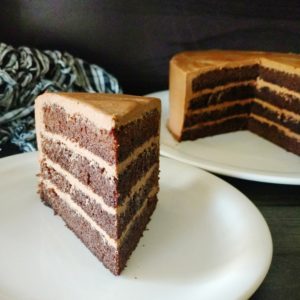 Mocha cake with milk chocolate buttercream
2017-03-10 16:23:28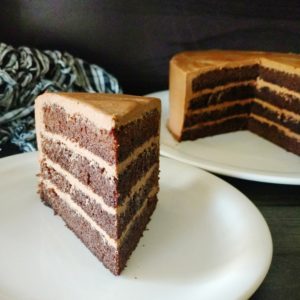 Moist mocha cake layers , filled and frosted with a milk chocolate frosting!
For The Cake
310 grams or 2 1/2 cups all purpose flour
300 grams or 1 1/2 cups sugar
45 grams or 1/2 cup cocoa powder (unsweetened)
1 tsp baking soda
3/4 tsp baking powder
1/2 tsp salt
4 eggs , at room temperature
225 grams or 1 cup butter , melted and cooled
1 tablespoon vanilla extract
3/4 cup curd or yoghurt , at room temperature
240 ml or 1 cup very hot coffee ( one tsp instant coffee powder dissolved in it)
For The Milk Chocolate Frosting
250 grams milk chocolate
200 ml or 1 cup cream
112 grams or 1/2 cup unsalted butter , at room temperature
200 grams or 2 cups icing sugar , sifted
1 tsp vanilla extract
For The Soaking Syrup
100 grams or 1/2 cup sugar
120 ml or 1/2 cup water
1 tsp instant coffee powder
For the cake
Preheat your oven to 180 C / 350 F. Butter and flour two 7 inch round pans well . Line the bottoms with parchment (optional).
Whisk together the dry ingredients - the flour, baking soda, baking powder, salt , cocoa powder and sugar very well in a large bowl.
Mix in the eggs , melted butter , yoghurt , hot coffee and vanilla extract. Whisk until smooth.
Divide batter among two pans an bake for 32-38 minutes until a toothpick inserted in the centre comes out clean.
Cool in pans for 5 minutes , remove and cool completely on wire rack.
To make the Milk Chocolate Frosting
In a double boiler / microwave , heat the cream and chopped milk chocolate together until melted and smooth.
Cool to room temperature.In another bowl, beat the butter until light and smooth.
Add one cup sifted icing sugar , a few tablespoons at a time , beating well after each addition. Scrape the bowl as needed.
Add the remaining sifted icing sugar , the vanilla and the cooled chocolate-cream mixture .
Beat until desired consistency is achieved.
For The Soaking Syrup
Heat together the water, sugar and coffee in a saucepan until sugar and coffee dissolves.
Simmer for couple of minutes .
Take off heat and cool.
For The Assembly
Slice each cooled cake into two horizontally.
Place one cake slice on a cake board/ serving plate , brush generously with soaking syrup on top and sides .
Spread about quarter cup of the frosting on top.
Place the next cake slice on top and repeat.Place the last layer on top , spread the icing on top and sides and frost as desired!
Notes
This cake lasts for 3-4 days.
The frosting makes just enough to fill and cover the cake , you might need one and half times the recipe if you want to do some piping.
FLOURS & FROSTINGS http://floursandfrostings.com/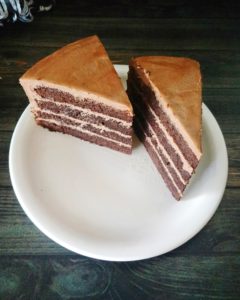 This cake really was so good. The cake was really moist and darkly decadent , the luscious milk chocolate frosting perfect with the not-too-sweet cake . Mochaliciousness at its best !
Affiliate links : Just so you know, I have baked this cake in my trusty Morphy Richards 52 Litre Oven
and use 38% Milk Chocolate Couverture
in the frosting.
Happy baking !