"They say laughter is the best medicine.They lie. Its brownies."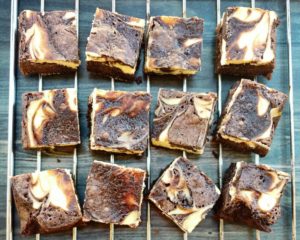 And I'm back with more brownies! This is a recipe I've made many many times. The first time I made it was few months ago for work friends and since then it has been a regular request. I almost didn't post this recipe here bcoz I never get any good pics of this. As it is , I am pretty much the worst at clicking snaps AND I don't have the patience for baked goodies to cool down before slicing. Result : impossible to get neat cream cheese brownies.
You got to try it once , and you ll keep making it like me. Its like the marriage of a fudgy brownie and gooey cheesecake … yum !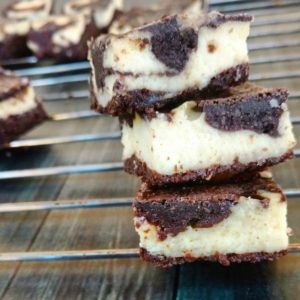 This is a well circulated recipe I'm sure. My version is adapted from David Lebowitz 's book Ready for Dessert. And like all his recipes, super delicious and pretty much fuss free to make. As you can see, the cheesecake to brownie ratio is quite high ! Thats the way we like it, but you can reduce the cream cheese portion if you want more brownie to each bite!
Cream cheese brownies
2016-11-26 09:23:33
Fudgy brownie with delicious cheesecake swirled through !
Ingredients
85 gram or 6 tbsp unsalted butter
115 gram dark or semisweet chocolate
130 gram or 2/3 cup granulated sugar
2 eggs, at room temperature
65 grams or 1/2 cup all purpose flour
1 tbsp unsweetened cocoa powder
1/4 teaspoon salt
1 teaspoon vanilla extract
For the Cheesecake portion
240 grams cream cheese ( I used Dlecta), at room temperature
1 egg , at room temperature
50 grams or 1/4 cup granulated sugar
1/2 teaspoon vanilla extract
Instructions
Preheat your oven to 180 C /350 F. Line a 8 inch square pan with parchment or foil, leaving enough overhang on the sides to help pull it out later.
Using an electric mixer or whisk , beat together the cream cheese, egg , sugar and vanilla until smooth. Keep aside.
In a double boiler or microwave , melt chopped chocolate and butter until smooth.
Take off heat and whisk in the sugar.
Whisk in the eggs , one by one , followed by the vanilla extract.
Add the flour ,salt and cocoa and whisk until incorporated.
Pour about three quarters of the batter into the prepared pan and spread the cream cheese portion on top.
Pour the remaining batter on top and using a knife or toothpick , create swirls in the batter.
Bake for 32 to 35 minutes. The cheesecake part should be just set and a toothpick inserted in the brownie portion should come out with a few moist crumbs.
Cool completely in pan. Remove using parchment / foil and slice.
Notes
These brownies can be stored for 3-4 days in the refrigerator.
For the cleanest cuts , let brownies chill brownies , use the sharpest knife you have and wipe the knife with a damp cloth after every cut!
You can reduce the cream cheese portion if you want less cheesecake .
While mixing the cream cheese portion, taste and add more sugar if you want it.
FLOURS & FROSTINGS http://floursandfrostings.com/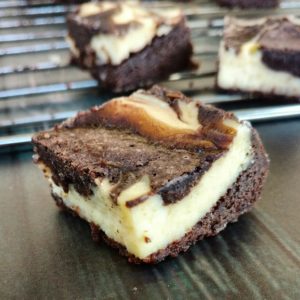 Not the neatest looking bars, but these brownies could easily give any brownies a run for their money! They are rich and fudgy , and the cheesecake part is pure indulgence. If you ask me ,the best of both worlds in each bite!
If you have any cream cheese left over , try these amazing cream cheese cookies!